The Atlantic Politics & Policy Daily: What We Talk About When We Talk About What Happened
Hillary Clinton released her memoir, What Happened, which details her take on the 2016 election and what she's learned in its aftermath.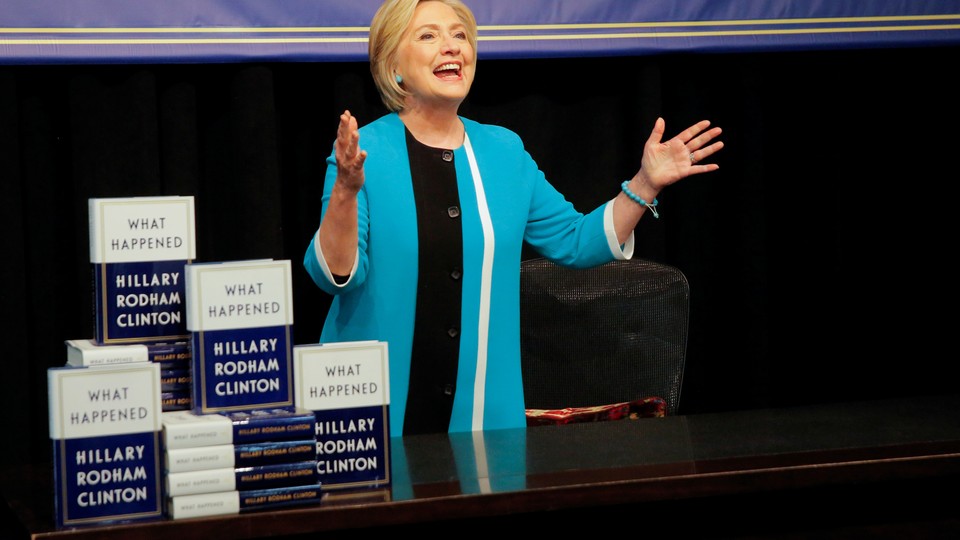 Today in 5 Lines
Hillary Clinton released her memoir, What Happened, which details her take on the 2016 election and what she's learned in its aftermath. Hope Hicks, who had been serving as interim White House communications director, will now hold the post on a permanent basis. White House aide Marc Short said President Trump is not insisting on border-wall funding as part of a legislative fix to DACA. The U.S. Census Bureau reported the middle class had the highest annual earnings on record in 2016. President Trump will dine with moderate Democrats and Republican senators Tuesday night to discuss tax reform.
---
Today on The Atlantic
Building Hurricane-Proof Cities: Extreme natural disasters have prompted local politicians to prioritize redesigning their cities. Vann R. Newkirk II considers some of the drastic measures cities like Miami and Houston may have to undertake in the aftermath of Irma and Harvey.

Clinton Tells All: Russell Berman lays out how Hillary Clinton's policy goals and political thinking have shifted since her presidential campaign, as told in her memoir.

America's Declining Foreign Influence: Eliot A. Cohen describes how President Trump's nontraditional approach to foreign policy has led foreign leaders to circumvent the United States.
Follow stories throughout the day with our Politics & Policy portal.
---
Snapshot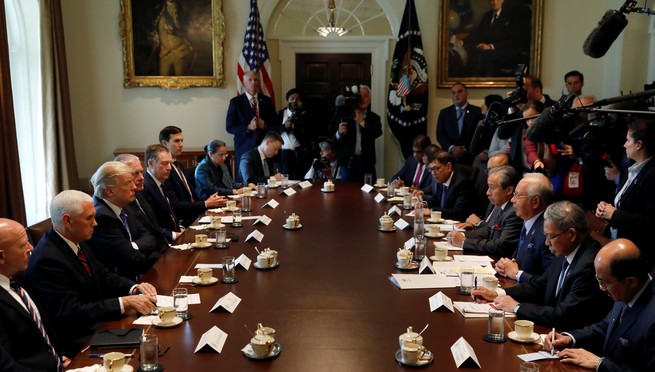 ---
What We're Reading
Hold the Celebration: President Trump may have struck a spending deal with Democratic leaders last week, but Senate Majority Leader Mitch McConnell said that Democrats "spiked the ball in the end zone a little too early," asserting that the debt-ceiling discussion won't come up "until well into 2018." (Carl Hulse, The New York Times)
Lessons Learned: Despite being one of the most powerful storms to rage across the Atlantic, Hurricane Irma didn't kill as many people as other storms have in the past. Here's why. (Evan Halper, Molly Hennessy-Fiske, and Matt Pearce, Los Angeles Times)
Battling Ghosts: Austin Wright followed Virginia Senator Tim Kaine on the campaign trail—and quickly found that, for the Democratic vice presidential candidate, there's no escaping 2016. (Politico)
Beyond Fake News: Russian operatives reportedly "used Facebook's event-management tool to remotely organize and promote political protests in the U.S." (Spencer Ackerman, Ben Collins, and Kevin Poulsen, The Daily Beast)
Getting Tough on Sanctions: The U.N. Security Council imposed a new set of sanctions on North Korea Monday, but administration officials are also threatening penalties on China if the country fails to shut down banks and firms aiding North Korea. (Ian Talley, The Wall Street Journal)
---
Visualized
'Seven Days of Heroine': The Cincinnati Enquirer chronicled the lives of heroin users in southern Ohio and northern Kentucky over the course of seven days.
---
Question of the Week
On Tuesday, Hillary Clinton released her memoir, What Happened. In the book, Clinton attempts to explain the factors that led to her defeat, from Bernie Sanders supporters to former FBI Director James Comey's investigation into her private email server.
If you were in Clinton's shoes, what would you title your memoir, and why?
Share your response here, and we'll feature a few in Friday's Politics & Policy Daily.
-Written by Lena Felton (@lenakfelton) and Taylor Hosking (@Taylor__Hosking)