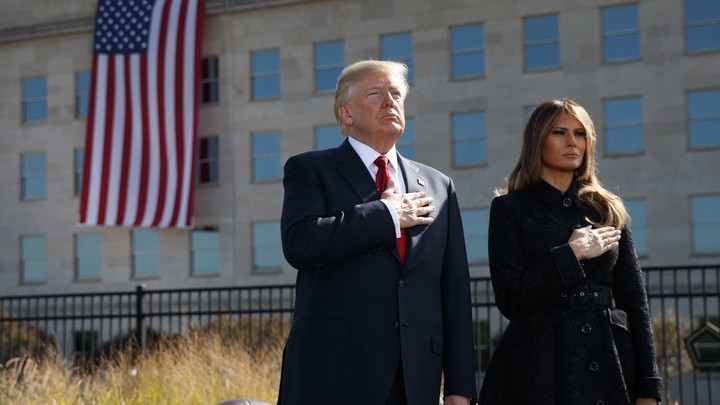 Today in 5 Lines
President Trump commemorated the anniversary of the September 11, 2001, terrorist attacks by leading a moment of silence at the White House and a ceremony at the Pentagon. Hurricane Irma downgraded to a tropical storm, and is expected to bring heavy rainfall to Alabama, Tennessee, and the Carolinas. Irma, which ripped through Florida over the weekend, left more than 6.5 million residents without power. The Supreme Court temporarily blocked a Ninth Circuit Court of Appeals ruling that would have curtailed the scope of Trump's travel ban. Republican Representative Dave Trott of Michigan announced he will not seek reelection in 2018, making him the third House Republican to announce his retirement in the past week.
---
Today on The Atlantic
Follow stories throughout the day with our Politics & Policy portal.
---
Snapshot
---
What We're Reading
Another Anniversary: Sixteen years after the 9/11 attacks, Guantánamo Bay still houses 41 prisoners—and its future is as uncertain as ever. (Amy Davidson Sorkin, The New Yorker)
What Republicans Stand to Lose: As lawmakers begin to talk about a DACA replacement, some Republicans seem open to trading border-security funding for the DREAM Act—a move that will only undercut conservative priorities, argues Fred Bauer. (National Review)
'The Biggest Mistake': In an interview with Charlie Rose, former White House chief strategist Steve Bannon said President Trump made a grave mistake in firing James Comey. "I don't think there's any doubt that if James Comey had not been fired, we would not have a special counsel," he said. (CBS News)
No Women in Sight: Of the 42 U.S. attorneys President Trump has nominated, only one is a woman. (Zoe Tillman, Buzzfeed)
Ending DACA Is Not Pro-Life: Pope Francis told reporters Sunday that he hoped President Trump would reconsider his position on DACA, adding, "If he is a good pro-lifer, he understands that the family is the cradle of life and you have to defend its unity." (Philip Pullella, Reuters)
---
Visualized
El Huracán: This photo essay captures the scene in Cuba following Hurricane Irma. (Alan Taylor, The Atlantic)
---
Question of the Week
On Tuesday, Hillary Clinton's memoir about the 2016 presidential election, What Happened, will be released to the public. In the book, Clinton attempts to explain the factors that led to her defeat, from Bernie Sanders supporters to former FBI Director James Comey's investigation into her use of a private email server.
If you were in Clinton's shoes, what would you title your memoir, and why?
Share your response here, and we'll feature a few in Friday's Politics & Policy Daily.
-Written by Lena Felton (@lenakfelton) and Taylor Hosking (@Taylor__Hosking)
We want to hear what you think about this article. Submit a letter to the editor or write to letters@theatlantic.com.
Lena Felton
is a former editorial fellow at
The Atlantic
.