The Atlantic Politics & Policy Daily: Wake Me Up When September Ends
Congress is back in session with a full agenda, and President Trump is ending DACA with a six-month delay.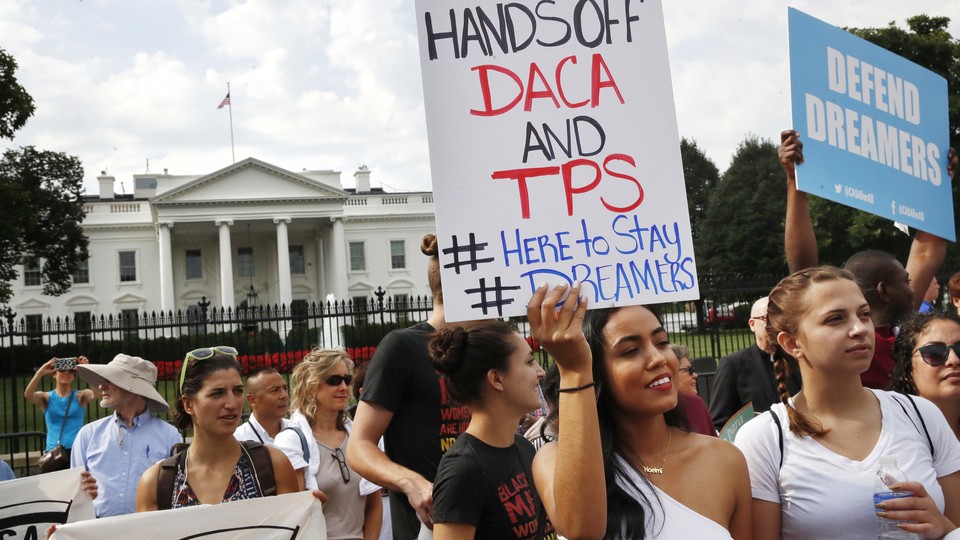 Today in 5 Lines
Attorney General Jeff Sessions announced that President Trump is ending DACA, the Obama-era program shielding undocumented immigrants who came to the U.S. as children from deportation, with a six-month delay. Former President Barack Obama denounced the decision in a statement, calling it  "cruel" and "self-defeating." During a news conference, Senators Dick Durbin and Lindsey Graham urged Congress to quickly pass the DREAM Act, a measure that would allow some undocumented immigrants to eventually gain legal status. And House Speaker Paul Ryan said that he hopes Congress can find a "permanent legislative solution." Puerto Rico and the United States Virgin Islands are preparing for Hurricane Irma, which was upgraded to a Category 5 storm.
---
Today on The Atlantic
'South Korea Is Right': While President Trump has responded to North Korea's nuclear threats with threats of his own, South Korean President Moon Jae In has offered a more realistic approach to dealing with the crisis. (Peter Beinart)

America's Mistake: The country has lost faith in its public-school system, writes Erika Christakis, but the current debate over school choice ignores the successes of public schools and underestimates their role in civil society.

On the Down-Low: Donald Trump's presidency has ushered in an era of unprecedented leaking, but Special Counselor Robert Mueller's investigation remains opaque, fueling fevered speculation. (David A. Graham)
Follow stories throughout the day with our Politics & Policy portal.
---
Snapshot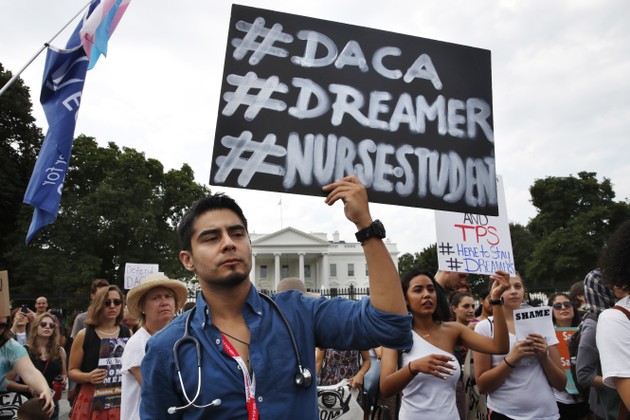 ---
What We're Reading
Ball in Their Court: Congress may have enough votes to make DACA law, but the last few months have shown that passing anything will be a struggle. (Perry Bacon Jr., FiveThirtyEight)
'Why Does Trump Always Shoot the Hostages?': Ending DACA is just one way President Trump is frittering away his political power. (Ben Smith, BuzzFeed)
No Room for Error: Congress' jam-packed September agenda will test how well President Trump can work with members of his own party, many of whom he has recently attacked. (Michael C. Bender and Kristina Peterson, The Wall Street Journal)
What About Houston?: The Trump administration's crackdown on illegal immigration could threaten Texas's recovery efforts in the wake of Hurricane Harvey: "If they deport all of us, who will rebuild?" said one undocumented laborer. (Arelis R. Hernandez and Aaron C. Davis, The Washington Post)
Tax the Rich: In the early 1960s, America's steep tax rates created a culture where massive incomes were unusual. To reduce the country's increasing income inequality, the United States  needs to raise its rates once again. (David Leonhardt, The New York Times)
---
Visualized
The Big Idea: Politico presents the 50 ideas that are shaking up American politics—and who's behind them.
---
Question of the Week
Congress is back in session with a full agenda, including Harvey relief, tax reform, raising the debt ceiling, and averting a government shutdown. On Tuesday, President Trump also called on lawmakers to address immigration issues, adding a contentious item to an already stacked list. Amid competing demands, what do you think Congress should focus on—and why?
Share your response here, and we'll feature a few in Friday's Politics & Policy Daily.
-Written by Elaine Godfrey (@elainejgodfrey)