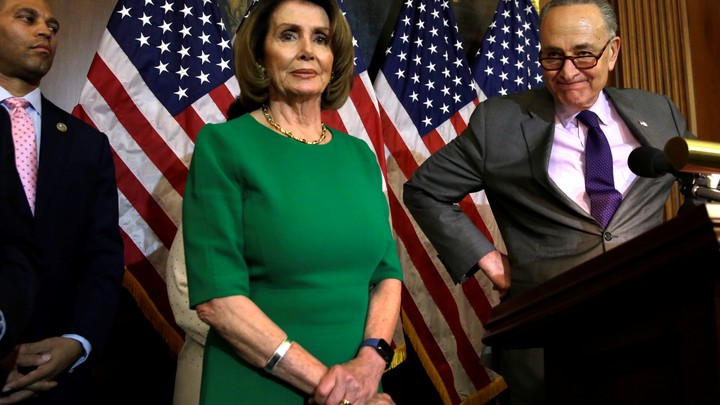 Today in 5 Lines
President Trump will host House Minority Leader Nancy Pelosi and Senate Minority Leader Chuck Schumer for dinner at the White House to discuss the DREAM act, health-insurance markets, and December fiscal deadlines. Vermont Senator Bernie Sanders unveiled his "Medicare-for-all" bill. Republican Senators Lindsey Graham and Bill Cassidy introduced legislation to repeal parts of the Affordable Care Act. The Department of Homeland Security ordered federal agencies to remove software made by the Russian firm Kaspersky Lab, citing security concerns. Former National-Security Adviser Susan Rice reportedly told the House Intelligence Committee that she requested the names of senior Trump officials "to understand why the crown prince of the United Arab Emirates was in New York late last year."
---
Today on The Atlantic
Grand Juries, Revealed: What is it really like to testify in front of a grand jury? Veterans of Whitewater and Valerie Plame scandals share their memories—and shed light on what Special Counsel Robert Mueller's witnesses could face behind closed doors. (Matt Ford)

Problem First, Data Second: During its second meeting on Tuesday, Trump's Voter-Fraud Commission struggled to show reliable data demonstrating illegal voting activity. Vann R. Newkirk II explains the group's circular logic.

A Single-Payer Pitch: The last time Vermont Senator Bernie Sanders introduced a "Medicare-for-all" bill, he had no co-sponsors. Now, 15 Democrats are co-sponsoring the measure—signaling the party's shift on health-care reform. (Clare Foran)
Follow stories throughout the day with our Politics & Policy portal.
---
Snapshot
---
What We're Reading
Media Wars: Jim Rutenberg describes how Russia Today (RT) and Sputnik became Russia's most effective form of propaganda in the 21st century. (The New York Times)
Tech Take-Down: Tech companies are receiving criticism from Democrats and Republicans alike, who see them as wielding too much power. The pushback may put them at risk of facing tighter regulations down the road. (Nancy Scola, Politico)
The Audacity to Tax: Republicans are trying to win tax reform by playing small ball, argues David M. Smick, when they really should be thinking big. (The Wall Street Journal)
Black and Red: On Wednesday, President Trump met one-on-one with the only black Republican senator, Tim Scott of South Carolina, to discuss race relations in the United States. Geoff Bennett reports on the outcome of the meeting. (NPR)
Florida's 828,000 Mobile Homes: The state has the largest number of mobile homes in the country. And yet, few are built to withstand hurricane-level winds. (Danielle Paquette, The Washington Post)
---
Visualized
A Shrinking Middle Class, Indeed: Watch how the wealth distribution of American households has changed between 1967 and the present. (Lazaro Gamio, Axios)
Outage Map: See where more than four million Floridians remain without power in the wake of Hurricane Irma. (Bill Chappell, NPR)
---
Question of the Week
On Tuesday, Hillary Clinton released her memoir, What Happened. In the book, Clinton attempts to explain the factors that led to her defeat, from Bernie Sanders supporters to former FBI Director James Comey's investigation into her private email server.
If you were in Clinton's shoes, what would you title your memoir, and why?
Share your response here, and we'll feature a few in Friday's Politics & Policy Daily.
-Written by Lena Felton (@lenakfelton) and Taylor Hosking (@Taylor__Hosking)
We want to hear what you think about this article. Submit a letter to the editor or write to letters@theatlantic.com.
Lena Felton
is a former editorial fellow at
The Atlantic
.