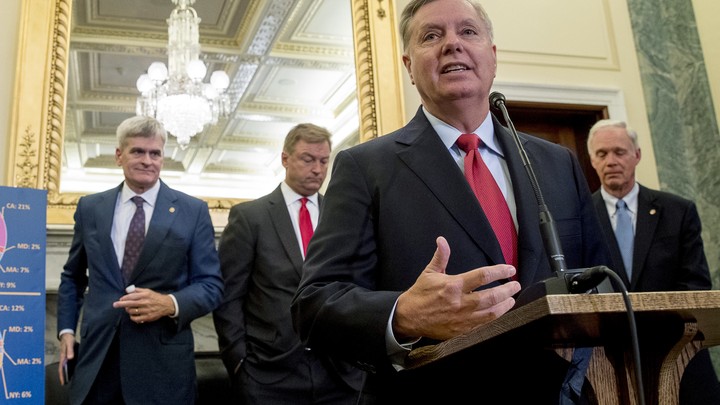 Today in 5 Lines
World leaders gathered for the United Nations General Assembly in New York, where they're expected to discuss the Paris climate accord and the Iran nuclear deal, among other issues, over a four-day span. Iranian President Hassan Rouhani told CNN that if President Trump kills the nuclear agreement, the United States would "carry a high cost." Senators Lindsey Graham and Bill Cassidy's health-care proposal received the endorsement of Arizona Governor Doug Ducey, which could lead to Senator John McCain backing the measure. The Congressional Budget Office announced that it will provide an assessment of the bill by next week. Six DACA recipients filed a lawsuit against Trump over his decision to end the Obama-era program.
---
Today on The Atlantic
Not So Different After All: South Carolina Senator Lindsey Graham and Louisiana Senator Bill Cassidy's Obamacare replacement bill has been touted as a bipartisan fix. But Vann R. Newkirk II explains that the fundamentals are still the same.

The Rust Belt's Reliance on Foreign-Born Workers: A new study found that immigrants are a boon to Midwestern cities, which could make it more difficult for Republicans from the region to support tougher restrictions on immigration. (Ronald Brownstein)

A 'White and Delightsome' People: In an interview with Emma Green, Max Perry Mueller, a historian at the University of Nebraska-Lincoln, discusses the role race plays in Mormonism.
Follow stories throughout the day with our Politics & Policy portal.
---
Snapshot
---
What We're Reading
A Tale of  Two Lawyers: Members of President Trump's legal team are clashing over how much to cooperate with the Russia investigation, prompting name-calling and tension in West Wing. (Peter Baker and Kenneth P. Vogel, The New York Times)
America's Influence Abroad: During a briefing at the Pentagon in July, Defense Secretary Jim Mattis and Secretary of State Rex Tillerson used "charts, maps, and diagrams" to explain to President Trump the importance of America's outposts. (Matthew Lee and Jonathan Lemire, AP)
Tough on the Border: The perception that law enforcement is overwhelmed and ineffective at the U.S.-Mexico border may be outdated, according to a new report by the Department of Homeland Security. (Mick Miroff, The Washington Post)
'Frightening' Possibilities: Gerald F. Seib argues that no question at the United Nations General Assembly will be more important than this one: What does North Korea want? (Wall Street Journal)
Portrait of an Appointee: Pema Levy reports that Cameron Quinn, President Trump's pick for the top civil-rights job at the Department of Homeland Security, has pushed for restrictive policies that haven't fared well for minorities. (Mother Jones)
---
Visualized
Money Map: Under the Obamacare repeal bill proposed by Senators Lindsey Graham and Bill Cassidy, many states would lose federal funding for health care. California, New York, and Arkansas are among those that would lose the most. (Sam Baker and Caitlin Owens, Axios)
The World's View on Trump: Find out what the world thinks of President Trump. (Andrea Jones-Rooy and Gus Wzerek, FiveThirtyEight)
---
Question of the Week
This week, President Trump will make his debut at the United Nations General Assembly. World leaders are expected to address a host of issues, including the Paris climate accord, the Iran nuclear deal, and North Korea's intensifying nuclear threats.
What would you like to see Trump focus on achieving at the gathering—and why?
Share your response here, and we'll feature a few in Friday's Politics & Policy Daily.
-Written by Lena Felton (@lenakfelton) and Taylor Hosking (@Taylor__Hosking)
We want to hear what you think about this article. Submit a letter to the editor or write to letters@theatlantic.com.
Lena Felton
is a former editorial fellow at
The Atlantic
.