The Atlantic Politics & Policy Daily: Randstanding
Despite new revisions to the Graham-Cassidy health-care bill, Republican Senator Rand Paul said he remains opposed.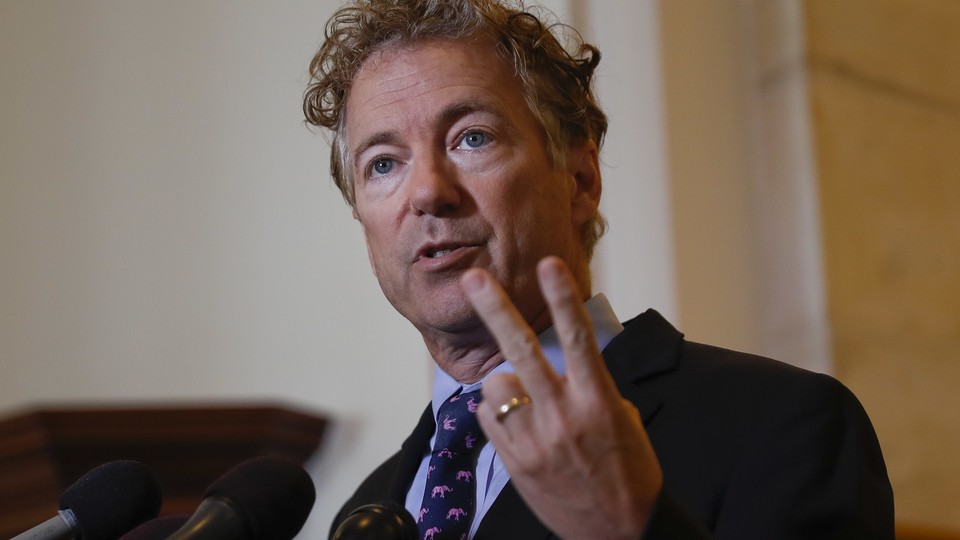 Today in 5 Lines
Protesters disrupted the Senate Finance Committee hearing on the Graham-Cassidy health-care bill. Despite new revisions to the legislation, Republican Senator Rand Paul said he remains opposed to the measure. Former New York Representative Anthony Weiner, who pleaded guilty in May to transferring obscene material to a minor, was sentenced to 21 months in prison. The Supreme Court canceled oral arguments for two cases related to President Trump's travel ban, after the administration issued a new update to the ban. Republican Senators Lindsey Graham and Bill Cassidy will debate Senators Bernie Sanders and Amy Klobuchar on health care at 9 p.m. ET on CNN.
---
Today on The Atlantic
Who Has Moore Sway?: Alabama's GOP Senate primary between Senator Luther Strange, a candidate backed by President Trump, and Roy Moore, backed by conservative firebrands like Steve Bannon, is testing Trump's bond with his base. (Rosie Gray)

'Don't Take the Knee': Athletes shouldn't kneel during the national anthem, argues David Frum, because it concedes America's flag to Donald Trump and his supporters.

Does It Matter?: Facebook recently announced that Russian-linked accounts purchased $100,000 worth of advertising. Here's how significant that ad buy might be. (Alexis C. Madrigal)
Follow stories throughout the day with our Politics & Policy portal.
---
Snapshot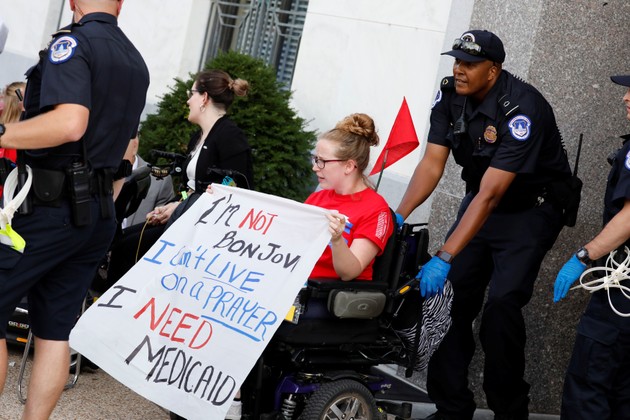 ---
What We're Reading
Supplies Are Running Out: The isolated mountain town of Juntos, Puerto Rico, was hit hard by Hurricane Maria, and its residents are desperate for help: "The first thing some villagers ask when they see outsiders: 'Are you FEMA?'" (Samantha Schmidt and Joel Achenbach, The Washington Post)
'A Woman's Work': Attorney Gloria Allred gained notoriety by overseeing a number of high-profile cases involving women seeking justice. But her career can also be seen as "a decades-long project to expand the boundaries of legitimate victimhood." (Jia Tolentino, The New Yorker)
Only Trump Wins: In the NFL-kneeling debate, President Trump is up against "out-of-touch athletes who appear to be opposing the flag and the troops," argues Scott Greer. And Trump is likely to emerge as the victor. (The Daily Caller)
A Whirlwind for Lindsey Graham: Weeks after the South Carolina senator was berated on Twitter by President Trump, his health-care legislation was being praised by the president. "Then his best friend spoiled the party." (Jamie Lovegrove, The Post and Courier)
Sneaky: During the presidential campaign, Steve Bannon reportedly planned to use a mole to spy on Facebook's job application process. (Joseph Bernstein, BuzzFeed)
'It's Very Serious': In an interview with 60 Minutes, Senator John McCain, who was recently diagnosed with brain cancer, said doctors gave him a "very poor prognosis." (Dan Nowicki, AZ Central)
---
Visualized
Compare and Contrast: Here's how the Graham-Cassidy bill is different from other recent Republican attempts to repeal and replace the Affordable Care Act. (Haeyoun Park, The New York Times)
---
Question of the Week
During a rally in Alabama last Friday, President Trump blasted NFL players who knelt during the national anthem. Trump's remarks fueled widespread protests that played out on the sidelines over the weekend. Now, Trump is calling for football fans to boycott the NFL for "disrespecting our Flag & Country."
Do you agree or disagree with the president's position? Why or why not?
Share your response here, and we'll feature a few in Friday's Politics & Policy Daily.
-Written by Elaine Godfrey (@elainejgodfrey)