The Atlantic Politics & Policy Daily: Raise the (Debt) Roof
President Trump cut a deal with Democrats to fund the government and raise the debt ceiling for three months.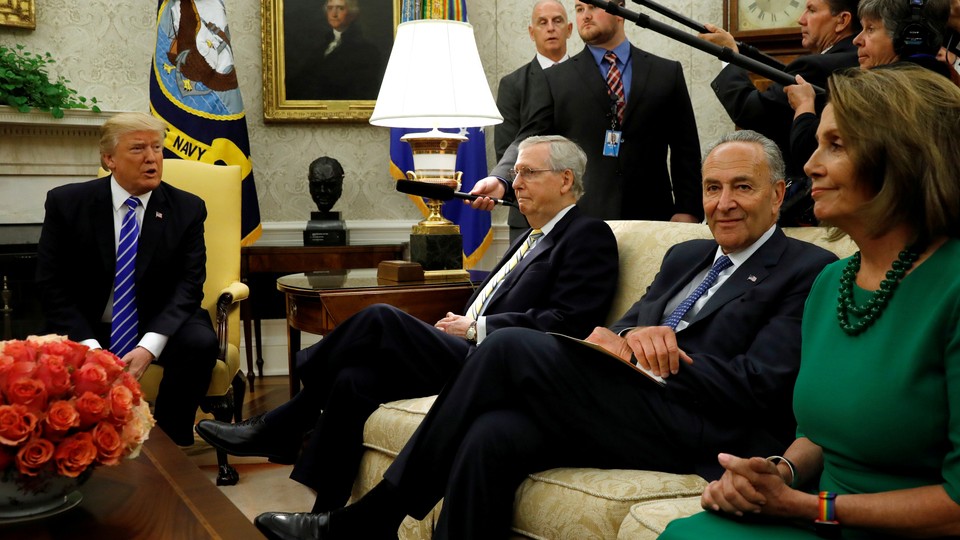 Today in 5 Lines
After meeting with congressional leaders at the White House, President Trump cut a deal with Democrats to fund the government and raise the debt ceiling for three months, as part of an agreement to allocate money to Hurricane Harvey relief. Hours before, Speaker Paul Ryan had called the proposal to increase the debt limit "ridiculous." Fifteen states, plus the District of Columbia, sued the Trump administration over the president's decision to end DACA, an Obama-era program protecting young undocumented immigrants from deportation. Arizona Senator John McCain expressed support for a new version of an Obamacare repeal bill sponsored by Senators Lindsey Graham and Bill Cassidy, after voting against repeal in July. Hurricane Irma, the second-strongest hurricane in the Atlantic Ocean ever recorded, has hit the Virgin Islands and Puerto Rico, and is heading toward the southeastern United States.
---
Today on The Atlantic
Follow stories throughout the day with our Politics & Policy portal.
---
Snapshot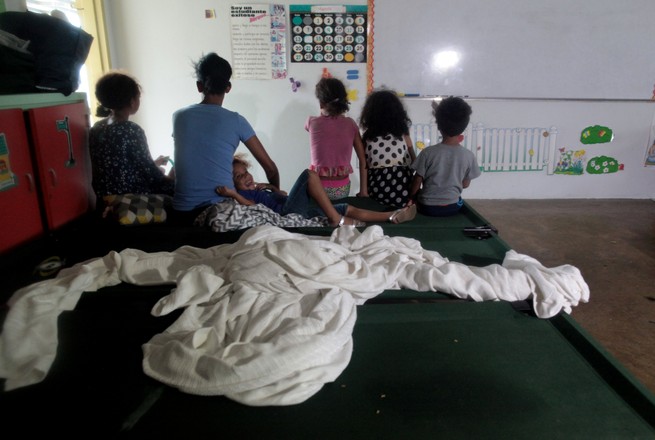 ---
What We're Reading
The Right Move: Rich Lowry argues that President Trump's decision to end DACA and put the onus on Congress to find a permanent legislative solution was a "relatively modest way to roll back what is clearly an extralegal act." (National Review)
Trump at a Crossroads: If Congress passes a measure to grant DACA recipients legal status, President Trump will have to decide whether to sign the legislation, a choice that will have long-term consequences for the Republican Party. (Robert Costa and Philip Rucker, The Washington Post)
The Compact: So far, 10 states have signed on to a radical alternative to replace the Electoral College. Here's how it works. (Tim Alberta, Politico)
'A Funeral of 2 Friends': At least 18 CIA personnel have been killed in the war in Afghanistan, as the agency continues to move its espionage operatives to the front lines. (Adam Goldman and Matthew Rosenberg, The New York Times)
Pay to Play: By paying for memberships at President Trump's properties, dozens of CEOs and lobbyists with government interests have a chance for close access to him. (USA Today)
---
Visualized
Who Are the Dreamers?: President Trump announced on Tuesday that he would end DACA, the Obama-era program shielding nearly 800,000 undocumented immigrants from deportation. Here's what we know about those immigrants. (Kevin Uhrmacher and Samuel Granados, The Washington Post)
---
Question of the Week
Congress is back in session with a full agenda, including Harvey relief, tax reform, raising the debt ceiling, and averting a government shutdown. On Tuesday, President Trump also called on lawmakers to address immigration issues, adding a contentious item to an already stacked list. Amid competing demands, what do you think Congress should focus on—and why?
Share your response here, and we'll feature a few in Friday's Politics & Policy Daily.
-Written by Elaine Godfrey (@elainejgodfrey)