The Atlantic Politics & Policy Daily: Priceless
Health and Human Services Secretary Tom Price has resigned.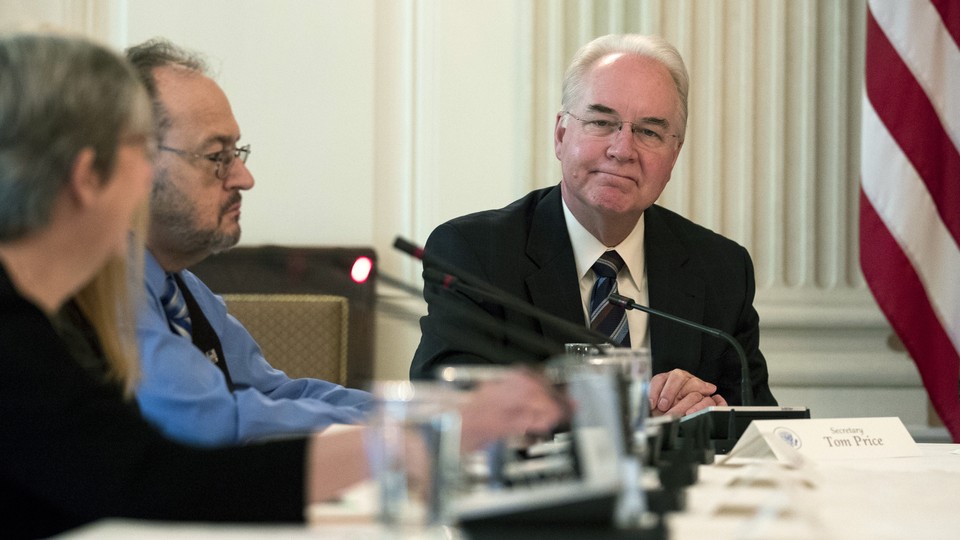 Today in 5 Lines
Health and Human Services Secretary Tom Price resigned, after it was reported that he spent more than $1 million in taxpayer money on private and military flights; President Trump plans to designate Don J. Wright, a deputy assistant secretary, to serve as acting secretary. During an address to the National Association of Manufacturers, Trump praised the GOP's new tax plan as "a giant, beautiful, massive" tax cut. He also defended his administration against criticism that officials didn't act quickly enough to send aid to hurricane-ravaged Puerto Rico, and pledged that "we will not rest … until the people of Puerto Rico are safe." The State Department ordered over half of its embassy personnel in Havana to leave the island, citing "specific attacks" that sickened at least 21 U.S. diplomats. The White House announced that Trump will make his first official trip to Asia during the first two weeks of November.
---
Today on The Atlantic
'Great Job!': Lacking electricity, potable water, and access to banks, Puerto Ricans are still suffering more than a week after Hurricane Maria struck the island. So why does President Trump keep insisting that his administration's response was a success? (David A. Graham)  

Permanently Linked: The controversy over NFL players kneeling during the national anthem has some fans lamenting the introduction of politics into sports. But football has always been a battleground in America's culture wars. (Vann R. Newkirk II)

Roy Moore? Really?: The Alabama Senate candidate is a "bit of a loon," writes Michelle Cottle. And the former judge has made it clear that he won't let facts—or the law—stand in his way.
Follow stories throughout the day with our Politics & Policy portal.
---
Snapshot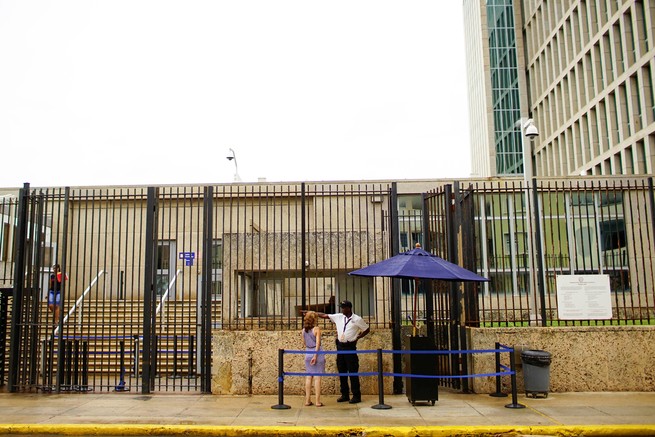 ---
What We're Reading
What's Next for Steve Bannon?: The former White House strategist now hangs out at his townhouse on Capitol Hill, "swearing like a sailor, chugging sodas … and getting ready to shape 2018." (Josh Dawsey, Politico)
Removed: The Treasury Department has reportedly taken down a 2012 economic analysis that contradicts Secretary Steve Mnuchin's argument that a corporate tax cut would be beneficial for workers. (Richard Rubin, The Wall Street Journal)
Gerrymandering Shmerrymandering: To take some of the politics out of redistricting, the Supreme Court can simply reaffirm the equal-population requirement. (Michael Barone, National Review)
You Say You Want a Revolution: Roy Moore's GOP primary win in Alabama has inspired an activist-led rebellion within the party: According to one former party leader, "Every Republican senator had better get prepared for a challenge from the far right." (Alexander Burns and Jonathan Martin, The New York Times)
'America Never Deserved Puerto Rico': President Trump's response to the devastation underscores what most Puerto Ricans already know: For most Americans, the territory will always be an afterthought. (Joshua Rivera, GQ)
---
Visualized
'I Don't Benefit': A New York Times analysis found that President Trump could cut his tax bills by over $1 billion under the new GOP proposal. Here's how. (Jesse Drucker and Nadja Popovich)
---
Question of the Week
During a rally in Alabama last week, President Trump blasted NFL players who've knelt during the national anthem in protest of police brutality. His remarks fueled widespread backlash that played out on the sidelines over the weekend. Now, Trump is calling for football fans to boycott the NFL for "disrespecting our Flag & Country." We asked this week if you agree or disagree with the president's position.
Almost 400 of you wrote in to share your thoughts, and most of you opposed his handling of the situation. That includes reader Robert Lindsley, who wrote: "Our flag and anthem are symbols representing all of the United States. Not just our military, not just our president or our elected government, but all Americans, including those who protest against discrimination."
But several of you offered a different perspective on the issue. Here's what Norman Oro had to say: "I can't believe I'm writing this, but I do agree with President Trump that not standing during the national anthem is disrespectful to our country. Having said that, I think he should use his power as president to try to understand why this is happening. Based on my limited understanding of the situation, many Americans are genuinely fearful that they're being targeted and murdered by our nation's police forces. … There are better, more constructive ways to deal with this.."
Thanks to everyone who submitted responses, and stay tuned for next week's Question of the Week.