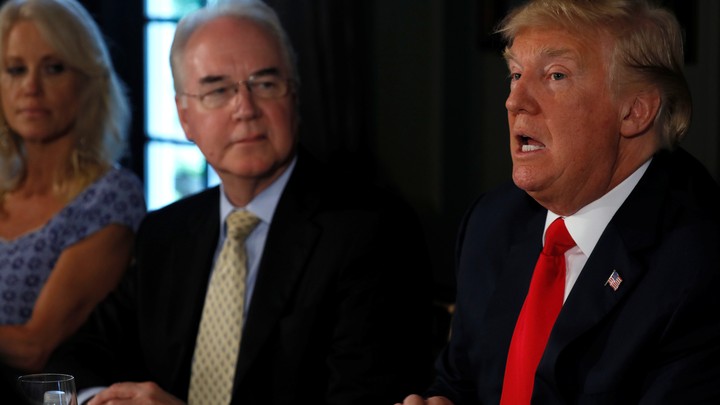 Today in 5 Lines
President Trump told reporters he is "not happy" about reports that Health and Human Services Secretary Tom Price used taxpayer-funded private planes, and said "we'll see" about firing him. In Indiana, Trump laid out his vision for tax reform that includes a range of tax cuts for individuals and businesses. Puerto Rico Governor Ricardo Rosselló said 97 percent of Puerto Ricans are without power, and about half still don't have running water, one week after Hurricane Maria struck the U.S. territory. House Republicans proposed a plan to provide $10 billion for Trump's border wall. And the Trump administration announced it will slash the number of refugees admitted into the United States next year to 45,000.
---
Today on The Atlantic
Follow stories throughout the day with our Politics & Policy portal.
---
Snapshot
---
What We're Reading
The 10 Commandments Judge: Alabama Senate candidate Roy Moore has long read the Bible in controversial ways. Find out how those readings might inform the way he would legislate. (Rachel Chason, The Washington Post)
'A Regulatory Mutiny': In keeping with a long history of environmental activism, California has implemented the toughest restrictions on greenhouse gas emissions in the country—even when those regulations are at odds with federal government and industry standards. (Hiroko Tabuchi, The New York Times)
Government Geezers: Federal workers are significantly older than the U.S. workforce overall: a symptom, experts say, of Washington's ineffective hiring system. (Danny Vinik, Politico)
'What Puerto Rico Needs': President Trump isn't the only one to blame for the handling of Hurricane Maria's devastation in Puerto Rico, writes James Carroll: "Mainland American journalists have just not found the fate of Puerto Ricans to be all that compelling." (The New Yorker)
A War of Words: Is President Trump's aggressive rhetoric toward North Korea likely to push the country to launch an attack? No, says David French—at least, not yet. (National Review)
---
Visualized
What to Know About Puerto Rico: Though nearly half of Americans don't know it, Puerto Ricans are U.S. citizens. Here's what else you should know about the U.S. territory. (Ryan Struyk and Will Mullery, CNN)
---
Question of the Week
During a rally in Alabama last Friday, President Trump blasted NFL players who knelt during the national anthem. Trump's remarks fueled widespread protests that played out on the sidelines over the weekend. Now, Trump is calling for football fans to boycott the NFL for "disrespecting our Flag & Country."
Do you agree or disagree with the president's position? Why or why not?
Share your response here, and we'll feature a few in Friday's Politics & Policy Daily.
-Written by Lena Felton (@lenakfelton), Taylor Hosking (@Taylor_Hosking), and Elaine Godfrey (@elainejgodfrey)
We want to hear what you think about this article. Submit a letter to the editor or write to letters@theatlantic.com.
Lena Felton
is a former editorial fellow at
The Atlantic
.
Elaine Godfrey
is a staff writer at
The Atlantic
, where she covers politics.