The Atlantic Politics & Policy Daily: 'It's in Very, Very, Very Perilous Shape'
President Trump said he plans to visit Puerto Rico, after it was devastated by Hurricane Maria.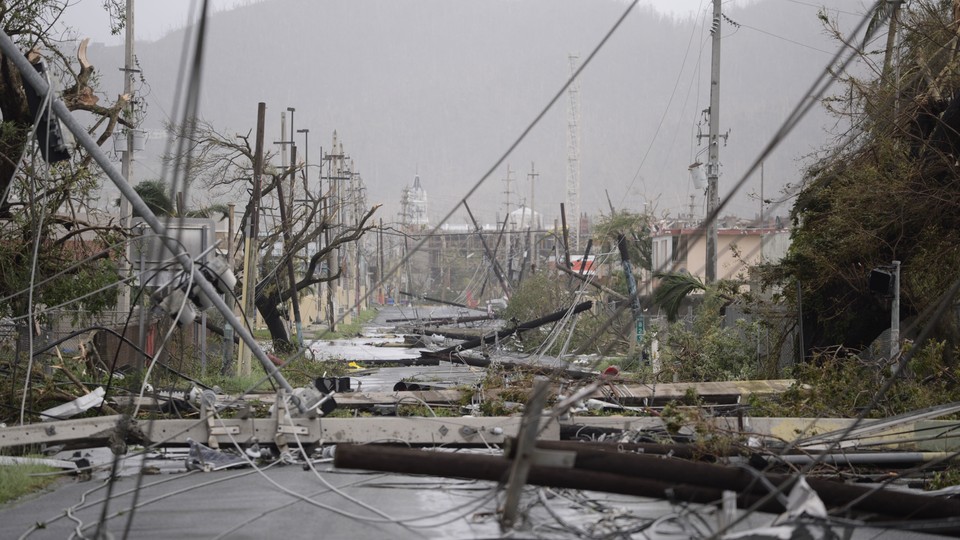 Today in 5 Lines
President Trump announced new sanctions against North Korea, and enhanced the Treasury Department's authority to target companies and individuals doing business with the country. Dominica Prime Minister Roosevelt Skerrit said Hurricane Maria has killed at least 15 people on the Caribbean island. Trump said that he would visit Puerto Rico, which he described as being in "very, very, very perilous shape," but did not specify when. Facebook will reportedly share advertisements purchased by Russians during the 2016 presidential campaign with congressional investigators. Republican Senators Lindsey Graham and Bill Cassidy will debate Senators Bernie Sanders and Amy Klobuchar on health care Monday at 9 p.m. ET on CNN.
---
Today on The Atlantic
'Get in Line': An imaginary queue is often invoked by politicians as the way immigrants should enter the country, but the process itself can take decades. (Priscilla Alvarez)

Nope: America's major physician organizations are in agreement about the new Republican proposal to replace Obamacare: They don't like it. (James Hamblin)

'Why Aren't You Furious Yet?': During his campaign, Donald Trump promised to "drain the swamp," but as president, his behavior has been "epically swampy." Here are 16 examples. (Conor Friedersdorf)
Follow stories throughout the day with our Politics & Policy portal.
---
Snapshot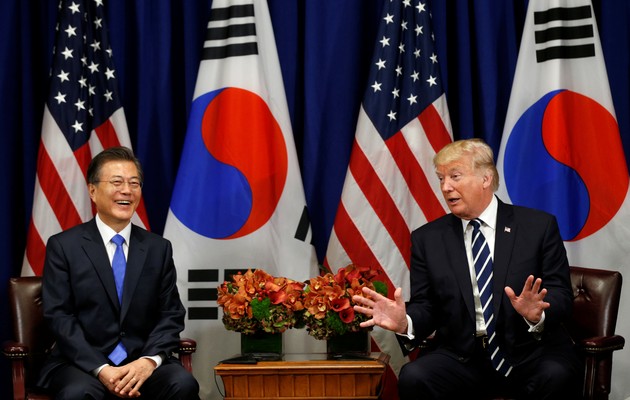 ---
What We're Reading
Radical: Last week, Senator Bernie Sanders introduced a "Medicare for All" health-care plan, and two Republicans proposed a new bill to replace Obamacare. Only one of those proposals should be considered "extreme." (Jonah Goldberg, National Review)
Damned If You Don't: The "unrelenting barrage of confrontations" with supporters and constituents during the August recess is fueling Senate Republicans' renewed push to repeal Obamacare. (Paul Kane, The Washington Post)
'Unprecedented': The Justice Department is pushing a court to strip voting rights from absentee voters in the Northern Mariana islands. "As far as we can tell," said one equal-rights advocate, "no court has ever taken away voting rights to remedy an equal protection violation." (Mark Joseph Stern, Slate)
The Effects of Lead: A study of health records in Flint, Michigan, shows that there were fewer pregnancies and more fetal deaths after April 2014, when citizens were exposed to higher levels of lead in their drinking water. (Keith Matheny, Detroit Free Press)
'The White House's Favorite Reporter': Jim Acosta is CNN's most antagonistic White House correspondent, but his combative relationship with administration officials isn't just good for the network; the White House loves it, too. (Ben Strauss, Politico)
---
Visualized
Cuts and Gains: Here's a breakdown of how every state's federal funding would change under the new Republican plan to replace the Affordable Care Act. (Haeyoun Park, The New York Times)
---
Question of the Week
On Tuesday, President Trump made his debut speech at the United Nations General Assembly. During the week, world leaders addressed a host of issues, including the Paris climate accord, the Iran nuclear deal, and North Korea's intensifying nuclear threats.
What would you like to see Trump focus on achieving at the gathering—and why?
Share your response here, and we'll feature a few in Friday's Politics & Policy Daily.
-Written by Elaine Godfrey (@elainejgodfrey)