The Atlantic Politics & Policy Daily: Graham-Cassidy and the Derailed Bid
Senate Majority Leader Mitch McConnell announced that the chamber will not vote on the Graham-Cassidy health-care bill.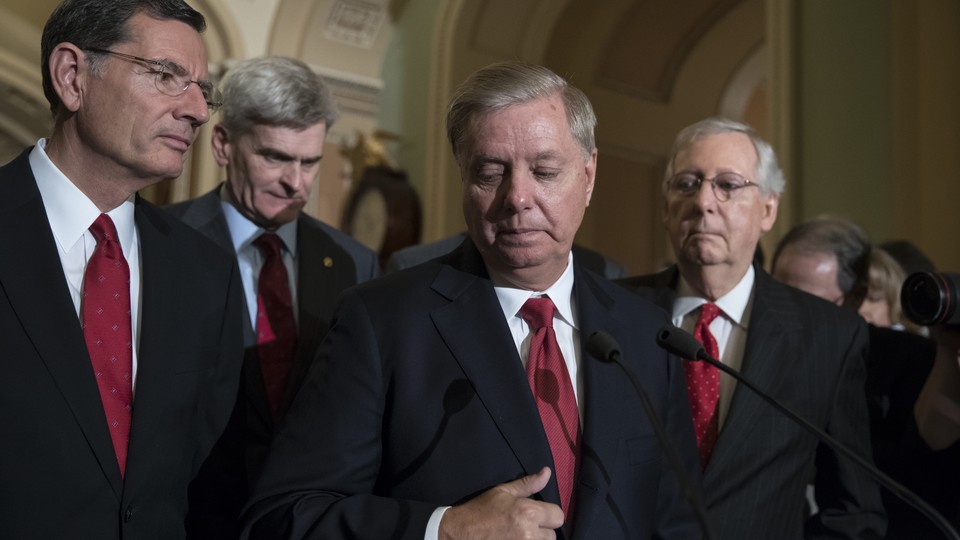 Today in 5 Lines
Senate Majority Leader Mitch McConnell announced that the chamber will not vote on the Graham-Cassidy health-care bill. Voters in Alabama head to the polls to cast their ballots in the state's Senate Republican primary. President Trump said he will visit Puerto Rico next Tuesday to assess the damage left behind by Hurricane Maria. During an address at Georgetown University Law Center, Sessions said that "freedom of thought and speech on the American campus are under attack," as he criticized NFL players for kneeling in protest during the National Anthem. Republican Senator Bob Corker of Tennessee said he will not run for reelection in 2018.
---
Today on The Atlantic
Roy's Boys: On Monday night, several stars of the Breitbart universe, including former White House Chief Strategist Steve Bannon and British politician Nigel Farage, rallied in support of Alabama Senate candidate Roy Moore. (Rosie Gray)

'A Nation of Snowflakes': People across the political spectrum believe that the American left is waging war on free speech. But the real threat to the First Amendment comes from the state. (Adam Serwer)

Island in Darkness: Since Hurricane Maria knocked out most of Puerto Rico's above-ground cable and phone infrastructure, residents have scrambled to find other ways to connect with their relatives on the mainland. (Vann R. Newkirk II)
Follow stories throughout the day with our Politics & Policy portal.
---
Snapshot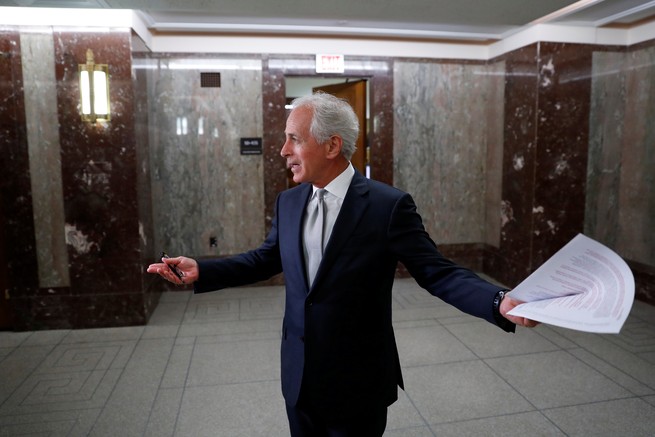 ---
What We're Reading
Emailgate: An email prankster pretending to be President Trump's son-in-law, Jared Kushner, reportedly emailed back and forth with Kushner's lawyer about "some correspondence on my private email...featuring adult content." (Natasha Bertrand, Business Insider)
'I Don't Get Nervous': New York's Olivia Nuzzi chatted with Roger Stone, a member of President Trump's inner circle, at the Trump International Hotel on the eve of his testimony before the House Intelligence Committee. "Tomorrow is really easy," Stone said. "All I have to do is show up and tell the truth."
Conflicted: The NFL protests have alienated many loyal fans of the Pittsburgh Steelers, some of whom say they'll stop attending games: "That's what happens when you lose respect and trust in something," said one fan. (Salena Zito, New York Post)
Lawyered Up: Former White House Press Secretary Sean Spicer has reportedly hired criminal defense attorney Chris Mead to handle issues related to Special Counsel Robert Mueller's Russia investigation. (Betsy Woodruff, Daily Beast)
Joe Biden's Platform: The former vice president's recent criticism of the policies of both Bernie Sanders and Steve Bannon sets him up to be the anti-populist candidate in 2020. (Bill Scher, Politico)
Taxing Times: Republicans are expected to reveal a new tax framework for the country on Wednesday. Here's what they plan to propose. (Damian Paletta and Mike DeBonis, The Washington Post)
---
Visualized
Who and Why: The Trump administration's revised travel ban restricts travel from eight countries. Here are the countries targeted by the ban—and why they're on the list. (Darla Cameron, The Washington Post)
Come Again?: A Morning Consult poll found that nearly half of Americans don't know that people born in Puerto Rico are U.S. citizens. (Kyle Dropp and Brendan Nyhan, The New York Times)
---
Question of the Week
During a rally in Alabama last Friday, President Trump blasted NFL players who knelt during the national anthem. Trump's remarks fueled widespread protests that played out on the sidelines over the weekend. Now, Trump is calling for football fans to boycott the NFL for "disrespecting our Flag & Country."
Do you agree or disagree with the president's position? Why or why not?
Share your response here, and we'll feature a few in Friday's Politics & Policy Daily.
-Written by Elaine Godfrey (@elainejgodfrey)