The Atlantic Politics & Policy Daily: Don and Nancy
President Trump tried to reassure DACA recipients about their immigration status at the request of House Minority Leader Nancy Pelosi.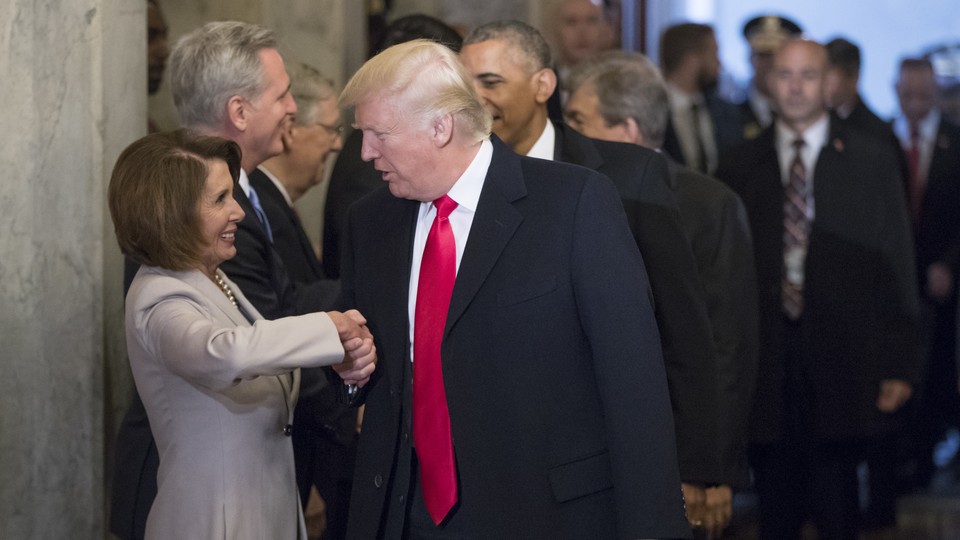 Today in 5 Lines
In his testimony before the Senate Judiciary Committee, Donald Trump Jr. said he agreed to meet with a Russian lawyer last year because he thought it was important to learn about Hillary Clinton's "fitness" for office, according to prepared remarks obtained by reporters. President Trump tried to reassure DACA recipients about their immigration status, after House Minority Leader Nancy Pelosi requested public clarification. Education Secretary Betsy DeVos announced plans to overhaul the Obama administration's guidance for colleges on handling sexual assault. Hurricane Irma continued to batter Puerto Rico and is headed toward south Florida, while two other hurricanes are intensifying in the eastern Atlantic. The Senate passed legislation that temporarily raises the debt ceiling and funds the government, as part of a Hurricane Harvey relief package.
---
Today on The Atlantic
'The First White President': In the October issue of The Atlantic, Ta-Nehisi Coates writes that President Trump "truly is something new—the first president whose entire political existence hinges on the fact of a black president."

Attacking Diversity: On Tuesday, The Washington Post reported that a Kremlin-connected firm bought $100,000 in Facebook ads ahead of the U.S. election. While the ads didn't directly reference the election, they appeared focused on spreading divisive social and political messages. (David A. Graham)

Guilty but Innocent: A new report from ProPublica shows that some wrongly convicted defendants are pressured to sign plea deals—even when new DNA evidence can exonerate them. (Megan Rose and ProPublica)
Follow stories throughout the day with our Politics & Policy portal.
---
Snapshot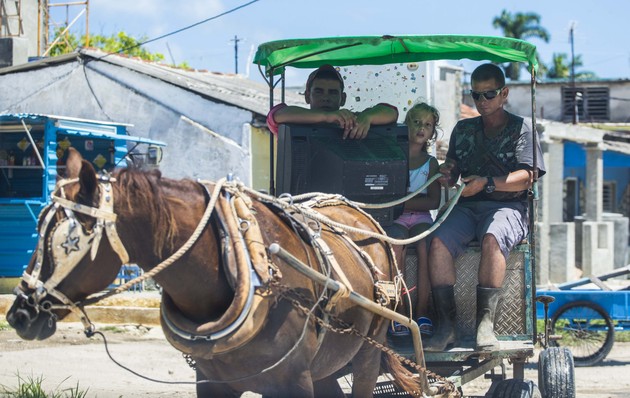 ---
What We're Reading
Behind the Scenes With Maggie Haberman: The New York Times White House correspondent describes the omnipresence of Donald Trump—and how being a bartender helped her become a better political reporter. (Kaitlin Menza, New York)
Pleased With Himself: Despite Republican backlash over President Trump's deal with Democratic leaders to raise the debt ceiling, Trump seems "super upbeat."(Josh Dawsey, Politico)
Breakout Star: Former South Carolina Governor Nikki Haley faced a steep learning curve after becoming the U.S. ambassador to the United Nations. Now she's facing her biggest test yet: North Korea. (Elise Labott, CNN)
In Hindsight: Six presidential scholars predict how history will judge Donald Trump's presidency. According to one expert, "Trump's historical illiteracy may wind up being as costly as John F. Kennedy's grasp of the past was beneficial." (Vanity Fair)
'The Battle Is Just Not Over': One Alabama town's attempt to form a new school district illustrates America's ongoing struggle with racial integration. (Nikole Hannah-Jones, The New York Times Magazine)
---
Visualized
How Big Is Irma?: Check out these graphics to see how the hurricane's strength compares with that of Hurricane Katrina in 2005 and Hurricane Andrew in 1992. (The Washington Post)
---
Question of the Week
Congress is back in session with a full agenda, including Harvey relief, tax reform, raising the debt ceiling, and averting a government shutdown. On Tuesday, President Trump also called on lawmakers to address immigration issues, adding a contentious item to an already stacked list. Amid competing demands, what do you think Congress should focus on—and why?
Share your response here, and we'll feature a few in Friday's Politics & Policy Daily.
-Written by Elaine Godfrey (@elainejgodfrey)