The Atlantic Politics & Policy Daily: Dear Jim
Special Counsel Robert Mueller is reportedly examining a draft letter written by President Trump enumerating his reasons for firing former FBI Director James Comey.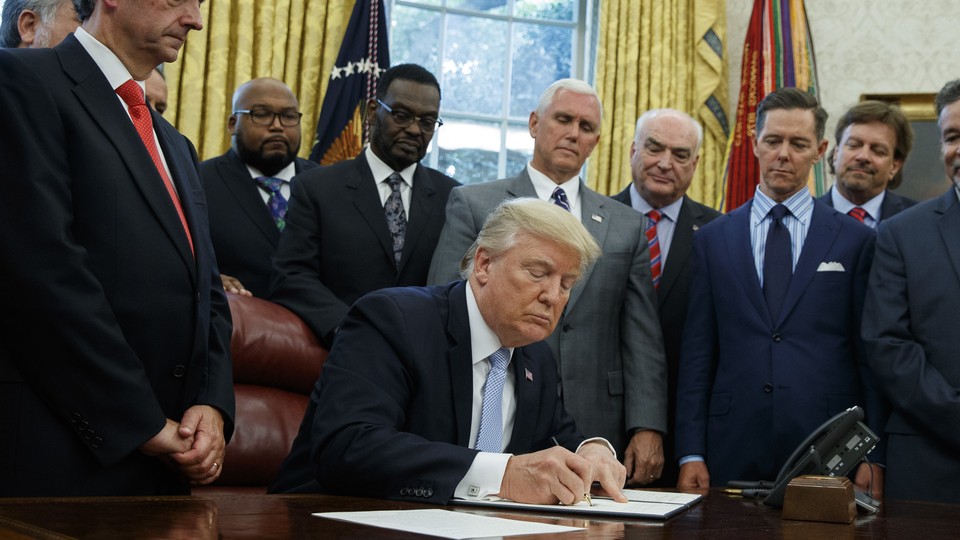 Today in 5 Lines
Special Counsel Robert Mueller is reportedly examining a draft letter written by President Trump enumerating his reasons for firing former FBI Director James Comey. White House Press Secretary Sarah Huckabee Sanders said Trump will make an announcement on DACA, the Obama-era program offering protections for young undocumented immigrants, on Tuesday. Meteorologists are tracking Hurricane Irma, a storm brewing in the eastern Atlantic ocean that became a Category 3 hurricane on Thursday. Trump is expected to visit Texas and Louisiana on Saturday, his second visit to the flood-ravaged region this week. The U.S. economy added 156,000 jobs in August, and the unemployment rate increased slightly to 4.4 percent.
---
Today on The Atlantic
Follow stories throughout the day with our Politics & Policy portal.
---
Snapshot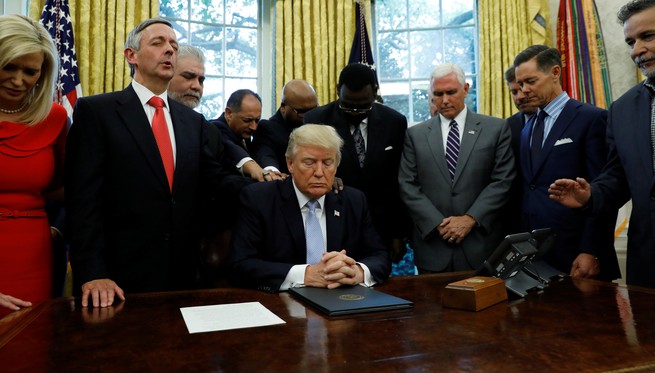 ---
What We're Reading
Teaming Up: Special Counsel Robert Mueller has reportedly enlisted agents from the IRS' Criminal Investigations unit—a specialized entity focused on financial crime—to help with his probe into Russian election interference. (Betsy Woodruff, Daily Beast)
America's Dads: The Washington Post's Ben Terris asked Mitt Romney, former President Bill Clinton, Senator Tim Kaine, and other lawmakers for advice on fatherhood. Here's what they said.
A Conservative Dream Act?: As President Trump wrestles with whether or not to end DACA, the Obama-era protections for young undocumented immigrants, conservative lawmakers are drafting legislation that might offer him an escape hatch. (Franco Ordonez, Brian Murphy, and Anita Kumar, McClatchy)
What They've Learned: Here's what the past few months of debate over plans to repeal and replace the Affordable Care Act have taught members of Congress about negotiating health-care policy. (David Nather, Axios)
'Mick the Knife': Mick Mulvaney, head of the Office of Management and Budget, is one of the only Trump administration officials with government experience. And he's using that experience to dismantle the federal bureaucracy. (Michael Grunwald, Politico)
---
Visualized
Historically Expensive: Here's how the cost of Hurricane Harvey compares to other major natural disasters that have impacted the U.S. since 1980. (Kevin Quealy, The New York Times)
---
Question of the Week
Last week, it was rumored that Ohio Republican Governor John Kasich and Colorado Democratic Governor John Hickenlooper were eyeing a joint bid to challenge President Trump in 2020. While Kasich shot down those rumors on Sunday, the hypothetical pairing prompted us to ask your dream bipartisan match-up to run in 2020.
Hadley Sachs would vote for a Joe Biden-John McCain ticket because "they are both deeply invested in maintaining the rule of law, both career politicians, and both unequivocally sane."
Reader John Vaught LaBeaume offered his idea of a "centrist libertarian dream ticket": Senator Jeff Flake of Arizona and Representative Jared Polis of Colorado. Jamie Ballenger also mentioned Flake, saying a Bernie Sanders-Jeff Flake ticket would cover all the bases: "old/young, social Democrat/conservative Republican, east/west. And, both seem actually fond of humanity and want to do right by us."
Finally, Sandy Bryson suggested U.S. House candidate for Kansas and former Marine combat aviator from Amy McGrath should run with Democratic Senator Kamala Harris because both display "intelligence, no fear, world experience, empathy."
Thanks to everyone who submitted responses, and stay tuned for next week's Question of the Week.