The Atlantic Politics & Policy Daily: Deal or No Deal
President Trump told reporters he has made a decision on whether to abandon the Iran deal, but refused to comment further.
Today in 5 Lines
Special Counsel Robert Mueller reportedly requested extensive records from the White House as part of his probe into Russia's interference in the presidential election. President Trump told reporters he has made a decision on whether to abandon the Iran deal, but refused to comment further. A spokesman for Senate Majority Leader Mitch McConnell said McConnell intends to bring the latest proposal to repeal the Affordable Care Act to a vote next week. More than 200 people are dead after a category 7.1 earthquake struck Mexico on Tuesday. Puerto Rico is completely without power after Hurricane Maria, a category 4 storm, swept across the island.
---
Today on The Atlantic
Failing the Jimmy Kimmel Test: On Tuesday, the late-night host again weighed in on America's health-care debate, but this time, he was angry. Under the new Republican proposal to repeal Obamacare, he said, "your child with a preexisting condition will get the care he needs—if, and only if, his father is Jimmy Kimmel." (Megan Garber)

A Stricter Cap on Refugees: President Trump's remarks at the United Nations on Tuesday highlighted an ongoing debate in the United States: How many refugees should be resettled in the country? (Krishnadev Calamur)

Not Helping: Rather than deterring nuclear threats from North Korea, President Trump's vow to "totally destroy" the country actually increases the risk for nuclear war. (Ankit Panda)
Follow stories throughout the day with our Politics & Policy portal.
---
Snapshot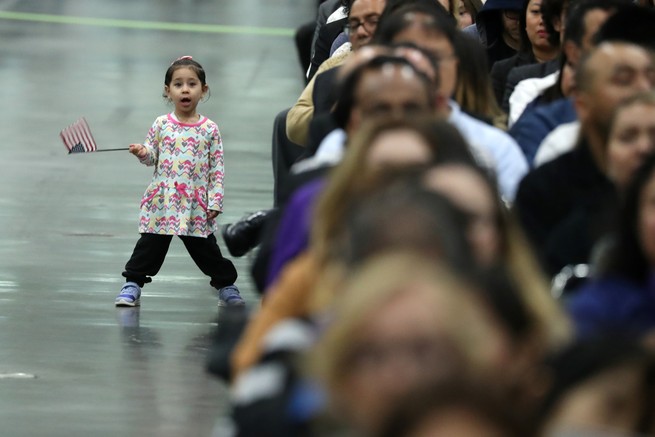 ---
What We're Reading
'We Can Accommodate': Several months before the 2016 presidential election, former Trump campaign manager Paul Manafort reportedly offered to provide private briefings on the race to a Russian billionaire. (The Washington Post)
America's Greatest Vulnerability: Over the past two decades, the United States has become a deeply tribal society, where race, religion, and geography define its political parties. (Andrew Sullivan, New York)
She's Baaack: Edward Morrissey argues that Hillary Clinton's re-emergence is a gift to President Trump. (The Week)
Who Is Madame Giselle?: A woman living in an upscale apartment building in Chevy Chase, Maryland, claimed to be the secret wife of the Egyptian president, and a mentor to Ivanka Trump. But things got messy when she promised her neighbors she could make them a lot of money. (Manuel Roig-Franzia, The Washington Post)
All or Nothing: Republicans are putting Rand Paul on blast for not supporting the newest plan to repeal Obamacare, but he doesn't care: "These people, they so totally do not get it," said the Kentucky senator. (Seung Min Kim and Burgess Everett, Politico)
Like Thelma & Louise?: Vox asked nine Republican senators why they support the latest effort to repeal and replace the Affordable Care Act. Here's what they said. (Jeff Stein)
---
Visualized
'Should We Build the Wall?': Explore the sights and sounds from every foot of the U.S.-Mexico border in this interactive report. (USA Today)
Devastating: More than 200 people were killed in a massive earthquake in Mexico on Tuesday. See a few early images from the disaster. (Alan Taylor)
---
Question of the Week
On Tuesday, President Trump made his debut speech at the United Nations General Assembly. During the week, world leaders are expected to address a host of issues, including the Paris climate accord, the Iran nuclear deal, and North Korea's intensifying nuclear threats.
What would you like to see Trump focus on achieving at the gathering—and why?
Share your response here, and we'll feature a few in Friday's Politics & Policy Daily.
-Written by Elaine Godfrey (@elainejgodfrey)