The Atlantic Politics & Policy Daily: America's Next Tax Model
White House Economic Adviser Gary Cohn said he "can't guarantee" the Trump administration's new tax proposal won't cause tax increases for some middle-class families.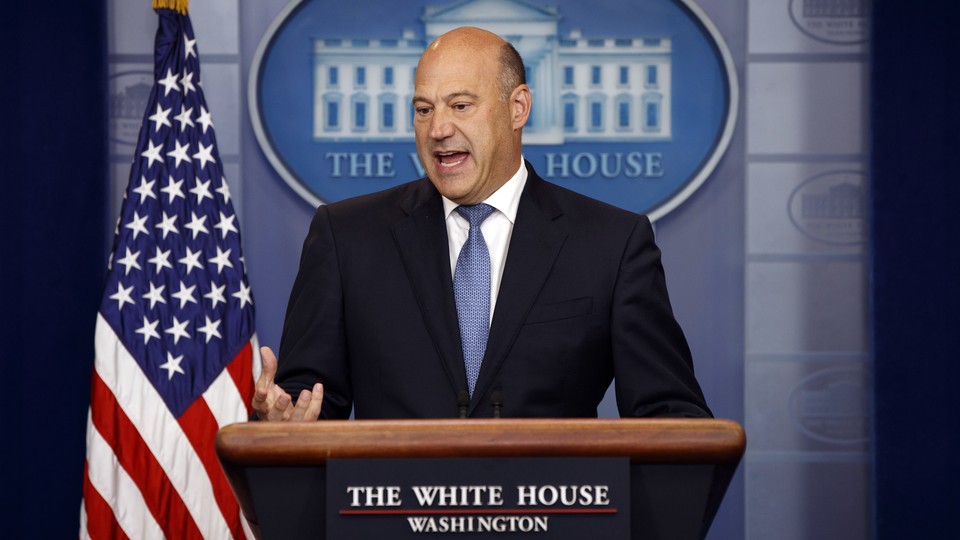 Today in 5 Lines
Representative Steve Scalise, the House Majority whip, returned to Congress after being shot at a congressional baseball team practice in June. Christopher Wray, President Trump's pick to replace James Comey as the new FBI Director, was sworn in at the FBI Headquarters. Chief White House Economic Adviser Gary Cohn said the Trump administration's new tax proposal is "purely aimed" at the middle class but said he "can't guarantee" there won't be tax increases for some middle-class families. The Trump administration temporarily waived the Jones Act, a law that would make it more difficult to send hurricane-relief supplies to Puerto Rico. Twitter executives met privately with members of both the House and Senate Intelligence Committees, as part of the panels' probe into Russian interference in the 2016 election.
---
Today on The Atlantic
Follow stories throughout the day with our Politics & Policy portal.
---
Snapshot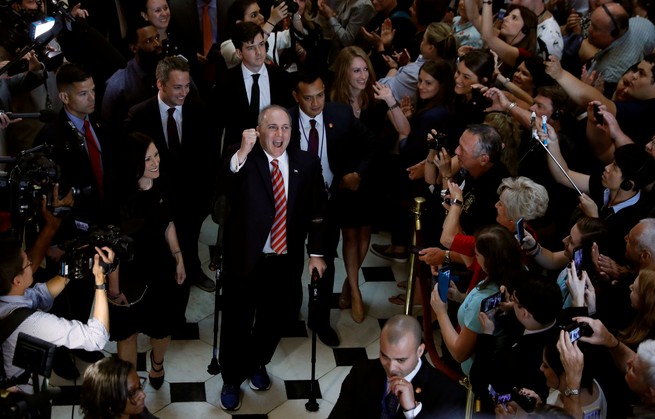 ---
What We're Reading
Don't Mention It: During his closed interview with the Senate Intelligence Committee, White House adviser and President Trump's son-in-law Jared Kushner reportedly "did not share the existence of his personal email account, which he has used for official business." (Jake Tapper, CNN)
From Birmingham to Beijing: Roy Moore's win in Alabama proved just how influential Steve Bannon can be—and now the former chief strategist is taking his cultural revolution to China. (Joshua Green, Bloomberg)  
Bipartisan Dislike: Once praised by both the left and right, tech corporations are now in the hot seat: Progressives wonder why workers can't unionize, and conservatives see Silicon Valley leaders as "government colluders." (Victor Davis Hanson, National Review)
Puerto Rico Needs Cash: The next disastrous shortage of resources on the island after electricity, gas, and water could be physical cash, as ATM machines are unable to be refilled. (Ben Fox and Danica Coto, Associated Press)
Good News for Businesses?: Wall Street executives are hopeful that the Republican tax plan will lower the corporate tax rate by as much as 20 percent, which they believe could lead to economic growth and greater profits for banks. (The Wall Street Journal)
In the Rear View: Dealmaker Bob Corker has announced his retirement from the Senate just as right-wing hardliner Roy Moore won the Republican Senate primary in Alabama. The development deals a blow to hopes for future bipartisanship in the chamber. (Carl Hulse, New York Times)
---
Visualized
Break It Down: On Wednesday, the Trump administration unveiled a proposal to change the U.S. tax code. These six charts illustrate the plan's key elements. (Alicia Parlapiano, The New York Times)
---
Question of the Week
During a rally in Alabama last Friday, President Trump blasted NFL players who knelt during the national anthem. Trump's remarks fueled widespread protests that played out on the sidelines over the weekend. Now, Trump is calling for football fans to boycott the NFL for "disrespecting our Flag & Country."
Do you agree or disagree with the president's position? Why or why not?
Share your response here, and we'll feature a few in Friday's Politics & Policy Daily.
-Written by Taylor Hosking (@Taylor_Hosking), Lena Felton (@lenakfelton), and Elaine Godfrey (@elainejgodfrey)