Honoring the Best in a Workforce 'Under Siege'
A Treasury Department investigator and two groundbreaking engineers will receive annual awards for government service, which come at a time of peak anxiety for federal employees.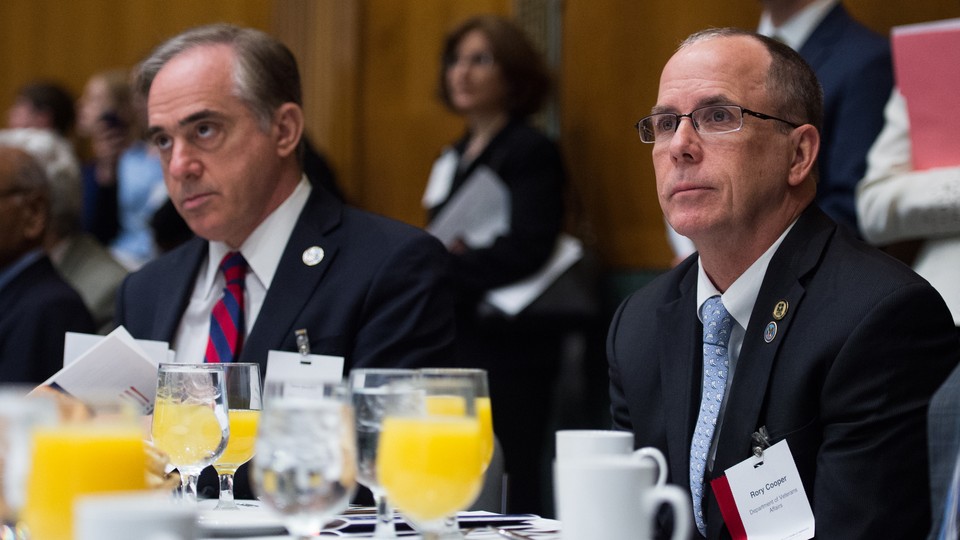 One Treasury Department sleuth led a team that traced an IRS impersonation scam all the way to India, leading to dozens of federal indictments.
A 28-year-old Marine Corps engineer designed the next generation of body armor, literally taking weight off the shoulders of U.S. combat troops.
And a researcher who found himself wheelchair-bound as a young man has spent his career inventing new technologies that have transformed the lives of millions of disabled veterans and civilians alike—including his own.
Those are a few of the winners of the 2017 civil-service awards known as the Sammies, given out annually by the nonprofit Partnership for Public Service. The idea behind the honors is to recognize a federal workforce that is more often criticized than lauded. And this year's awards come at a precarious moment for federal employees, who must contend with a Republican Congress bent on slashing the size of government and a new president who won after ridiculing the men and women who make it run.
Max Stier, the Partnership's president and CEO, told me that when the group first came up with the awards—formally called the Samuel J. Heyman Service to America Medals—nearly two decades ago, it viewed them as a way to show the broader public a better side of government. Now, however, they're equally aimed at boosting the morale of what Stier called a "beleaguered" federal workforce. The winners, he said, are people who succeed in the face of adversity, and who can hopefully serve as motivators for their colleagues.
"They are under siege," Stier said of federal employees, "and a lot of them—not all of them, unfortunately, because we're losing a lot of them—are saying, 'Yeah, it's gotten even harder, and that just means we have to work harder ourselves, and we're going to dig in deeper.'"
The recipients, chosen by panels of subject-matter experts over a months-long selection process from a pool of hundreds of nominees, will be celebrated at a black-tie gala in Washington next week. Cabinet officials and political appointees are not eligible. The honorees also include the team that investigated and then sued Volkswagen for evading federal emissions standards, a leader in the Center for Disease Control and Prevention's decades-long fight against the global spread of HIV/AIDS, and a Food and Drug Administration duo that helped expedite the approval of a device that serves as an artificial pancreas for people with diabetes.
As it did last year, the Partnership gave this magazine an early look at the winners. Here are three of their stories:
---
Timothy Camus, Homeland Security and Law Enforcement Medal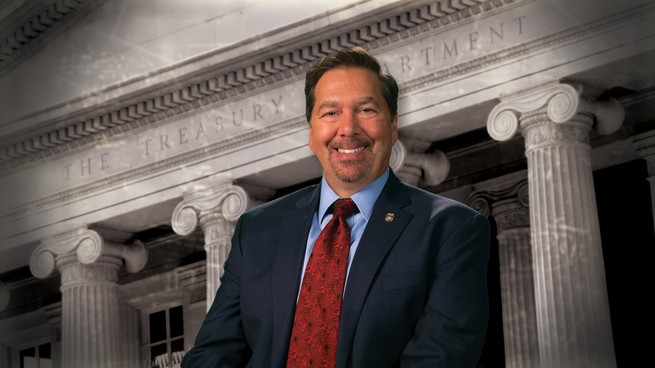 In the fall of 2013, a Treasury Department fraud hotline began receiving more and more reports from people who said they sent money under threat from people claiming to be IRS agents.
The reports fit a pattern: Callers with Indian accents would inform people they owed unpaid taxes and that they would be arrested if they did not send payments using GreenDot or other prepaid debit cards. Because the callers had already acquired bits of personal information about their targets, such as the last four digits of their Social Security numbers, they were able to persuade thousands of people to fall for the scheme.
As the Treasury Department's deputy inspector general for tax administration, Tim Camus is in charge of investigating IRS impersonators, and he'd seen plenty of these scams before. But this one was unusually large and sophisticated: At their peak, the scammers were making 40,000 calls to U.S. homes and processing 400 illegal payments per week. All told, they succeeded in swindling more than 10,000 victims out of $54 million. Camus mobilized almost all of his 400-person staff and soon discovered that the calls were coming from a call center in India, where the impersonators would disguise their phone numbers to make it look like they were calling from Washington.
By April 2015, Camus's team had devised a program called Advise and Disrupt, which combined an aggressive public-awareness campaign about the scam with efforts to "frustrate" the perpetrators. "Once we identified a number that had been reported more than a couple of times, we'd call it ourselves and depending on how they answered, we'd be able to determine if it was part of the scam," Camus explained. If they got a hit, they would use an auto-dialer to flood the number with calls, thwarting scammers' ability to make outgoing calls while warning them that they were in violation of the law.
The investigation soon became a game of cat and mouse, as the scammers moved from live calls to automated recordings, and switched payment methods from prepaid debit cards to Western Union and even iTunes cards. It was, Camus said, "as crazy as it sounds."
As a result of Camus's investigation, the Justice Department last year brought indictments against 56 individuals and five call centers in India. Almost immediately, the volume of reported calls plummeted to about 1,000 per week, with just a small number of victims. Those numbers have crept back up as the scammers in India have regrouped, which Camus said his team expected. "Stopping it totally won't happen through law-enforcement action," he said. "It's going to have to be public awareness where it's just not worth their while to make the calls anymore."
Camus's office remains on the case. "Our work's not done," he told me.
---
Rory Cooper, Science and Environment Medal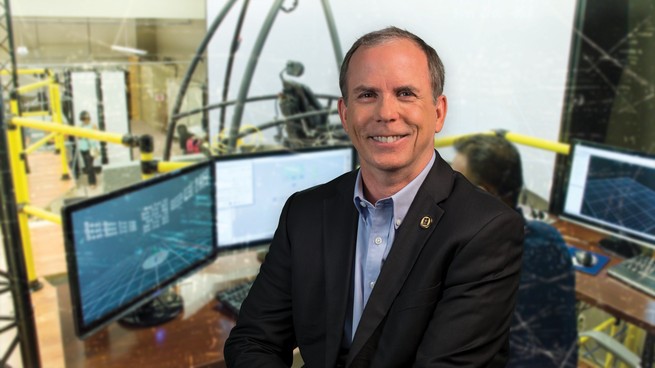 Rory Cooper's path to a groundbreaking career as an inventor and biomedical engineer began with a tragedy.
Riding a bike while stationed with the Army in Europe, Cooper was sideswiped by a bus and then struck head-on by a semi-truck. The accident left him with a thoracic spinal-cord injury requiring the use of a wheelchair. When he finished his recovery and rehabilitation, Cooper used his Veterans Affairs benefits to get an engineering degree, and for the last three decades, he's been at the forefront of advances in wheelchair and robotics technology. He now runs the Human Engineering Research Laboratories for the VA in collaboration with the University of Pittsburgh.
Early in his career, Cooper helped design modern hand rims for disabled veterans who suffered from carpal tunnel syndrome and rotator-cuff injuries as a result of the heavy, cumbersome manual wheelchairs that were standard at the time. "Veterans were saying they were in pain and it was as bad as having a new disability but even more severe," he recalled. He later worked on digital controls and interfaces for battery-powered chairs, and more recently developed a pneumatically powered wheelchair that requires no batteries and is totally submersible, so users can even take it into a pool.
Cooper first began using a wheelchair before the passage of the Americans with Disabilities Act, and the difference in his quality of life ever since has been profound—thanks in large part to designs he has developed himself. "When I was first injured, even the university wasn't yet accessible," he recalled. "I literally had to be carried to some of my classes." If he stayed in a hotel, he might have to crawl to a bathroom. The bulky manual wheelchair he used in the 1980s weighed 80 pounds, with chrome steel, arm rests, and wheels that could not be removed; the one he uses now weighs 18 pounds and, he says, "fits my body like a glove."
Cooper puts his own experiences to use in developing new technologies, as do the 30 percent of his lab's staff who are also disabled. "I experiment on myself with almost everything we do," he told me. "Why ask other people to try it if I'm not willing to try it myself?"
Among the advances under way now are chairs that can climb curbs or go over uneven terrain, as well as "wearables" and other devices that could streamline the day-to-day experiences of disabled veterans. But the impact of a career's worth of work in engineering goes beyond the ease-of-use advances in wheelchair technology, Cooper said. "In the original chair, you saw a big wheelchair with a person sitting in it," he said. "Now you see a person who's sitting in a sleek, very well-tailored wheelchair. It changes the whole perception."
---
Flora Jordan, Promising Innovations Medal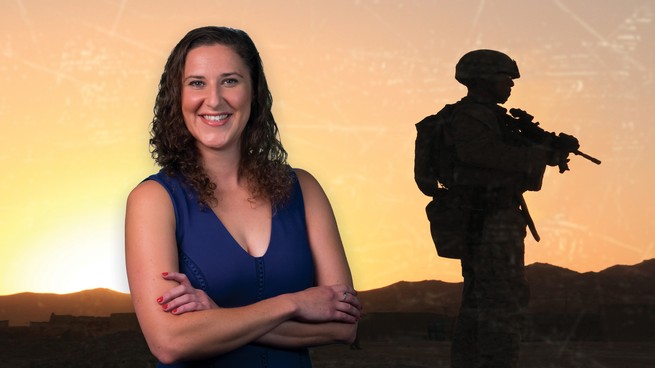 The young woman who developed a new, lightweight body armor for the Marines doesn't have combat experience, nor had she ever had any reason to wear any kind of bulletproof vest. "It was kind of my first job," Flora "Mackie" Jordan, 28, told me. "Honestly, I knew nothing about body armor, except that it stopped bullets."
Jordan started as an engineer with the Marine Corps Systems Command shortly after graduating from McGill University in Canada. Her team had been working on a new design that didn't pan out. And despite being the youngest member of the team, she took the lead on a project to first survey Marines about what they wanted to see changed and improved in their body armor. Jordan's group spent a year and a half collecting data, and as part of that effort, she went out for a training mission with Marines to test out their existing body armor, which they had been using since 2012. "It was really kind of atypical," she said. "They usually don't send engineers out in the field with Marines."
Jordan got the full experience, minus the combat. She slept on the ground in all kinds of weather, ate MREs, and hiked miles into the mountains wearing the Marines' heavy body armor and pounds of equipment. "For me, it was miserable. I won't lie to you," she recalled. "My pack caught on fire. It rained. It snowed. It was miserable, but it really gave me a solid appreciation for what these Marines go through and what they wear and how they actually use their systems."
Jordan went on more training exercises as she tested her new design, and the result was a body-armor system 45 percent lighter than what Marines currently wear. She and her team made the vests shorter and cut out material around the shoulders so the soldiers can more easily maneuver with their weapons. And Jordan was also able to consolidate body armor into a single piece, instead of the two that Marines must currently carry depending on the mission. "It looks smaller than the other one but it provides the same amount of ballistic coverage," she said.
The body armor Jordan designed will soon go into production, she said, and it will be standard issue for every Marine beginning in 2019.