Why Would Russia Try to Foment Protests in the U.S.?
A report that Kremlin operatives tried to organize rallies via Facebook is a rare example of an attempt at direct action, and echoes Putin's allegations that the U.S. stirred up demonstrations in Moscow.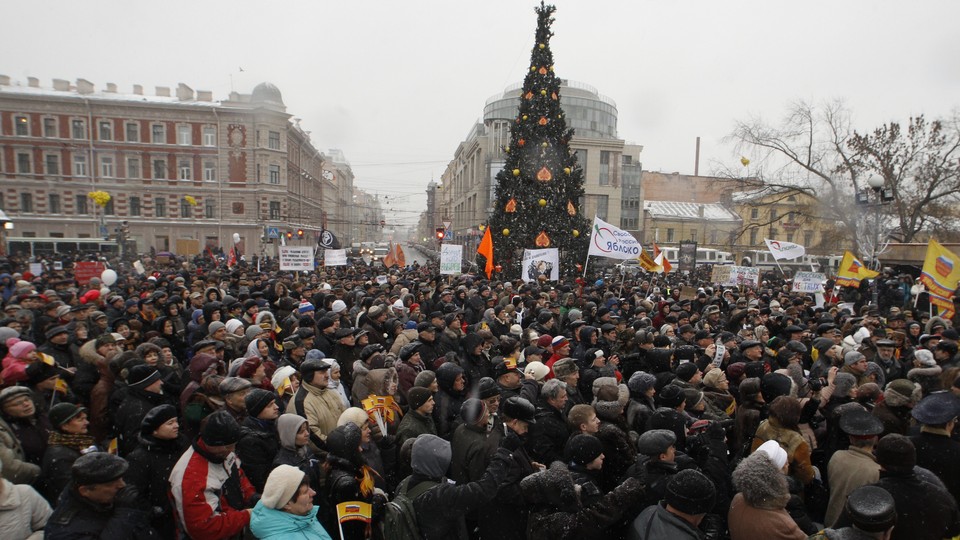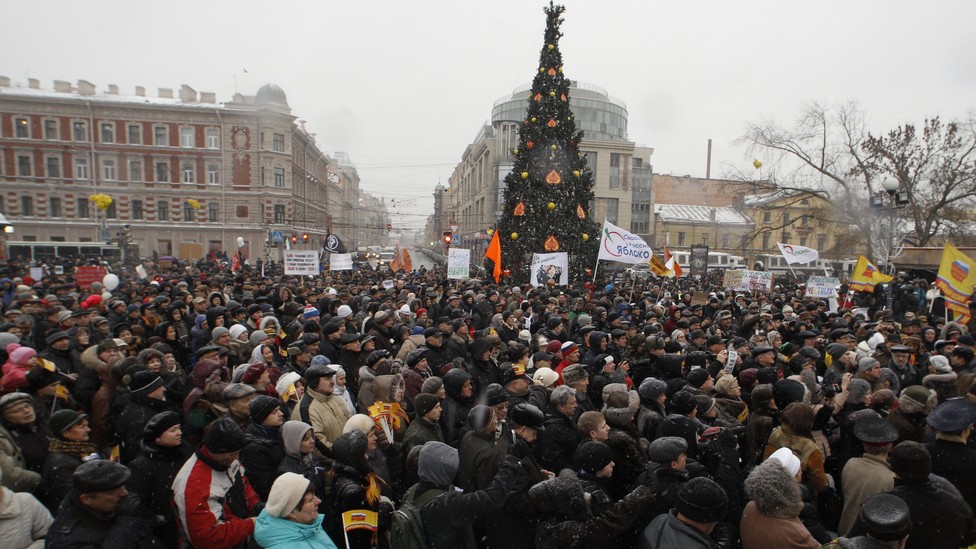 Facebook's terse acknowledgement last week that a Kremlin-linked company had spent more than $100,000 spreading "divisive social and political messages" on the platform practically begged for further revelations. The company declined to publish the contents of the material, and the scope of the operation remained unclear.
Already, it's becoming apparent that there was more than met the eye. The Daily Beast reported that Russian operatives using fake identities sought to arrange protests inside the U.S. Facebook told the Beast it had discovered several promoted events and deleted them, though it didn't give any more detail.
The fact that Russians were trying to organize real-life events is notable because it represents an attempt to meddle with the election in concrete ways, beyond simply spreading information and misinformation. But it also echoes allegations that Russia has made about U.S. meddling in its affairs—and suggests that Russia felt it had the right to do the same.
On Tuesday, Senator Mark Warner, the ranking Democrat on the Senate Intelligence Committee, one of several bodies probing Russian interference in the election, said he wants Facebook and also Twitter to testify about how Russian operatives may have used those platforms as a tool for mischief in 2016.
It was already widely known that Russian interests sought to use information as a method of political battle. Its tools include well-known state-linked outlets like RT, the part-propaganda, part-news TV channel sponsored by the Kremlin, and Sputnik. Russia dismisses such accusations by arguing that Western media play a similar role in Russia and what it takes as its sphere of influence. Russian operatives also used social-media accounts, often using the guise of everyday people, to try to spread both pro-Putin spins on real stories as well as patently false misinformation. And according to everyone except President Trump and Russia itself, Russian agents were involved in hacking and releasing emails from the Democratic National Committee and Clinton campaign chair John Podesta.
Organizing, or attempting to organize, on-the-ground events is a different matter entirely, moving from the realm of circulating information—real or not, licit or illicit—to the realm of concrete action. It's unclear how effective the Russians were. The Beast focused on a planned protest in a town in Idaho that had become a cause célèbre for pro-Trump outlets including Breitbart and Alex Jones, the conspiracy-theorist radio host whom candidate Donald Trump praised.
"Due to the town of Twin Falls, Idaho, becoming a center of refugee resettlement, which led to the huge upsurge of violence towards American citizens, it is crucial to draw society's attention to this problem," the event invitation from "SecuredBorders" read. The group had 133,000 followers, according to the Beast, but "although 48 people clicked that they were 'interested' in the protest, only four said they went to City Council Chambers that day, according to the event page, possibly because it was a Saturday and the Council was not in session."
The apparently sloppy execution echoes the amateurish trolling efforts put together by the Internet Research Agency, a pro-Kremlin Russian company that purchased the tens of thousands in Facebook ads. It is difficult to imagine how much impact the organizing had, and to disaggregate it from the focus on the town by anti-immigrant American media. In fact, there is a great deal of overlap between the issues that pro-Trump American media covered and those that Kremlin-tied operators did, though whether that's because of collaboration or simply because of canny mimicry by Russians is unclear.
The attempt to organize protests is also interesting because it echoes accusations that Russian President Vladimir Putin has made against the United States. Russia has long bridled at American involvement in Eastern Europe and the Caucasus, which it takes as threats—both because some of these countries are on Russia's border, and instability in any neighboring area is a cause for concern, but also because Russia feels they are part of its own sphere of influence. (Russian interference in Ukraine, in addition to its annexation of Crimea, are examples of what Moscow believes are the prerogatives of this influence.)
Russia sees American influence at work in both the media and cybersecurity spheres, alleging regular hacking by the U.S. government and biased coverage of Russian politics, including 2016 parliamentary elections. The former is certainly plausible; in the latter case, it is true that U.S. coverage of the elections was highly unflattering, but that has more to do with manifest abuses by the Russian government and general dislike of Putin within the U.S. than any organized attempt to libel Putin.
But Russia has also accused the U.S. of meddling more directly, by funding and encouraging civil-society groups that foment revolt and rebellion against the Russian government and its clients across the region. During the mid-2000s "color revolutions" across Eastern Europe, the Kremlin alleged that the U.S. was organizing or encouraging protests that unseated governments. From Moscow, American funded pro-democracy efforts seem like a targeted threat. In 2007, the Duma alleged that the U.S. was training radical groups inside Russia. The tenor of the accusations became even harsher in 2011, when Putin accused the U.S., and in particular then-Secretary of State Hillary Clinton, of orchestrating protests in the streets of Russia.
In 2014, Russia analyst Dmitry Gorenburg told NPR that it was unclear whether the loud protests from the Kremlin were intended largely for domestic consumption—using the U.S. as an outside evil in order to consolidate support for the government—or if Putin and his aides truly believed them.
"If they really do believe that this is what Washington has been doing—well, we're going to do all the same things you do and see how you like it," Gorenburg said.
Whether Putin's talking points were sincere or not, Gorenburg's words now seem prophetic: It looks like the Kremlin really did try to respond by organizing protests within the U.S. It's also no accident that Russia was acting to hurt the presidential bid of Hillary Clinton, whom Putin still resented for American actions in 2011. The scope of the event-organizing is as yet unclear, as is its effect. On the one hand, an apparently failed rally in Twin Falls, Idaho, hardly makes up for thousands of people protesting in the streets of Moscow. On the other, Putin remains firmly ensconced in power—while Donald Trump is president, and Hillary Clinton is relegated to a book tour this week.