The Incendiary Roy Moore
Why is everyone describing the hard-right jurist and Alabama Republican Senate candidate as a "firebrand"?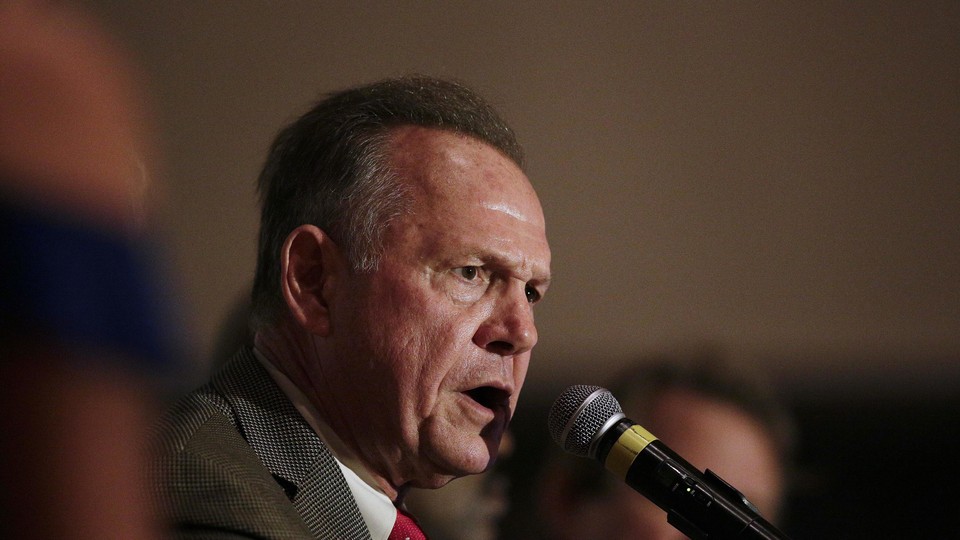 For once, the American press is in complete agreement: Roy Moore, the hard-right former judge who was swept to victory Tuesday night in Alabama's Republican Senate primary, is a firebrand.
The New York Times adopted the appellation for Moore when it called the race in his favor, as did the Associated Press and The Washington Post. Reuters called him both a "conservative firebrand" and an "outspoken evangelical Christian." At The Weekly Standard, a Trump-skeptical conservative publication, Moore was cast not only as a firebrand but a "notorious firebrand." The BBC, which has a global audience, made sure to specify that Moore was an "Alabama firebrand." (For this magazine's part, my colleague Rosie Gray aptly described him as the "insurgent candidate" in her report from Moore's victory party in Montgomery.)
The linguistic consensus is unsurprising. For newspaper and wire-service journalists cautious about injecting bias into their writing, "firebrand" is a useful word to describe those on the outer bands of political thought. Think of it as a promotion—or demotion, depending on one's perspective—from "controversial," the Swiss Army knife of political reporting. Medieval English writers first began using "firebrand" in the 14th century as a byword for demagogues and rabble-rousers. In modern journalism, it still conveys a spirit of extremism and agitation without the editorial fuss of calling a high-profile elected official an "extremist" or an "agitator."
That said, calling someone a firebrand doesn't always carry moral overtones. The Times also used it this year to describe Becca Haller, an energetic lawyer challenging President Trump's travel ban; Glenn Beck, a conservative pundit and former Fox host; and Yogi Adityanah, a hardline Indian Hindu cleric with links to sectarian militants. I even referred to Antonin Scalia as a "judicial firebrand" in my obituary for him last year, aiming for the revolutionary sense of the word more so than its demagogic or subversive implications.
Does Moore qualify for the term? The conservative jurist first rose to national attention in 2001 after he placed a two-ton monument of the Ten Commandments in the rotunda of the Alabama Supreme Court building. Moore, a devout evangelical Christian, defended the installation by claiming it represented the Abrahamic God's role as the source of American law. The ACLU and other groups sued to remove it for violating the Constitution's proscription of government establishment of religion.
A federal judge ruled against Moore on First Amendment grounds in 2003 and ordered him to remove the monument, but he refused to carry out the court's order. The Eleventh Circuit Court of Appeals sided with the lower court, pointedly likening Moore's resistance to "those Southern governors who attempted to defy federal court orders during an earlier era"—a reference to segregationists who fought the civil-rights movement. For defying the federal courts, the Alabama Court of the Judiciary stripped him of his chief justiceship.
"I'd do it all the same all over again," Moore told the Times shortly thereafter. "I said it back then and I'll say it again now. God is the basis of our law and our government. I cannot and will not violate my conscience."
Rejecting the authority of federal courts isn't his only extreme view. Moore is also an unrepentant birther who cast doubt on Barack Obama's legitimacy as president as recently as last year. He once urged Congress to block Minnesota Representative Keith Ellison from taking his seat in the House because of Ellison's Muslim faith. In a speech earlier this year, Moore quoted scripture to argue that the September 11 terrorist attacks may have stemmed from increasing secularization in American society.
In the 2012 election, Moore narrowly won back his old position as Alabama's chief justice. The judicial comeback ended four years later in a clash with federal judges over marriage equality. Seven months after the U.S. Supreme Court struck down same-sex marriage bans nationwide in Obergefell v. Hodges, he issued an administrative order in January 2016 instructing Alabama's probate judges not to issue marriage licenses to same-sex couples.
Moore justified the move by noting that Alabama's high court was still mulling a lawsuit on how to implement the high court's ruling. But his order nonetheless brought him in direct conflict with a series of federal court rulings directing probate judges to do the opposite. Moore also made no secret of his feelings about LGBT rights in general over the years. His animus had led him to conclude that "homosexual conduct" should be illegal, and that gay and lesbian Americans should be barred from military service and legal recognition. After Obergefell, he told a church congregation that the Court had "just destroyed the institution of God."
A few months after he issued his order, the Alabama Judicial Inquiry Commission, the state's disciplinary board for judges, charged him with six counts of violating judicial ethics. Four months after that, the Alabama Court of the Judiciary suspended Moore for the duration of his term; a majority of the court's judges had wanted to remove him from office entirely. The ruling effectively ended his judicial career until 2019 at the earliest. Moore subsequently resigned from the office so he could run for the Senate vacancy opened by Jeff Sessions's confirmation as attorney general earlier this year.
If he wins in his general election in December, Moore will have taken one of the more unusual paths to the Senate in modern American political history. His aggressive efforts to impose his evangelical Christian views upon the legal system and American civic life led to his removal from office not once, but twice. By defying federal court orders on multiple occasions, he's undermined the rule of law and placed himself above federal courts. "Firebrand" isn't an inaccurate description of Moore's contributions to public life. But it also doesn't provide enough light or heat.