Republican Senators Plead for One Last Chance to Repeal Obamacare
Lindsey Graham and Bill Cassidy introduced a bill to convert the law into a block grant for states. But the GOP has moved on, and their plan might never get a vote.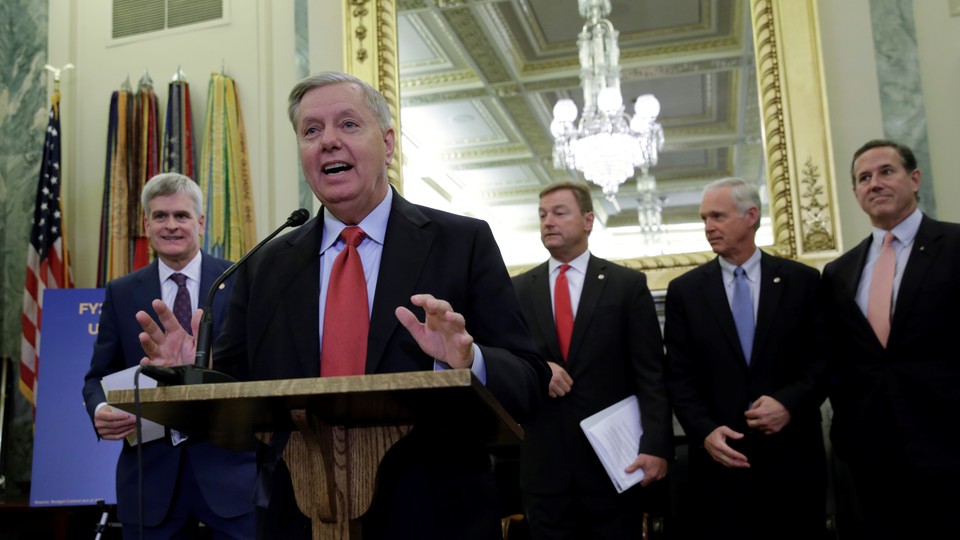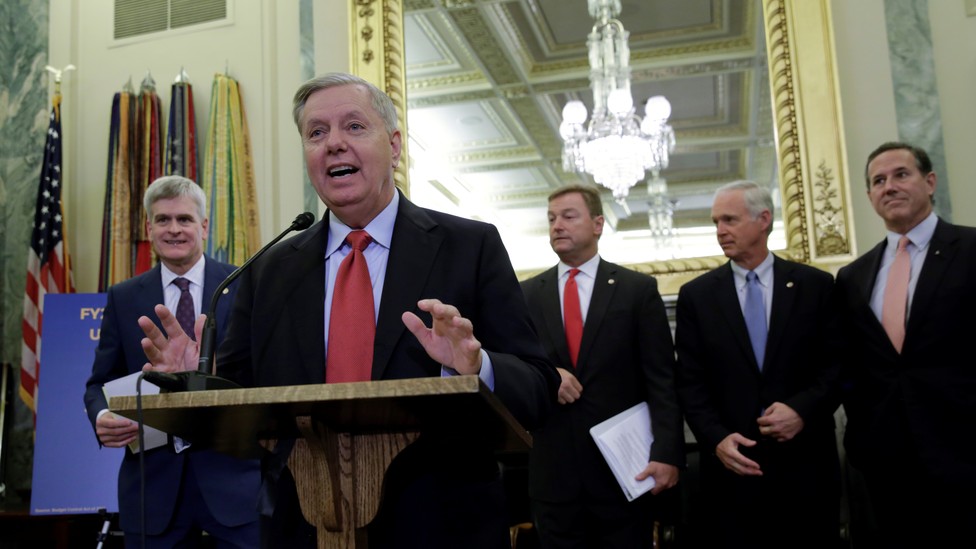 The latest—and likely, for now, the last—Republican attempt to repeal major parts of the Affordable Care Act began on Wednesday with an epic, and revealing, exaggeration.
"Behind me is the only thing between you and single-payer health care, a small band of brothers looking for a sister," Senator Lindsey Graham of South Carolina told reporters as he, three other GOP senators, and one former senator unveiled a bill that would scrap Obamacare's insurance mandates and convert the rest of the law into a block-grant program for the states.
Graham was referring to that other big health-care rollout occurring in the Capitol on Wednesday: Vermont Senator Bernie Sanders's introduction of a "Medicare-for-all" bill that has picked up support from Democratic senators positioning themselves for possible presidential runs in 2020. The South Carolina Republican, himself a failed White House contender last year, embraced the Sanders plan as a point of contrast with his own, and he framed the consequences of failure in dire terms for his party.
"We need people onboard now to stop what I believe is inevitable if we fail," Graham said.
This is what the final embers of the GOP's repeal-and-replace effort has become—not so much a debate over the merits of the increasingly popular health-care law currently in place, but a competition with a liberal dream that remains years away from a viable shot at enactment. No matter the outcome of Graham's Hail Mary for Obamacare repeal, Sanders's single-payer bill is not inevitable, at least not anytime soon. Not with just 15 Democratic co-sponsors in the Senate, and not without Democratic majorities in Congress and a Democratic president in the White House.
Graham's argument against the Sanders plan seemed to say more about the chances for his own proposal than it did about single payer. The 141-page bill has been in development for two months, ever since Graham joined with Senator Bill Cassidy of Louisiana to shop around an alternative to Senate Majority Leader Mitch McConnell's faltering Obamacare-replacement plans. Their pitch is federalism for health care, giving states a chunk of money and allowing them to devise insurance systems as they see fit. If they want to require individuals to buy coverage and employers to provide it, as under the ACA, they can. But with some restrictions, if they want to loosen regulations and pursue a more conservative approach, that's an option, too.
In recent weeks, Graham and Cassidy have picked up support from two Republican senators who had been critics of McConnell's approach: Senator Ron Johnson of Wisconsin and Senator Dean Heller of Nevada, who is up for reelection in 2018 and faced pressure to oppose the leadership's original plan from his state's governor, Brian Sandoval.
Yet Graham and Cassidy still face two obstacles that may be insurmountable: a lack of time and Republican willpower. Under the Senate's procedural rules, Republicans have only until September 30 to pass a health-care bill with a simple majority of 51 votes instead of a filibuster-proof 60. And after multiple legislative efforts collapsed in July, party leaders have moved on to tax reform and other issues, showing little interest in returning to yet another uncertain repeal push. Even President Trump, after angrily demanding that Republican senators stay in Washington until they sent him a health-care bill, appeared to give up on the effort last week. A narrow bipartisan fix for Obamacare under consideration in the Senate health committee appears to have a better shot at passage in the next few weeks, although its success is far from assured.
For Graham, the press conference on Wednesday became as much an effort to jawbone Republican leaders and the White House as it was about selling the bill. "There's a lot of fight left in the Republican Party when it comes to repealing and replacing Obamacare," he said. "The question is, is there any fight left in Washington when it comes to repealing and replacing Obamacare?"
Then, in a dig at McConnell's apparent disinterest in his bill, Graham added: "The only thing stopping us from having this debated on the floor of the United States Senate is lack of leadership." Speaking to reporters on Tuesday, the majority leader was noncommittal on whether the Graham-Cassidy proposal might get a vote before Republicans run out of time. Graham indicated he got a similar response from McConnell in private. "I think Mitch would vote for it, but he said, 'Go get 50 votes,'" he recalled.
Graham also called out Trump, urging him to "pick up the phone" and lobby Republican lawmakers to back the bill, just as he had when the repeal effort came up in the House this spring. "Mr. President, help us," Graham said. "Because we're trying to help you."
It was another way of saying that right now, his bill lacks the votes to pass, and there isn't much time to get them. Trump did put out a statement of support for the proposal on Wednesday afternoon, saying, "I sincerely hope that Senators Graham and Cassidy have found a way to address the Obamacare crisis." But nowhere in the statement was a promise to help whip votes to pass it. The president's schedule this week also told an opposite story: After a pair of meetings with a bipartisan group of House and Senate lawmakers, he was due to have dinner with Democratic congressional leaders Charles Schumer and Nancy Pelosi.
Taking no chances, Democratic advocates and organizations blasted the Graham-Cassidy bill in a wave of statements Wednesday. They warned that it was no better than earlier repeal proposals, that it would result in millions losing coverage and sharp cuts to Medicaid. In a bid for Republican votes, Graham and Cassidy would redirect money from states that expanded Medicaid (more of which are led by Democrats) toward states that did not, fulfilling a conservative goal of ensuring that GOP-led states are not "punished" for their decisions. But that decision is likely to complicate the effort to win support for the bill, since there are a number of Republicans in both the House and Senate who represent states that stand to lose money under the proposal. Graham and Cassidy had hoped to win statements of support from at least 20 Republican governors, but so far those have yet to come. Even Heller's governor isn't sold. Asked about Sandoval's support, the senator replied: "It's a work in progress."
If it was an exaggeration for Graham to warn that his bill represents a final bulwark against single-payer health care, it's also an exaggeration to say his proposal is dead on arrival. The Congressional Budget Office is now reviewing the measure, and McConnell has shown that the Senate can move quickly when a majority of its members wants to. Ironically, the deal that Democrats struck with Trump on spending and the debt ceiling last week freed up time on the congressional calendar in September for Republicans to revive the repeal effort one more time.
But the question remains: Do they want to? And unfortunately for Graham and Cassidy, the answer so far seems to be no.