A Reckoning for the GOP's Go-It-Alone Legislative Strategy
A party-line approach failed congressional Republicans on health care. Why are they using the same one for tax reform?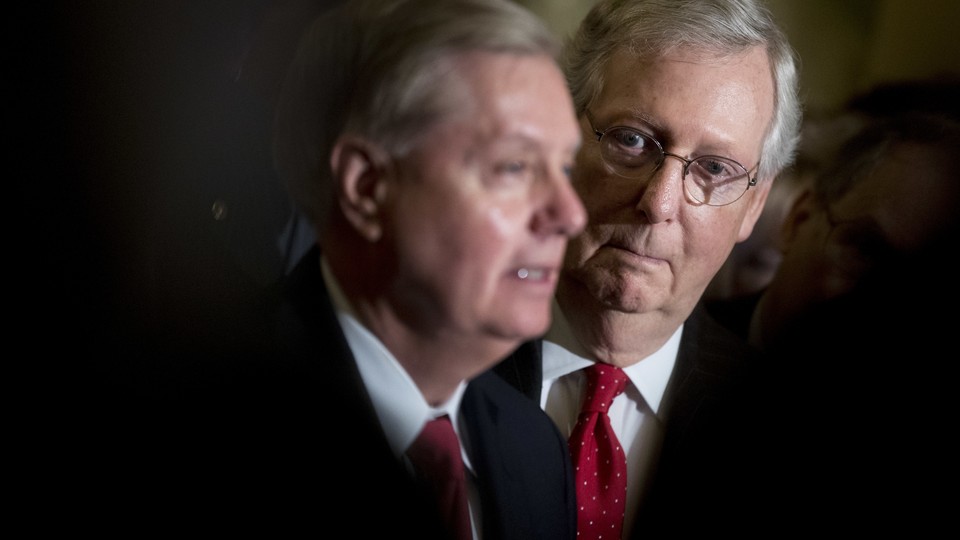 With the collapse of their latest plan to repeal the Affordable Care Act, Republicans have once again acknowledged what has been obvious for several months: They do not have a Senate majority large enough to reshape the nation's health-insurance system.
They are betting, however, that it's big enough to rewrite the tax code.
Unwilling to make concessions to Democrats, GOP leaders have pursued a legislative strategy designed to cut them out entirely, using a procedural tool known as budget reconciliation that allows them to circumvent the 60-vote threshold to defeat a filibuster. But that process requires Republicans to marshall 50 out of their 52 votes in the Senate—a near-unanimity they were repeatedly unable to achieve in repealing and replacing Obamacare.
"There are 50 votes for the substance. There are not 50 votes for the process," Senator Lindsey Graham of South Carolina told reporters on Tuesday, after Republicans called off a vote on the repeal bill he and Senator Bill Cassidy of Louisiana wrote. The GOP was facing a September 30 deadline to act, since the reconciliation procedure expires at the end of the fiscal year. Republicans like Senators John McCain of Arizona and Lisa Murkowski of Alaska had balked at the party's headlong, partisan rush toward repeal. They implored Republicans to reach out to Democrats, and to pursue a "regular order" process that would include multiple hearings, committee votes, and opportunities for amendments.
Graham said Republicans would now heed those calls and put his and Cassidy's proposal through a more rigorous process in the hopes of reviving it sometime in 2018. "We can fix the process, and we can improve the substance," he said. "So that's why I'm optimistic."
First, though, Republicans are swiftly moving on to tax reform, where they plan to use the same reconciliation process that failed them on health care. They will have the option of starting reconciliation anew once the new fiscal year begins in October, and their determination to use the procedure for tax reform was a key reason why they wanted to pass Obamacare repeal by September 30. "It wouldn't be my first preference," Senator John Kennedy of Louisiana told me about the decision. "But I don't think the Democrats are interested in working with us."
Democrats have insisted otherwise. They've told Republicans that while they were not going to help them repeal their signature legislative achievement of the last decade, they were willing to work on tax reform if the GOP was serious about targeting the benefits to the middle class instead of the wealthy, and if their plan would not add to the deficit. Republicans, however, don't want to be boxed in on either demand. And the plan President Trump and congressional leaders will unveil on Wednesday is expected both to spike the deficit and cut taxes for top earners.
So the GOP will plow ahead on a process that will force them, once again, to reconcile the considerable ideological gap between more moderate senators like Murkowski and Susan Collins of Maine on one end and Ted Cruz of Texas, Rand Paul of Kentucky, and Mike Lee of Utah on the other. "There's no question that there is certainly comfort in margins, and we don't have margins for error," Senator John Thune of South Dakota, the third-ranking Republican, told me on Tuesday. "So each individual senator is very empowered when it comes to a big issue like this, and as we've seen a couple times, it's very easy to take a big bill like this down."
Still, Thune suggested Republicans realistically had no other choice. "I don't know how you do it without reconciliation, because then you'd have to get 60 votes," he said.
Inside the Capitol on Tuesday, the demise of the Graham-Cassidy plan brought little of the shock or dismay that followed the previous failures of Obamacare repeal bills in the House and Senate. Republicans have grown accustomed to the health-care slog, and if anything, they were energized by how close they came to succeeding on a bill that few had seriously considered until a week ago. Where lawmakers once saw September 30 as a firm deadline, they now have begun to consider the possibility of using health care for one of the two remaining opportunities for reconciliation they'll have before the 2018 congressional elections. "We need to keep working until we get it done," Cruz told reporters. "I think we should use whatever procedural vehicle is necessary, and we should pass it the instant we have the votes to pass it."
Yet the failure on health care has added exponentially to the urgency Republicans feel on tax reform. Lawmakers have been warning for weeks that their majority in the House may rest on its success—a rallying cry that party leaders reinforced in a GOP conference meeting on Tuesday morning. "The message today is we have to get tax reform done," Representative Chris Collins of New York said afterward. If tax reform meets the same fate as Obamacare repeal, Kennedy said, "I think the American people are going to lose confidence in us, and you know what, I will, too."
The GOP approach to bipartisanship on taxes is the same as it was on health care—hope for Democratic votes, but don't plan on having them. Republicans genuinely believe the issue will attract Democrats in a way that health care did not. "Health care was more emotional, because it was called the repeal of Obamacare. This is different," Collins argued. They may be right. Democrats can't argue that tax cuts will rip away health insurance from millions, threatening lives and livelihoods. And a few of the vulnerable Senate Democrats who Republicans hoped would side with them on health care—including Heidi Heitkamp of North Dakota, Joe Manchin of West Virginia, and Joe Donnelly of Indiana—have spoken more positively about working with Trump on taxes.
But Republicans first are likely to have a tough enough time wrangling votes on their own side. Tax reform is a two-step process: In order to use reconciliation and lock in the 51-vote Senate threshold, the GOP must first pass a party-line budget through both chambers establishing the parameters for legislation. Conservatives have already held up the budget in the House, and it's not yet clear whether McConnell has the votes in the Senate. Only then can Republicans write the actual bill, which will have to overcome an avalanche of lobbying from business interests seeking to protect industry tax breaks.
It appears that GOP leaders have learned at least one lesson from the Obamacare debacle. Senators said McConnell pledged that tax legislation would go through committee and receive hearings, unlike the health-care bills. They hope that will assuage the process concerns of McCain and others. But the plan for hearings might not be enough to compensate for a tax plan that has been written by and for Republicans, and will thus require the unified support of a majority that, as on health care, might not be large enough to pass it.