Is the Federal Government Doing Enough for Puerto Rico?
The suffering on the island makes aid an urgent priority—but many of the steps suggested by critics might not make much immediate difference.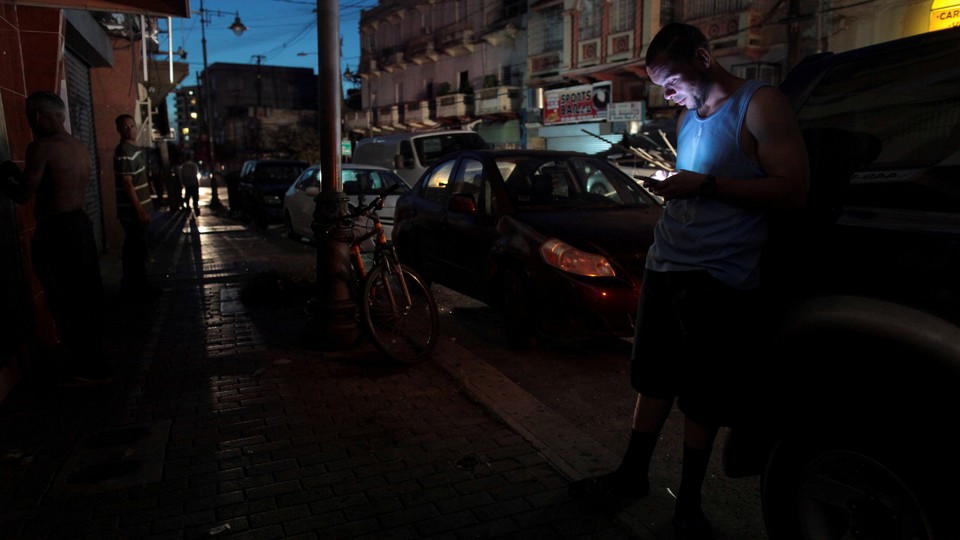 Puerto Rico is in dire straits. That happens when an island is struck by two major hurricanes in short succession. Most of the island is without electricity. Water, fuel, food, and medicine are scarce across the U.S. territory, and officials there are warning that people are dying for lack of resources. Hospitals are struggling to provide lifesaving care, and one doctor recommended that sick patients simply leave Puerto Rico, as my colleague Olga Khazan reports.
The question is whether the federal government is doing all it can. Puerto Rican Governor Ricardo Rosselló has been doing the rounds of media, pleading for extra assistance from Washington. President Trump, meanwhile, has been subject to criticism that he has been too slow in reacting or paid too little attention to the unfolding disaster. The problem is that getting aid in after a storm always takes a long time, and after a disaster this serious, it's hard to even get a full sense of what the damage is. (My colleague Vann Newkirk explores the difficulty of getting information from Puerto Rico.)
While Trump's messaging, and his much greater focus on a feud with NFL players, leaves something to be desired, it won't be clear whether the federal response has been about as good as could be hoped for in these circumstances or whether it is falling badly short for a few more days.
"If you're one of the victims, every hour and every day is too long," said James Lee Witt, who directed the Federal Emergency Management Agency under President Bill Clinton. But Witt said he expects aid to begin dispersing much faster soon: "Over the next few days, you'll see a turn."
It may also be that with a few extra days' perspective, the situation in Puerto Rico will prove even graver than it looks, and the federal response will fall far short of what's necessary. As Trump and Rosselló have both pointed out, the storm is unprecedented for Puerto Rico.
After a hurricane, emergency managers have to both bring resources to the site, and then distribute them to people who need them. In the case of Puerto Rico, both parts of that are challenging. First, its location has slowed the initial response. "We've gotten A-pluses on Texas and in Florida, and we will also on Puerto Rico," Trump said Tuesday. "But the difference is this is an island sitting in the middle of an ocean." Second, the level of devastation is such that moving fuel, water, and food around the island is challenging.
One of the guiding concepts of disaster relief in recent years is that neighbors are the real first responders. In a large event like a hurricane, there are never enough EMTs, police, firefighters, and medical personnel in a place, and it's impossible to bring them in immediately. The essential role played by the Cajun Navy and other good samaritans in the aftermath of Hurricane Harvey demonstrated both the importance of ordinary citizens and the ways in which governmental response is delayed and limited even when running as designed.
There are some signs that the federal relief effort is starting to achieve its first goal of bringing resources to the scene. In a release Monday, FEMA noted some of what it has deployed: 330 staffers from the Department of Health and Human Services; Army Corps of Engineers staff; EPA officials; and a range of Department of Defense assistance, including helicopters and planes. A depot has been established to gather goods. A FEMA spokeswoman tweeted Tuesday afternoon that the agency had provided 4 million meals, 6 million liters of water, and thousands of tarps and rolls of roof sheeting.
Getting those people where they need to be, and transporting lifesaving supplies from depots to where they're needed, though, remains difficult. On Morning Joe Tuesday, Rosselló said, "We need more help with people being deployed so that we can get logistical support elsewhere, and we need Congress to take action so that we can have an aid package that is real for the American citizens that live in Puerto Rico." For example, the governor said that there is fuel in Puerto Rico, but the government has struggled to dispere it to where it's needed.
Carmen Yulín Cruz, the mayor of San Juan, tweeted Tuesday morning that there were plenty of "boots on the ground," but they weren't working at full capacity. On CBS News, she said there were HHS workers who were eager to help, "but couldn't get marching orders."
"Somebody has to structure the logistics," Yulín said.
A string of American officials has traveled to Puerto Rico. FEMA Director Brock Long and White House Homeland-Security Adviser Tom Bossert both arrived on Monday. Senator Marco Rubio of Florida, a Republican, was also there on Monday and tweeted that the situation was bad:
Trump announced Tuesday that he would visit Puerto Rico in a week. Aides said he didn't want to visit too soon, because the island wasn't yet ready to deal with the rigamarole of a presidential visit. Trump also expanded an existing disaster declaration, extending and increasing what the federal government will pay for.
On Tuesday, Long announced that the hospital ship USNS Comfort would travel to Puerto Rico. Several people, including Hillary Clinton, had argued it could help to alleviate medical problems on the island, although it typically takes five days for that ship to sail once it has received orders. The Department of Defense did not immediately respond to a request for a full listing of its assets on the ground, or about future plans for deployment.
There are plenty of other suggestions for the administration, however. The Washington Post reported that Congress has not received, and does not expect to receive, a new request for disaster-relief funding from the Trump administration until mid-October. But that doesn't necessarily mean the federal government is stinting on aid. FEMA has money on hand for upfront costs, and there's no indication that relief is slow because FEMA is short on cash. Congressional appropriations after a disaster offer a strong signal of national support, but they're unlikely to make a quick difference in conditions on the ground. Besides, Witt said, it takes time to do a damage assessment and estimate the cost, and FEMA has been rightly more focused on bringing in essential aid than performing the requisite surveys.Several members of Congress, led by Representative Nydia Velazquez, a Democrat who was born on Puerto Rico and represents New York, also asked the Department of Homeland Security to waive the Jones Act, which mandates that ships carrying cargo between U.S. ports be U.S.-flagged. The federal government has at times waived the law, most recently in the wake of Hurricane Harvey. But DHS declined the request this time, saying that while the waiver was essential to get enough tankers to the Gulf Coast to provide fuel, what Puerto Rico needs can be carried on barges, of which there are plenty of American-flagged options. (Notably, Velazquez's group asked that the law be waived for a year, suggesting more than just immediate relief. Puerto Rico and its advocates have long detested the Jones Act for driving up prices on the island.)
Even if the federal government is operating at or near fully capacity in bringing aid, messaging from the White House has not done a good job of communicating that. The president has appeared far more focused on stirring his feud with the NFL and other athletes who have protested racial inequality by kneeling during the National Anthem. When he did weigh in more fully, in a series of tweets Monday night, he made several questionable assertions. Trump tweeted:
Texas & Florida are doing great but Puerto Rico, which was already suffering from broken infrastructure & massive debt, is in deep trouble... It's old electrical grid, which was in terrible shape, was devastated. Much of the Island was destroyed, with billions of dollars owed to Wall Street and the banks which, sadly, must be dealt with. Food, water and medical are top priorities - and doing well.
The same evening, Rosselló was telling MSNBC's Chris Hayes that only 40 percent of Puerto Rico had drinkable water. Trump's focus on Puerto Rico's debt and infrastructure is a little murky. It's true that years of deferred maintenance, due to lack of funds, made Puerto Rico's electric grid vulnerable, but it's unclear how the nation's debts factor into its immediate recovery. In the long run, those debts will mean that federal assistance is all the more important.
But optics aside, it's an open question how necessary the president's focus is to getting Puerto Rico the help it needs. Most of that work is in the hands of other officials, without hands-on presidential involvement.
"I would advise him to focus on the people's problems that have been affected by these hurricanes and focus on [the NFL] later, but he's the president and I'm not," Witt said.
Rosselló, even as he pleads for more assistance, has also praised both Trump and the federal government for their help so far. That may be, in part, because he is conscious of the importance of maintaining good relations in the federal government, given that Puerto Rico's chances at recovery will require major federal aid. The island is already largely dependent on Washington, with Congress last year placing control of its economic restructuring in the hands of an independent board. On Morning Joe Tuesday, Rosselló repeatedly emphasized the importance of a "flexible" aid package, seeking the opportunity for the territory's government to spend recovery aid where local authorities believe it is needed, rather than having its use determined from outside.
Getting adequate support in the months and years after a major disaster is a constant battle for stricken areas. There's a real risk that Puerto Rico, having been beaten and soaked by Maria, could find itself high and dry after the storm. It's also possible that within a few days, the scale of disaster in Puerto Rico will prove to be even more catastrophic than it immediately appears. At this stage, however, it's still too early to render a judgment on the federal response.