An Ousted NSC Official Is Joining the House Intelligence Committee Staff
Derek Harvey, forced out of the White House this summer, is set to work for one of the committees central to the congressional Russia investigations.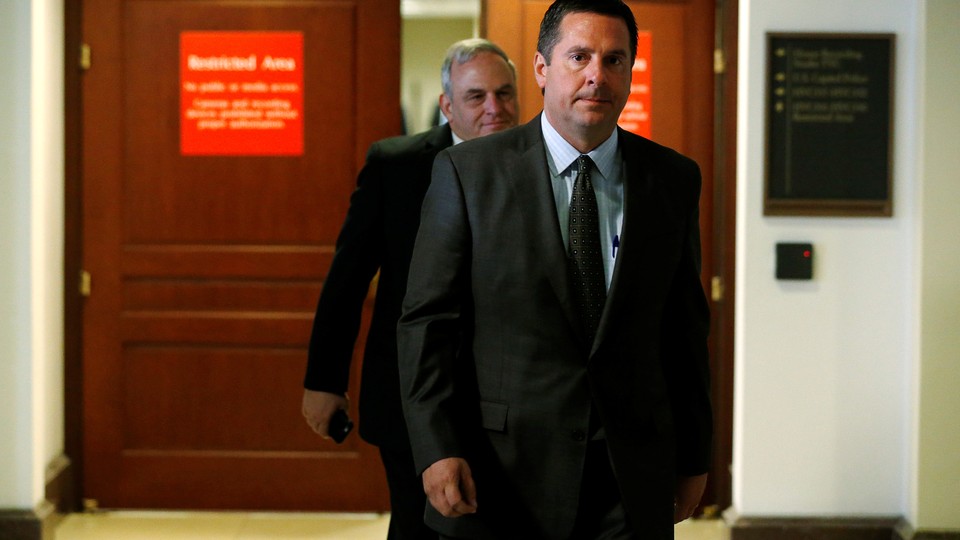 A former National Security Council official, forced out by National-Security Adviser H.R. McMaster in July, is set to join the staff of the House Permanent Select Committee on Intelligence, according to two sources familiar with his move.
Derek Harvey, who was the NSC's senior director for the Middle East and had been appointed by the former National-Security Adviser Michael Flynn, was among several officials who were ousted this summer. That list also includes the former senior director for intelligence, Ezra Cohen-Watnick, and a director for strategic planning, Rich Higgins, who produced a memo alleging a deep-state plot against President Trump.
The House Intelligence committee is chaired by Representative Devin Nunes, who had to recuse himself earlier this year from the investigation being conducted by the committee into Russian interference in the 2016 election. Nunes had accused former National-Security Adviser Susan Rice of having improperly "unmasked" the names of Trump transition officials in intelligence reports based on materials that he obtained from White House officials.
Despite his recusal, Nunes has not fully divorced himself from the Russia investigation, and has since issued several subpoenas. Earlier in September, he sent a letter to Attorney General Jeff Sessions in which he threatened to call Sessions and FBI Director Christopher Wray to testify publicly about the Russia dossier. Representative Adam Schiff, who leads the Democrats on the committee, has publicly criticized Nunes for holding on to his subpoena power in the investigation.
Harvey has previously served on Capitol Hill; a September 2016 letter from Nunes to top intelligence officials asks them to reach out to Harvey if they have any questions.
In a July statement, Harvey said he was leaving the NSC "to take advantage of a new opportunity to continue serving," and that he was "excited about the opportunities to advance American interests in the Middle East under President Trump's leadership."
Harvey was one of the most hawkish members of the NSC with respect to Iran, and was seen as an ally of former White House chief strategist Steve Bannon. There were also concerns about his management and relationships with other agencies.
Harvey did not immediately return requests for comment, nor did Nunes's spokesman. Schiff's spokesman said he "would encourage you to reach out to the Majority."