The Obamacare Repeal Effort Might Finally Be Dead
With Maine Senator Susan Collins announcing her opposition to the health-care bill, Republicans are three votes short of the support they need.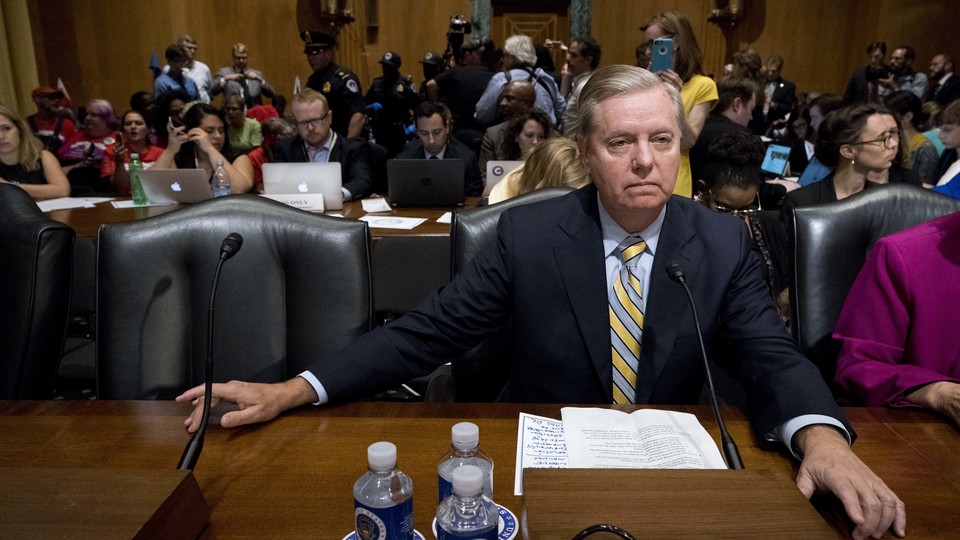 Updated on September 25 at 6:32 p.m. ET
There remains a slim possibility that in the next few days, Senate Republicans will pass the health-care proposal known as Graham-Cassidy, the legislation that party leaders have described as their "last, best chance" to substantially repeal the Affordable Care Act.
But for that to happen, the bill's champions would have to win back the vote of at least one of the three Republicans who have signaled their opposition. They'd have to persuade multiple others to abandon their previously stated positions on the sanctity of protections for people with preexisting conditions. And they'd have to lock down still more Republicans who balked on Monday at changes to the legislation that were made expressly to secure their support.
Until Monday evening, Republicans seemed to have at least a chance at pushing the measure through. But the repeal effort may have died altogether when Senator Susan Collins of Maine became the third—and for now, decisive—Republican to come out firmly against the Graham-Cassidy plan. Collins joined Senators John McCain of Arizona and Rand Paul of Kentucky in opposing the bill, with several others wavering. With unified Democratic opposition, Republicans can lose no more than two on their side and still have Vice President Mike Pence cast the tie-breaking vote to pass it. Collins formalized her position in a lengthy and highly critical statement moments after the Congressional Budget Office released a preliminary analysis finding that the Graham-Cassidy proposal, like previous GOP plans, would result in "millions" fewer Americans having health insurance.
Even before the Collins statement, few Republicans were willing to predict its passage before a September 30 procedural deadline for enactment on a party-line basis. Not President Trump, who seemed resigned to its failure during an interview on an Alabama radio show. Not Senator Orrin Hatch, the chairman of the Senate Finance Committee, who told reporters it would be "nearly impossible" to pass Graham-Cassidy moments before he convened the lone hearing that Congress plans to hold on the bill. And not Senate Majority Leader Mitch McConnell, who was silent on the question of whether the proposal would even receive a vote on the Senate floor.
Written by Senators Lindsey Graham of South Carolina and Bill Cassidy of Louisiana, the bill would cap Medicaid spending and convert about $1.2 trillion in funding for Obamacare over the next decade into block grants for states, which would have broad latitude to opt out of the law's core insurance regulations. Graham and Cassidy have pitched it as a federalist approach to health care, allowing states to design health-care systems that best fit their populations and their political leanings. But it has run into overwhelming opposition from virtually the entire health-care industry, and on Monday senators witnessed the emotions of the debate first-hand as more than 100 protesters—some who have disabilities and were dragged away in wheelchairs—were arrested at the outset of the Finance Committee's hearing.
Most ominously for Graham and Cassidy, their bill has yet to overcome the underlying divide that has stymied Republican repeal proposals for months. The two senators had earlier boasted that they were "inside the five-yard line" and had 47, 48, even 49 of the 50 Republican votes they need to pass their plan. But they've been essentially stuck for more than a week. Graham failed to win over his close friend McCain, who officially announced his opposition over the GOP's rushed process on Friday after tanking an earlier repeal plan in July.
Paul has steadfastly denounced the bill from the right, calling it "fake repeal" that merely reshuffles Obamacare spending from blue states to red ones. After signaling that he might be open to negotiations over the weekend, Paul on Monday rejected a revised version that would make it easier for states to wriggle free of the law's insurance regulations, including the central prohibition on insurers charging higher rates to and imposing lifetime limits on people with preexisting conditions. The Kentucky conservative said on CNN he'd only support the bill if its block grants—the central feature, according to Graham and Cassidy—were removed.
And on Monday, Collins confirmed she was equally out of reach despite the fact that the revised bill offered Maine significantly more money than the original version. "It's not for Susan, it's for the Mainers," Cassidy told The Washington Post about the changes, which critics promptly likened to a bribe. Collins had opposed each of the GOP repeal proposals and said Sunday in television interviews that it was "difficult to envision" a scenario in which she would vote yes on the Graham-Cassidy plan. And then there was Senator Lisa Murkowski of Alaska, who has given no indication of which way she's leaning but who, like Collins, opposed the previous Republican bills. Graham and Cassidy made a transparent, even blatant, attempt to win Murkowski's vote by steering money back to Alaska in the new version of the bill they released Monday morning.
Appearing on CNN, Cassidy acknowledged that if he and Graham could not win over Collins, their bill was likely dead.
Against those increasingly long prospects came the Senate hearing on Monday afternoon, which Hatch led without evident enthusiasm. Hundreds of activists lined the halls trying to get in, and most of those who made it into the hearing room were ejected for disruptions as it began. "If you can't be in order, then get the hell out of here," Hatch snapped at one point. He warned that he would adjourn the hearing entirely if things got out of hand. "It hasn't got to that point yet, but it's close," the chairman said.
The hearing proceeded even as chants of "No cuts to Medicaid!" were audible from those protesting outside. Inside, there was little consensus on policy and none of the bipartisan bonhomie that accompanied hearings earlier this month in the Senate health committee, where Republicans and Democrats discussed narrower fixes for Obamacare rather than repeal. Graham and Cassidy testified in support of their proposal, and they were on the defensive from the beginning as they tried to rebut the arguments from Democrats, governors, insurance commissioners, industry experts, and even some of their fellow Republicans. "Maybe we'll find a common way forward. I don't know," Graham said. He cast the widespread criticism of the bill as coming from those who were benefiting under the status quo. "Everybody opposing my bill is a big winner under Obamacare," Graham said.
Cassidy was appearing before a committee on which he serves, but he clashed with senators nonetheless. When Senator Ron Wyden of Oregon tried to pin him down on whether his proposal would maintain Obamacare's ironclad protection for people with preexisting conditions, he refused to answer directly. "Mr. Chairman, let the record show that our colleague does not want to answer the question," Wyden said, prompting Hatch to urge him to treat Cassidy nicely. Cassidy also asserted that bipartisan efforts to fix the current law had not happened, in direct contradiction to the negotiations that were occurring in the Senate health committee until Republicans pulled out last week.
As the hearing stretched into its fourth hour, senators and the panel of six witnesses managed to delve into policy specifics and debate the potential benefits of states trading more flexibility for less money on health care. But the hearing seemed to come too late in the process to change many minds. Republicans on the committee were by and large supportive of the Graham-Cassidy proposal, while Democrats were universally opposed. The bill's fate would be decided outside the room, either with the last-minute conversion of a long-standing critic, or a final public verdict by one more opponent that would seal its demise. On Monday evening, Collins stepped in with the latter.