The Paradox of an Explosive Week in the Mueller Investigation
What feels like information overload reveals how little the public actually knows about the probe's findings.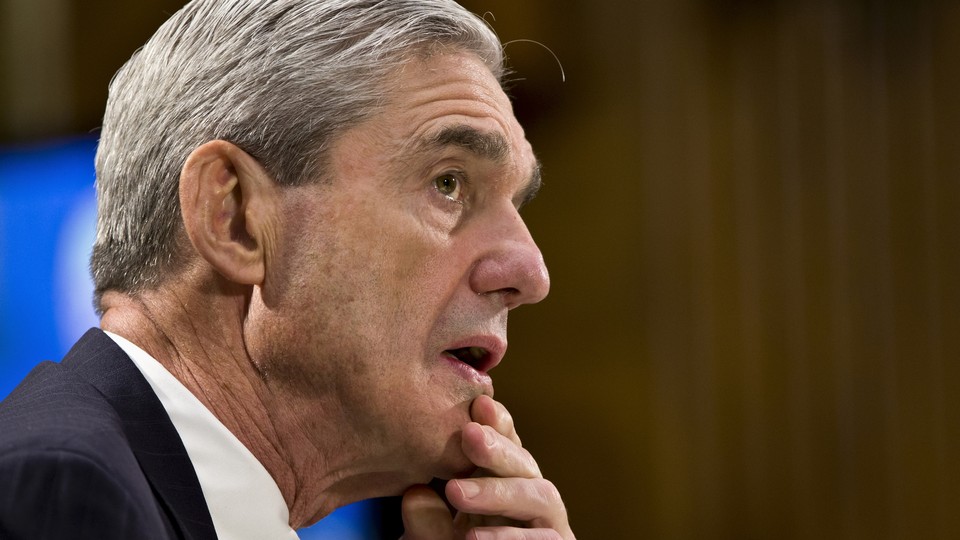 Robert Mueller has stayed busy with his special-counsel investigation all summer, but the rest of Washington took a vacation. And since most information about Mueller's actions seems to come from leaks outside the Mueller team, that meant there was a stretch of relative silence.
But the lull is over now. The month of September, and particularly the last week, have seen a torrent of new revelations about Mueller's investigation. The fresh information gives the most complete view of what Mueller is up to and where he might be focusing, and in particular on the person of Paul Manafort, who chaired Donald Trump's presidential campaign during the summer of 2016. Yet even as they suggest the direction in which the probe is headed at the moment, they don't offer much insight into the ultimate questions of when Mueller might wrap up and what, if any, charges he might bring or recommend. So where does that leave things?
The new information over the last week or two does depict an ever-more-complicated lattice of connections between the Trump campaign and Russia. Time and again, advisers and aides to Trump were in close contact with Russians closely connected to the Kremlin, with conversations that combined the political, the personal, and the business, over the course of months, from the early stages of Trump's candidacy until into his presidency. Other revelations have expanded the public understanding of Russia's attempts to interfere in the presidential election. None of the evidence made public so far, however, shows direct coordination between Trump aides and the Russian government.
It has been a intense harrying week for Manafort. On Friday, his spokesman Jason Maloni was compelled to testify to a grand jury in D.C. On Monday, CNN reported that a national-security court had issued a warrant allowing the FBI to surveil Manafort on two separate occasions, once from 2014 to 2016 and then a second that began at some point in 2016 and ended in 2017. (Manafort's spokesman has since alleged during an NPR interview that any investigation was political retribution by the Obama administration, an inflammatory charge; however, as I wrote this week, any such warrant has to be approved by courts.) The same day, The New York Times reported that Mueller's team had told Manafort he should expect to be indicted. That story also reported that FBI agents had picked the locks to Manafort's Alexandria, Virginia, home, during a previously reported July raid.
That was just the start. Wednesday evening, The Washington Post reported that emails from Manafort two weeks before Trump claimed the GOP presidential nomination show him offering private briefings on the race to Oleg Deripaska, a Kremlin-linked Russian billionaire with whom he had previously done business.
"If he needs private briefings we can accommodate," Manafort wrote, according to the Post. The newspaper reports that the emails are written intentionally vaguely, but that they refer to Deripaska by his initials, OVD, and that investigators believe they use "black caviar" as a euphemism for compensation. Maloni said that Manafort was simply seeking payment already owed for services rendered. "It's no secret Mr. Manafort was owed money by past clients," he told the Post. Mueller and congressional investigators have both obtained the emails, the report said.
The White House has not mounted the same sort of defense of Manafort that it has of, say, Michael Flynn, the fired national-security adviser, into whom Trump reportedly asked then-FBI Director James Comey to drop an investigation. Trump's lawyer Ty Cobb told Bloomberg's Margaret Talev that "it would be truly shocking" if Manafort had "tried to monetize his relationship with the president" and said Trump would never tolerate that.
The sense of shock feels flimsy—after all, monetizing relationships with powerful figures is how Manafort earns his keep. The Trump team should have known what they were getting with Manafort. When he was hired, Bloomberg View columnist Eli Lake quipped, "Trump just hired his next scandal," a statement more true even than it appeared at the time. But the Trump team's vetting process has been shown to be exceedingly flawed in several cases, not least Flynn's.
In any case, the apparent divide between the White House and Manafort might help explain another scoop, this one from The New York Times, which finds that Manafort is lobbying on behalf of an independence referendum by Iraq's Kurds. The Trump administration opposes the referendum. What's interesting is that the Times says Manafort is scraping a bit for work. On the one hand, it's true that Manafort must be racking up stupendous legal bills to defend himself—he fired a white-shoe law firm in favor of a boutique one in August, after the raid, but neither comes cheap—and the probe has also put a damper on his business.
Given what is known about his work, one would expect Manafort to be well off—but cash flow seems to be a consistent problem for him. Despite a $10 million annual contract with Deripaska and the nearly $13 million he allegedly received from then-Ukrainian President Viktor Yanukovych's party, he required a $16 million bailout from a Trump adviser's bank last fall. Manafort is also reportedly under investigation for money-laundering. Several home purchases as well as transactions through Cyprus, a common outlet for dubious cash from Russia have raised red flags. Mueller is reportedly working with New York Attorney General Eric Schneiderman to probe Manafort's transactions. Manafort is also under scrutiny for potentially failing to register as required by law under the Foreign Agent Registration Act, though he retroactively filed in July.
Given Manafort's many liabilities, it may come as no surprise that the White House would try to throw Manafort under the bus. But that might be a risky choice. Many outside observers have interpreted Mueller's hard-charging offensive against Manafort—including the threat of an indictment, and the compelled testimony of his spokesman—as an attempt to get him to flip and serve as a witness against Trump. There's no confirmation of the tactic, although Andrew Weissmann, an early addition to Mueller's team, is an expert witness-flipper. His involvement, as well as that of several other hotshot prosecutors, is yet another tantalizing piece of a sprawling and ever-more-complicated puzzle for observers. Without a clearer sense of the evidence, and given Mueller's public silence, it's impossible to know for sure which developments are most meaningful, and which individuals are incriminated most by their associations with one another.
While the FARA and financial investigations are troublesome mainly for Manafort alone, the offer to brief Deripaska is interesting because it offer yet another point of contact between the Trump campaign and the Kremlin. From low-ranking aide Carter Page's business ties in Russia, to the June 2016 meeting at Trump Tower with a Russian lawyer, to Jared Kushner's meeting with the head of a state-controlled Russian bank, to Michael Flynn's trips to Russia, and many other examples besides, press reports and investigators have uncovered a thick network of connections between Russia and the Trump campaign.
As yet, however, there is no clear evidence that is public that indicates actual coordination between the two parties. The Manafort FISA warrant also raises the possibility that Trump, either as candidate or president-elect, or even as president, could have been recorded on tape speaking with Manafort.
Of course, it's also possible that Mueller is just going after Manafort hard on financial matters because he believes Manafort committed crimes, and would like to punish him; notching a conviction or plea quickly would be a way for Mueller to show results and help justify his probe as more than the fishing expedition Trump's defenders claim it is. As I wrote earlier this month, the ratio of speculation to hard fact on the Mueller investigation is far out of whack.
"It's the tip of the tip of the iceberg, with no idea what's below," Bruce Green, a professor at Fordham University's School of Law who worked on the Iran-Contra investigation, told me. "It's a great parlor game to sit and try to imagine what's going on in the Mueller investigation or Schneiderman's investigation, but there's so little information to go on. We don't know what evidence they found. That would be good!"
Even without knowing what Mueller has found, however, the public is learning more about Manafort seemingly by the day.
In any case, the White House has plenty else to deal with, including multiple fronts that have little or nothing to do with Manafort. Here's a few more pieces of information and developments from the last few days:
That's an exhausting list of news—and it suggests the scope of what Mueller's team is trying to digest, and shows why expectations of a speedy conclusion to the probe are likely misplaced. Any number of these lines of inquiry might turn out to be yield no crimes, or no crimes that Mueller is confident he can prove.
Meanwhile, the latest developments don't touch on some of the most salient possible areas for Mueller to investigate. They don't concern the June 2016 meeting at Trump Tower, which Kushner, Manafort, and Donald Trump Jr. all attended. They also don't take in Kushner's conversations with Vnesheconombank, the Russian-state-controlled bank, or with then-Ambassador Sergey Kislyak after the election. They also do not include anything about Donald Trump's business both in Russia and the U.S. before he became president, although there are hints that Mueller may be interested in them and in Trump's tax returns. (He has reportedly teamed up with an elite IRS investigate unit.)
Finally, they offer no insights into whether any Americans worked with Russians to help obtain or publicize emails hacked from the DNC and Hillary Clinton campaign chair John Podesta. At some point, the Mueller investigation will reach a tipping point, but it likely will not be clear to the general public for long afterward.