Trump Has Filled, Not Drained, the Swamp
The president has made a mockery of a promise at the core of his campaign. It is time for the #MAGA media to tell his supporters the truth.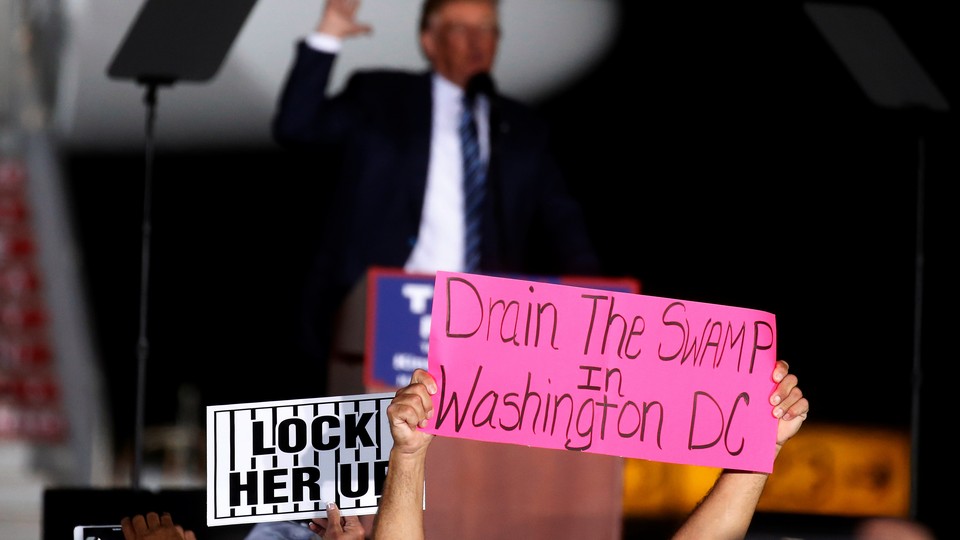 There is no campaign promise that Donald Trump has failed to honor more flagrantly than his oft repeated pledge to "drain the swamp" in Washington, D.C. He has violated the letter of his promise and trampled all over its spirit. His supporters ought to be furious. But few perceive the scale of his betrayal or its brazenness.
Are they skeptics of the Russia investigation?
Forget the Russia investigation. Even if no wrongdoing is proved on that matter, the Trump Administration's behavior would still be epically swampy. A list of examples is clarifying:
Corey Lewandowski, who worked as Trump's campaign manager, moved to Washington, D.C., and started a Beltway lobbying firm, where he accepted lots of money from special interests that were trying to influence Trump. Meanwhile, The New York Times reported, "Established K Street firms were grabbing any Trump people they could find: Jim Murphy, Trump's former political director, joined the lobbying giant BakerHostetler, while another firm, Fidelis Government Relations, struck up a partnership with Bill Smith, Mike Pence's former chief of staff. All told, close to 20 ex-aides of Trump, friends, and hangers-on had made their way into Washington's influence business."
Trump promised that he was putting his sons in charge of his business empire, telling Americans, "I hope at the end of eight years I'll come back and say, 'Oh you did a good job.'" But Forbes talked with Eric Trump, who revealed he'd be giving his father at least quarterly updates. And ProPublica discovered fine print in the legal arrangements that allows Trump to draw money from his 400 businesses "any time, without disclosing it," a far cry from a prior statement by Trump's lawyers that he was "completely isolating himself from his business interests."
At the same time, "the administration has not been shy about hiring individuals who were once registered as lobbyists with the federal government. Data provided to The Washington Post by the liberal PAC American Bridge details the extent to which former lobbyists have made their way into the administration. Twenty work for the executive office of the president itself, including four 'super-lobbyists'—ones who represented at least 10 different companies or organizations before coming to work for the government. What's more, of the 74 lobbyists identified … 49 now work for agencies they used to lobby."
"A major construction company owned by the Chinese government was hired to work on the latest Trump golf club development in Dubai," the Sacramento Bee reports, "despite a pledge from Donald Trump that his family business would not engage in any transactions with foreign government entities while he serves as president."
Health and Human Services Secretary Tom Price is flying on private jets at taxpayer expense. He spent $60,000 in a single week. His predecessors flew commercial.
The U.S. Coast Guard paid Mar-a-Lago, Trump's exclusive Palm Beach resort, more than $1,000 for a two-night stay in a luxury room. "It is not clear whether the invoice stemmed from a one-time occurrence or represented one of many Mar-a-Lago rooms that have been booked at government expense for presidential aides or other officials since Trump took office," The Washington Post reported. "Other agencies that likely have had regular presence at the club, such as the Secret Service, have declined to provide the Post information."
Trump is using money donated to the Republican National Committee to pay his personal lawyers.
"As Trump and Chinese president Xi Jinping dined on Dover sole and New York strip steak earlier this month," The Guardian reports, "thousands of miles away in China a government office quietly approved trademarks that could benefit the U.S. president's family. On the day the president's daughter Ivanka Trump met the Chinese leader, China granted preliminary approval for three new trademarks for her namesake brand, covering jewelry, bags, and spa service."
The Washington Post found "the State Department spent more than $15,000 to book 19 rooms at the new Trump hotel in Vancouver when members of President Trump's family headlined the grand opening of the tower in late February. The hotel bookings—which were released under a Freedom of Information Act request—reflect the first evidence of State Department expenditures at a Trump-branded property since President Trump took office in January."
People with business before the federal government are paying for rooms in Trump's D.C. hotel. Vanity Fair reports examples including "the prime minister of Malaysia, who is the focus of a Justice Department corruption probe; the Louisiana Association of Business and Industry that wants more offshore drilling; an association of candymakers seeking federal help in an enduring dispute with the U.S. sugar industry; and a trade group for vape-shop owners and e-cigarette makers."
Ivanka Trump, the president's daughter and a White House adviser, retains a stake in that hotel and receives an income stream from it.
As Politico reported, "In May, Jared Kushner's sister Nicole Meyer pitched Chinese investors in Beijing on a Kushner development project in Jersey City, telling them that if they put at least $500,000 into the project they would be rewarded with EB-5 investor visas to immigrate to the United States. Kushner, whose role in the White House includes advising on China policy, stopped running his family's company in January; but Meyer mentioned her brother by name at the Beijing event, reminding guests he was now serving in the White House and adding that the project 'means a lot to me and my entire family.'"
Despite a pledge to donate all profits from foreign entities to the U.S. Treasury to avoid conflicts of interest, Trump's businesses now "say it would be 'impractical,' to require customers representing foreign nations to identify themselves," Reuters reports, adding that "The Kuwaiti and Azerbaijani governments have already hosted events at the Trump International Hotel in Washington, D.C."
The BBC reports that "Philippines' newest trade envoy to the United States is the same man who is building Trump Tower Manila. Like many of Trump's branding projects, Mr Trump does not own the building himself, but licenses his name to the building in return for regular payments. Trump family members have previously promoted the project. The trade envoy/business partner reportedly flew to U.S. to hold a private meeting with Mr. Trump after the election."
According to ABC News, "Secretary Steven Mnuchin requested use of a government jet to take him and his wife on their honeymoon in Scotland, France, and Italy earlier this summer, sparking an inquiry by the Treasury Department's Office of Inspector General … Officials familiar with the matter said the highly unusual ask for a U.S. Air Force jet, which according to an Air Force spokesman could cost roughly $25,000 per hour to operate, was put in writing by the secretary's office but was deemed unnecessary after further consideration."
Ousted former National Security Adviser "Michael Flynn informed the Trump administration that he was under investigation for secretly lobbying on behalf of Turkish interests—and the president decided to appoint him to one of the most powerful national security posts in the government, anyway," New York Magazine recounted. "Flynn then used his short time in office to veto a plan for retaking the Islamic State's de facto capital, despite the plan's strong support from the Pentagon and Obama administration. The operation would have involved partnership with Syrian Kurdish forces—a prospect vehemently opposed by Turkey's government."
Trump still hasn't released his tax returns.
That list is highly incomplete. But already it is too much for the brain to take in all at once. Every item is a scandal in its own right. And an exhaustive list is all but impossible. To understand why, scroll through the Sunlight Foundation spreadsheet that aggregates Trump's conflicts of interest. Probing all of them would take months.
Former President Jimmy Carter sold a peanut farm to avoid the appearance of one much less serious conflict. Trump chooses to put his business interests before the country's interests. Despite repeating "drain the swamp" often, it was always just an opportunistic slogan for him.
"I told people the other day: 'Drain the swamp,' I don't really like that expression," he admitted to a Las Vegas campaign crowd last October. "I said, I don't love that expression, so hokey … I hate to use this … it doesn't work, right. And I said it two weeks ago to a big crowd, and the place went crazy. Then I said it a second time, and the place went even crazier. And then the third time, like you, they started saying it before I said it. All of the sudden, I decided, I love that expression; it's a great expression."
Now the emptiness of Trump's words is borne out by his actions. The evidence is right there on public record, though Trump supporters who rely on Sean Hannity, Rush Limbaugh, or Tucker Carlson for their news haven't yet gotten the truth about the new swamp. But those who've read this far have gotten it. Why aren't you furious yet?