The Two Republicans Who Will Likely Determine Obamacare's Fate
A last-minute repeal vote could come down to Senators John McCain and Lisa Murkowski, who opposed the GOP's most recent proposal in July and are facing competing pressures from their state's governors.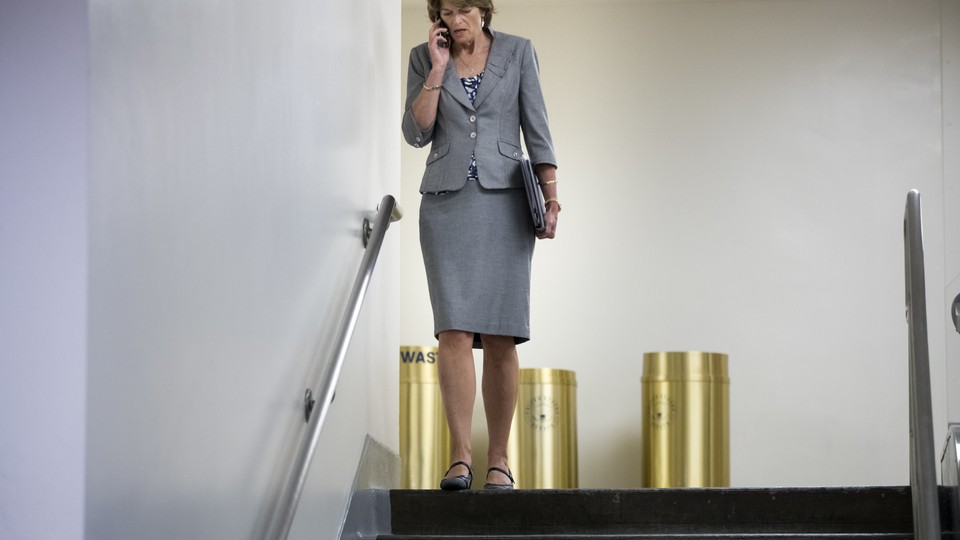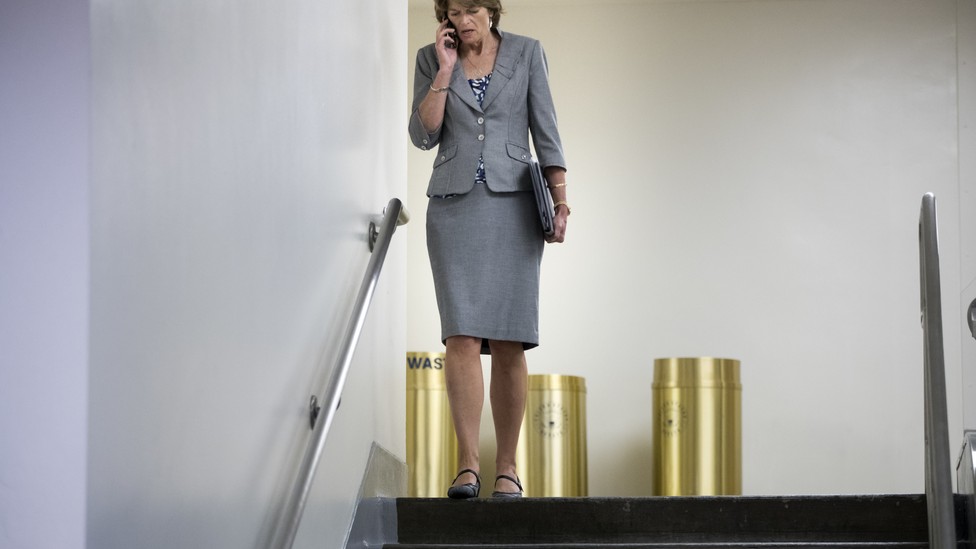 The fate of the GOP's 11th-hour effort to repeal the Affordable Care Act likely will come down to two familiar faces in the health-care debate: Senators John McCain of Arizona and Lisa Murkowski of Alaska.
And in the last 24 hours, the fence-sitting Republicans were pulled in opposite directions by their state's governors. On Tuesday afternoon, Governor Bill Walker of Alaska joined a bipartisan group of nine other state leaders in opposing the bill that the Senate might vote on next week. Walker, who won his election as an independent after previously running as a Republican, rebuffed entreaties from the White House to support the proposal written by Senators Lindsey Graham of South Carolina and Bill Cassidy of Louisiana. Instead, he urged the Senate—and by extension, Murkowski—to pursue a bipartisan fix to Obamacare.
The letter Walker signed came a day after Governor Doug Ducey of Arizona endorsed the proposal, which would repeal Obamacare's central insurance mandates, cut back long-term funding for Medicaid, and convert the Obama-era health law into a block-grant program for the states. McCain has said he would consult Ducey on the bill, and the governor's backing seemed to increase the likelihood that the Arizona senator would support the bill after voting down the last GOP repeal proposal in July.
But both Murkowski and McCain remained publicly undecided on the Graham-Cassidy legislation, and without both of their votes, Republicans are short of the 50 they need for passage before a September 30 procedural deadline. Senator Rand Paul of Kentucky plans to vote against the bill, and Senator Susan Collins has strongly suggested she would as well. (Collins has opposed each of the GOP repeal proposals.) One more "no" vote would kill the bill, along with the GOP's hopes of scrapping Obamacare without help from Democrats.
In another sign of the party's ongoing struggle, Senate Majority Leader Mitch McConnell would not commit to holding a vote on the Graham-Cassidy bill after a party meeting in which Vice President Mike Pence sought to rally Republicans behind repeal. "If we were going to go forward, we would have to act before September 30," McConnell said, referring to the deadline for the Senate to pass a health-care vote on a simple majority vote rather than a filibuster-proof threshold of 60 votes.
McCain and Murkowski are not the only Republican senators who have withheld their support for the Graham-Cassidy bill, but they are the two that supporters of Obamacare are pinning their hopes on to stop it. Other undecided GOP senators, such as Shelley Moore Capito of West Virginia and Ted Cruz of Texas, have come around to support earlier proposals. But both McCain and Murkowski have been deeply critical of the party's partisan approach to repeal, and each of their states stands to lose out under a proposal that would shift federal money from states that expanded Medicaid—like Arizona and Alaska—to those that did not.
McCain has called for the Senate to pursue "regular order," the process by which a bill goes first through committee and is subject to amendment before a final vote. In a bid to satisfy his concern, Chairman Orrin Hatch of Utah announced that he would hold a hearing on the Graham-Cassidy bill next Monday. That would be the first GOP repeal bill to receive a Senate hearing, but it would come just days before a vote, and Democrats decried it as "a sham." McCain reportedly would not say whether that was sufficient for him and questioned whether a single hearing constituted regular order. Adding to the procedural hurry, Republicans have already learned that they won't receive a complete assessment from the Congressional Budget Office on the bill's projected impact in time for a vote next week.
McCain is also under intense pressure to stand with Graham, his best friend in the Senate, who has cast his proposal as a choice between the "federalism" of a state block grant and the "socialism" represented by the Medicare-for-All plan unveiled last week by Senator Bernie Sanders of Vermont. Appearing alongside McConnell on Tuesday, Graham told reporters that Speaker Paul Ryan assured him that the House would quickly approve the Senate bill next week if it made it across the Capitol. "Paul Ryan told me to my face, 'If you pass it, we pass it,'" Graham said. Confident predictions of passage by House leaders have not always been reliable, however, and Republicans from New York who voted for the American Health Care Act in May have already begun raising concerns about the Graham-Cassidy proposal, which would cost the state billions in federal funding.
The most tangible effect of the revived repeal effort so far has been the end—at least for now—of talks in the Senate health committee about a bipartisan fix for Obamacare. After a series of hearings at the beginning of the month, Chairman Lamar Alexander of Tennessee and the top Democrat, Senator Patty Murray of Washington State, were negotiating a bill that continues subsidies for insurance companies to stabilize Obamacare's individual markets in exchange for provisions giving states more flexibility on the law's insurance regulations. A Democratic aide said Murray had offered new concessions to entice Republicans to stick with the bipartisan approach over the Graham-Cassidy repeal, but the deal appears to be dead after Ryan informed GOP senators that the House would not pass any bill to "prop up" Obamacare.
That clears the way for Republicans to focus, once again, on repeal. Yet the mounting opposition of the party's governors robbed Graham of a chief selling point—that the bill would be a win for states by allowing them to choose the health-care system that's best for their residents. In addition to Alaska's Walker, GOP Governors John Kasich of Ohio, Charlie Baker of Massachusetts, Phil Scott of Vermont, and Brian Sandoval of Nevada signed the letter of opposition along with five Democrats. Republican Governors Chris Sununu of New Hampshire and Larry Hogan of Maryland panned the bill in separate statements. Each of them saw the potential loss of funding as outweighing whatever additional flexibility the repeal bill would provide.
As Republicans have demonstrated before, governors do not get votes in the Senate. Ohio Senator Rob Portman voted for McConnell's earlier repeal proposal despite Kasich's opposition. Sandoval's position, once seen as a crucial factor for Senator Dean Heller's vote, may not matter much now, as Heller is a co-sponsor of the latest bill. And on Tuesday, Graham sidestepped the criticism from a group whose support he coveted and predicted he'd get the 50 votes Republicans need before the calendar turns to October. "I've never felt better about where we're at," Graham told reporters.