Mark Warner to Facebook: Tell Me What You Know
The company, along with Twitter and Google, has reportedly been asked to testify publicly before the Senate Intelligence Committee about Russian interference in the election.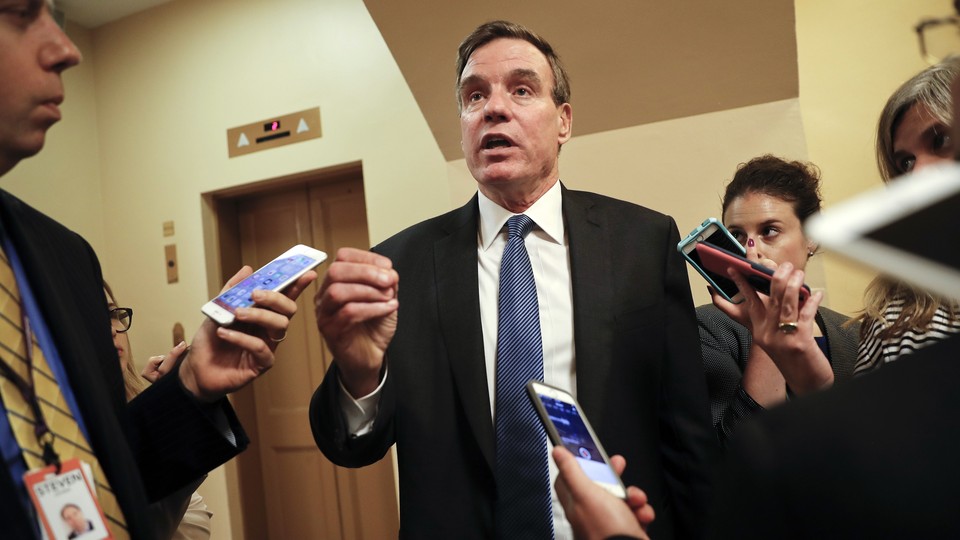 Virginia Senator Mark Warner wants to know what Facebook saw during the election.
Reuters reported Wednesday night that executives from Facebook, Google, and Twitter have been asked to testify publicly before the Senate Intelligence Committee, where Warner is the ranking member. Part of its investigation into Moscow's interference in the 2016 election, the November 1 hearing is expected to examine how Russian operatives used online tools to try to sow discord among the electorate and influence the race's outcome.
In an interview with journalist Steve Clemons at the Washington Ideas Forum, an annual conference hosted by the Aspen Institute and The Atlantic, Warner did not confirm the specifics of Reuters' reporting. But he nevertheless discussed his demand that Facebook, and other tech companies, take the Russia investigation seriously.
"The social-media companies—Facebook, Twitter, and we're asking Google as well—at first were very dismissive of the fact that their platforms were used both as vehicles for paid [Russian] advertising [and] as places where Russians were able to create fake accounts" to promote specific groups and articles, Warner said. "I think they need to be extremely forthcoming."
Before this month, Facebook had repeatedly denied that Russia used the site to influence the race, with CEO Zuckerberg initially dismissing the idea as "pretty crazy." But the company said earlier this month that Russian-linked accounts purchased more than $100,000 worth of advertising on the social-media behemoth during the election. The purchasers reportedly used the ad buys to target America's social divides. For example, The Washington Post reported that "some ads promot[ed] African American rights groups, including Black Lives Matter, and others suggest[ed] that these same groups pose a rising political threat." Twitter and Facebook are also of interest to investigators because of the fake news stories and disinformation that circulated on their platforms during the campaign.
Warner has previously described the Russian effort as an attempt to "sow chaos," and on Wednesday he expressed doubt that Zuckerberg's company in particular didn't know about it. "I think Facebook, in many ways, knows more about each of us than the United States government," he said, "and the notion that somehow they weren't aware of what was happening on their platforms … strains my credibility." Facebook has so far located one of the sources of a Russian "troll farm" in St. Petersburg: an online-influence operation known as the Internet Research Agency that spreads propaganda.
"If you're reading a political ad on Facebook or any platforms, you ought to know the source of that ad," Warner said, adding that if a story is being driven to the top of a person's newsfeed by "likes," users should know whether the individuals doing the liking are who they say they are.
He seemed to frame his demands as part of a social compact between tech companies and the American people. Facebook, in particular, "[which] more than half of Americans look to every day, is built upon a level of trust." He called on the companies to be transparent and share materials with his committee: "This is important in terms of Americans' confidence in the information we receive."