James Comey's Rough Reception at Howard University
The former FBI director has been at the center of controversy for months, but protestors at the historically black university on Friday focused on his history of comments about race and policing.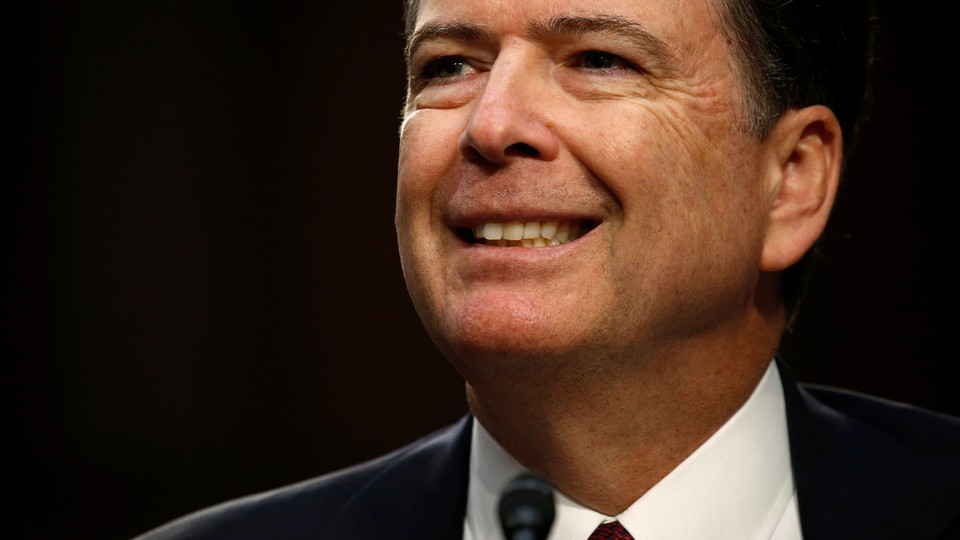 This story was updated on September 23, 2017 at 9:54 p.m.
The start of the school year can be tough for anyone, even if you're the 56-year-old former director of the FBI. While James Comey has found himself at the center of the country's major political controversy this year, on Friday he was the object of protest for reasons that had nothing to do with Russia, Michael Flynn, or Donald Trump.
On Friday, Comey addressed Howard University's convocation, the ceremony starting the year and welcoming the new freshman class. As a prominent public figure who's teaching at Howard this year as the Gwendolyn S. and Colbert I. King Endowed Chair in Public Policy, Comey could look like a natural pick.
Or maybe not. When Comey came to the lectern at Cramton Auditorium in D.C. on Friday, he was met by cheers, jeers, and singing. For several minutes, as the enormously tall Comey stood quietly and awkwardly, a group of students protested his appearance. They sang civil-rights songs—"We Shall Not Be Moved"—and chants: "I love being black." Other demonstrators gathered outside. Comey eventually got started, speaking through more disruptions. At the end of the speech, most of the hall rose to give him a standing ovation. But, Politico reported, in the back, where the students were seated, there was little applause for Comey—instead, they awarded their cheers to the demonstrators as they walked out at the end of the speech.
However much Comey made sense as a convocation speaker, it makes sense that he'd face protests too. Even setting aside Comey's specific background, Howard is a particularly engaged campus even among historically black colleges. Any former FBI director might have encountered a tough reception, but several of Comey's statements during his tenure made him a particularly likely target for protests. The student group #HUResist has been criticizing Comey's appointment for weeks, and it claimed credit for organizing Friday's protests.
The FBI has long had a rocky relationship with African American communities, from spying on civil-rights activists and using its COINTELPRO operation to target the Black Panther Party on to the present day, with accusations of bias against both black civilians and black employees of the bureau. In a letter on Wednesday about Comey's speech, Howard President Wayne A.I. Frederick tried to defuse some of those worries.
"When at the FBI, Mr. Comey made implicit bias an issue that the entire bureau had to understand. He made it mandatory for all agents and analysts to attend trainings, visit Martin Luther King's monument, and study the FBI's interaction with him," Frederick wrote. (Notably, the bureau tried to push King to kill himself.) "He led this effort as a result of the FBI's history of undermining Black-led organizations and leaders."
#HUResist was having none of that. In a series of tweets, the group picked apart the letter, pointing to, among other things, FBI surveillance of Black Lives Matter activists during his directorship. Then the group disrupted the speech.
Over the past year, Comey has proven to be a political Rorschach test. When he announced he would not recommend charges against Hillary Clinton, he earned criticism from Republicans and praise from Democrats; his late October letter reopening the investigation won over Republicans and infuriated Democrats. When he fired Comey in May, President Trump reportedly believed Democrats would back the move, but suddenly they found reasons to respect Comey.
Comey's record on race is similarly subject to interpretation. Comey may have been the most outspoken FBI director on race issues in the bureau's history. Speaking to another campus crowd on the other side of Washington in February 2015, Comey said, "Little compares to the experience on our soil of black Americans. That experience should be part of every American's consciousness, and law enforcement's role in that experience—including in recent times—must be remembered. It is our cultural inheritance." Speaking at Georgetown, he also focused on implicit bias in policing.
These were unusual sentiments for any FBI director to make, but other parts of Comey's speech did not endear him to activists. "Let me be transparent about my affection for cops," Comey said. "Racial bias isn't epidemic in law enforcement any more than it is epidemic in academia or the arts. In fact, I believe law enforcement overwhelmingly attracts people who want to do good for a living." And he argued that while police could do more to deal with racial bias, the impact of policing was limited.
Another speech, in October of that same year, raised more hackles. In that address, he lent credence to the idea of a "Ferguson effect"—the hypothesis that police officers, nervous about being filmed on cell phones after several high-profile shootings of black people by cops, were taking a hands-off approach, and consequently crime was rising. The problem was that despite various anecdotes, there was no evidence to support any nationwide crime wave, much less to connect that causally to intimidated officers.
"The question that has been asked of me, is whether these kinds of things are changing police behavior all over the country," Comey said during a speech at the University of Chicago Law School. "And the answer is, I don't know. I don't know whether this explains it entirely, but I do have a strong sense that some part of the explanation is a chill wind blowing through American law enforcement over the last year. And that wind is surely changing behavior."
The speech reportedly took other administration officials by surprise and upset them. A month later, Attorney General Loretta Lynch said there was no evidence for a Ferguson Effect.
In the same Chicago speech, Comey lamented mass incarceration of people of color but suggested it might have helped drive down the crime rate. "The pulling of those many weeds, as painful as that was, allowed churches, schools, community groups, and parents to plant seeds that have grown into healthy neighborhoods," he said. "Neighborhoods that are free and alive in 2014 in ways that were unimaginable 25 years ago." Most criminologists see no hard evidence that mass incarceration played more than a minor role in the the dramatic drop in crime rates.
Comey, then, might have been the most progressive FBI director on racial issues, but many of his views, and the bureau's history, virtually guaranteed outcry.
Earlier this year, Education Secretary Betsy DeVos was heavily booed when she spoke at graduation and received an honorary doctorate from Florida's Bethune-Cookman University, another HBCU. In that case, as with Comey, students were highly critical of the school's president for inviting DeVos. (Conflict between HBCU students and administrators over treatment of speakers is nothing new.)
But Comey can take heart: He didn't have the worst trip to Howard by a Republican in recent history. In 2013, Senator Rand Paul went to speak at the school and, underestimating the historical knowledge of his audience, asked whether they knew that Republicans had founded the NAACP. He also forgot the name of the first popularly elected black senator—Republican Ed Brooke of Massachusetts—and had to be educated by the crowd.
In a statement, #HUresist said, "James Comey represents an institution diametrically opposed to the interests of Black people domestically and abroad. While his tenure at the FBI is finished, his impact on our community remains."
Comey, who is donating his $100,000 salary to a scholarship fund for students from foster homes, is scheduled to give several more lectures at Howard throughout the year.
During his speech, he told protestors that while he was happy to listen to them, he hoped they'd listen to him. But he also pointedly remarked that he'd chosen to come to Howard over several other offers. "I love the enthusiasm of young folks, but I wish they understood what a conversation is," he added. That's unlikely to win over his campus detractors, but there's always the next speech. #HUresist is certain to be there, too.