Is Steve Bannon Trump's 'Dark Angel'?
Newsmax CEO Chris Ruddy and the Breitbart chairman offer two very different pictures of the president and his priorities.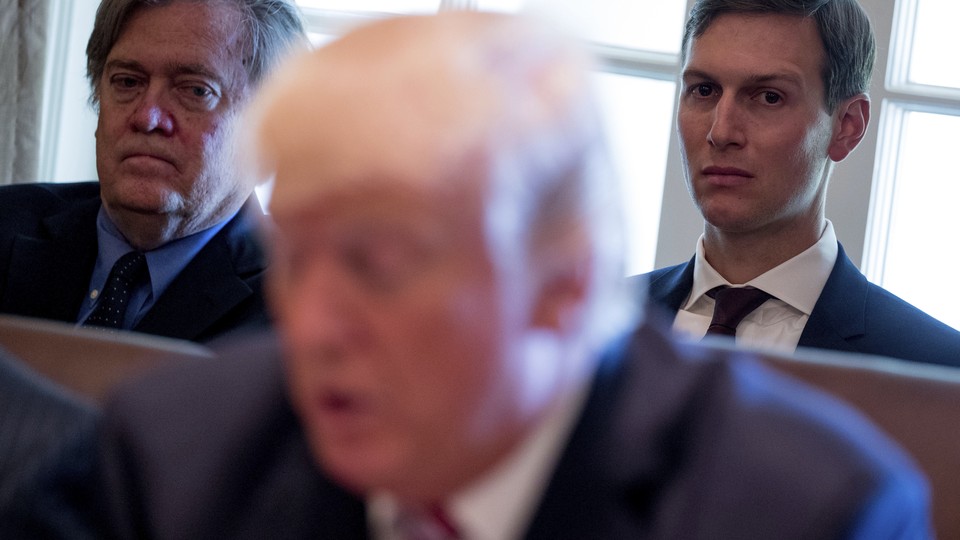 Chris Ruddy, the CEO of Newsmax, considers Steve Bannon a bad influence on his friend President Trump. As Ruddy described it on Wednesday, the former White House chief strategist "has been a dark angel around the president" who inspires Trump's more hard-right policies.
That's roughly the opposite of Bannon's own assessment of White House dynamics. He continues to insist it's West Wing "globalists" who are corrupting the president's true agenda—which just so happens to align with his. The two arguments illustrate the conflicting perceptions of Trump, and of his priorities.
Not only is Bannon Ruddy's ideological rival, but he's a business competitor, too: After his stint at the White House, Bannon returned to running Breitbart News—a site Ruddy characterized on Wednesday as mere political propaganda. Ruddy has known Trump for the past 20 years, and his own media organization, like Breitbart, played a major role in Trump's ascent. As my colleague Rosie Gray reported earlier this year, Newsmax was one of Trump's earliest media promoters and helped refine his political image. The Trump campaign also used Newsmax's email list to raise some $800,000.
Though Ruddy had mentioned Trump's "darker angels" before, until Wednesday, he hadn't named any of them. Speaking at the Washington Ideas Forum, sponsored by the Aspen Institute and The Atlantic, Ruddy described his read on the president's politics and how it differs from the nationalism with which Trump is typically associated. "He's not ideological," Ruddy told my colleague Steve Clemons, dispelling what he sees as a major myth about the president. "He's a pragmatist and a centrist."
Where Bannon feeds Trump's more hardline, nationalistic urges, Ruddy said Trump's daughter Ivanka and son-in-law Jared Kushner keep Trump on the straight and narrow. "They are not only loyal to him, but they're people that I think could be strong influences for [Trump] to have that more bipartisan approach." Ruddy suggested that it was Trump's work with Democrats Chuck Schumer and Nancy Pelosi to strike a budget deal early in September that helped lift his dismally low poll numbers. (There's reason to doubt Jared and Ivanka's moderating power; they didn't move him to the center on issues like climate change or trans rights.)
Bannon has argued that his take-no-prisoners nationalism is Trump's true ideology. After he was pushed out of the White House in August, Bannon returned to Breitbart, where he says staffers will continue defending Trump and Trumpism. Just this week, he took credit for Roy Moore's defeat of incumbent Luther Strange in Alabama's Republican Senate primary. Moore has recently been characterized as a Trumpian figure, and Bannon eagerly backed his insurgency, using the race to position himself against establishment figures like Majority Leader Mitch McConnell who spent millions to keep Strange in office.
"Mitch McConnell and this permanent political class is the most corrupt and incompetent group of individuals in this country," Bannon said at a rally on Monday. "Your day of reckoning is coming." After Moore's victory, one article posted on Breitbart declared that "Bannon and Breitbart are no longer just the most hated names inside the Beltway. Now they're also the most feared."
Bannon has explained away the fact that Trump himself backed Strange. He told Fox News's Sean Hannity on Monday that Trump simply "got the wrong information." He called Moore "the guy that's going to represent Donald Trump and fight the establishment."
The question is whether Bannon or Ruddy is right about the president's underlying ideology, or indeed, whether he has any consistent ideology at all. Ruddy regularly speaks to the president, but Bannon and Trump are also reportedly still in frequent contact.
And the past few days haven't made the picture any clearer. Trump's endorsement of Strange reportedly came at Kushner's urging. But at a campaign rally for Strange on Friday, the president admitted publicly that he "might have made a mistake," and he promised to campaign "like hell" for Moore if he won. And within hours of Strange's concession, Trump began deleting tweets he'd sent to show his support.