Immigration Restrictionists Are Disappointed by Trump
Leading opponents of amnesty are waiting warily for details of Trump's arrangement with Democratic congressional leaders.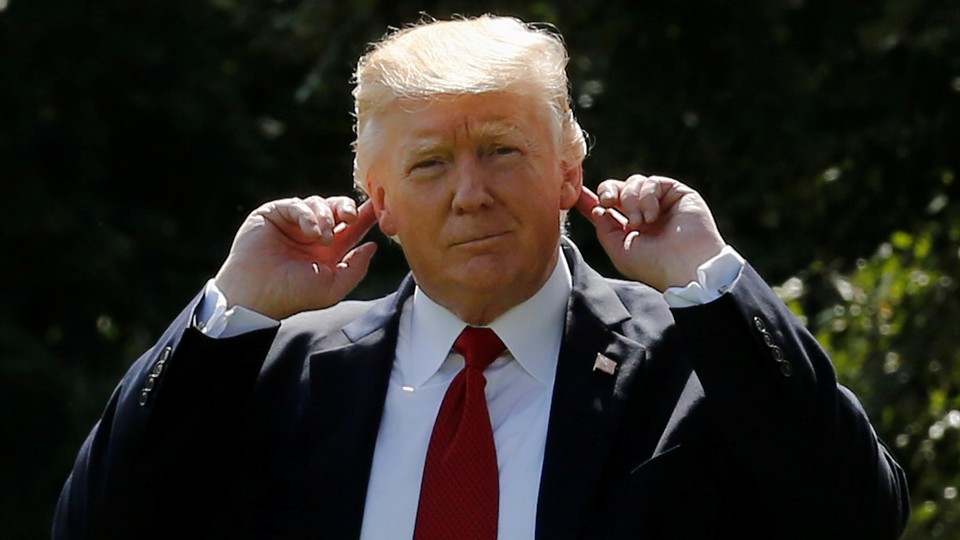 Donald Trump's victory in November promised to give immigration hardliners the long-sought opportunity to pass legislation cracking down on immigration. But roughly eight months into his administration, many are feeling betrayed.
Last week, Trump announced that he would end the Deferred Action for Childhood Arrivals program, an Obama-era program shielding undocumented immigrants who came to the U.S. as children from deportation and allowing them to work legally in the country. Trump had campaigned on the promise to immediately rescind the program, and though the decision came later than anticipated, it was welcomed by his supporters.
But now, after Trump dined with Democratic leaders in the White House, it appears that a deal may be in the making to keep DACA protections in exchange for border security—worrying immigration restrictionists who see enforcement as low-hanging fruit.
"We're looking at both sides: We're looking at the White House saying there's no deal, but Trump saying other things on DACA, and looking at Schumer and Pelosi saying a deal was cut," said Chris Chmielenski, the director of content and activism at NumbersUSA. He added that it's "disappointing" that there's still no mention of measures like the RAISE Act, which would reduce legal immigration to the United States. "We would absolutely not support anything—nor do we think our activists would support—a DACA amnesty for enforcement," he said. NumbersUSA has mobilized its activists to pressure Congress, as it waits for the White House to do the same for legislation like the RAISE Act.
Mark Krikorian, the executive director of the Center for Immigration Studies, which favors reduced immigration, said in an email, "Not sure there is a deal, but Trump's tweet about any deal needing BIG border security is a bad sign—as important as border security is, it's interior enforcement (the most important next step for which is E-Verify) that's needed to contain the magnet effect on illegal immigration that the amnesty would cause, plus the RAISE Act end to chain migration, to limit the downstream legal immigration effects of an amnesty."
It's not the first time immigration-restrictionist groups have expressed concern about what trade-off the administration might make in regards to DACA. "If you're talking about border-wall funding in exchange for DACA, that's a non-starter," Robert Law, the director of government relations at the Federation for American Immigration Reform, told me last week.
While there are still a number of unanswered questions about what sort of trade-off Trump has agreed to, or what deal Congress will approve, one thing is for sure: Immigration restrictionists will be watching.