Immigration Hardliners Praise Trump for Ending DACA
Advocates of reduced immigration welcomed news of the program ending Tuesday, but expressed concern over what comes next.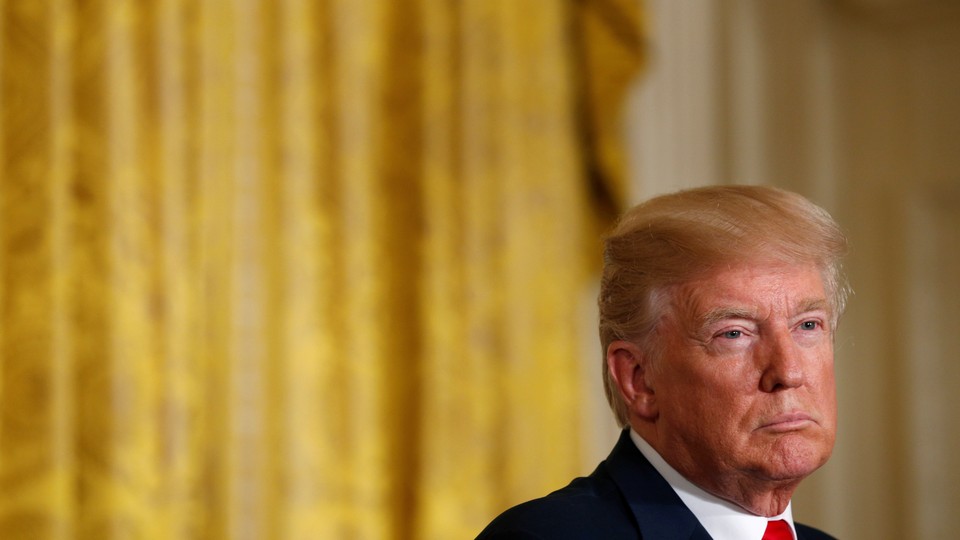 On Tuesday, President Trump delivered on a promise that immigration hardliners have long been waiting for: ending the Deferred Action for Childhood Arrivals Program.
For months, immigration-restrictionist groups have been pushing for Trump to end DACA, which they, along with many Republicans, argue was an overreach of executive authority from the start. The program shields roughly 800,000 undocumented immigrants who were brought to the U.S. as children from deportation, and allows them to work legally, but only if they pass a criminal background check.
Many expected Trump, who had made immigration a cornerstone of his campaign, to take action on day one. The Federation for American Immigration Reform, which favors reduced immigration, even included the repeal of the Obama-era program in a transition document on immigration policy shortly after Election Day.
Instead, that decision came roughly eight months into the administration: On Tuesday, Attorney General Jeff Sessions formally announced that DACA is "being rescinded." Advocates of reduced immigration welcomed the news.
"NumbersUSA applauds the President for keeping his campaign promise. Now it is time for Congress to focus on strong immigration enforcement measures and reforms to our legal immigration system that put American workers first," said NumbersUSA President Roy Beck in a statement. FAIR also commended the administration's decision. "President Trump repeatedly stated during the campaign that he would end DACA. The winding down period  announced today will not only give DACA recipients time to get their affairs in order, but also gives Congress a unique opportunity to reengage in the immigration debate," said Dan Stein, the president of FAIR.
Tuesday's announcement is only the first step in what is likely to be a tumultuous next few months, concerning immigration hardliners who worry the president will trade DACA for border-wall funding.
The administration gave Congress six months to find a legislative solution. "This is a gradual process, not a sudden phase out. Permits will not begin to expire for another six months, and will remain active for up to 24 months," Trump said in a statement Tuesday. "Thus, in effect, I am not going to just cut DACA off, but rather provide a window of opportunity for Congress to finally act." He did not say, however, what other immigration priorities might be included in the negotiating process.
"My concern is not that the six-month grace period, it's that the administration doesn't seem to have a legislative strategy to try to influence what Congress does," said Mark Krikorian, the executive director of the Center for Immigration Studies.
It's unclear if the administration will ask for something in turn for protecting DACA recipients. For example, Trump, who has made no secret of his desire to erect a wall along the U.S.-Mexico border, may offer to sign a DACA bill in exchange for Democrats agreeing to fund the barrier. But anti-immigration hardliners would oppose that arrangement.
"Border-wall-DACA tradeoff, no deal," Chris Chmielenski, the director of content and activism at NumbersUSA, told me last week, when asked how he would feel if DACA was traded for border-wall funding. "If you're talking about border-wall funding in exchange for DACA, that's a non-starter," Robert Law, the director of government relations at FAIR, said Tuesday.
On Tuesday, White House Press Secretary Sarah Huckabee Sanders said Trump "wants to see responsible immigration reform, and he wants that to be part of it. But again, we can't take just a one-piece fix. We've got to do an overall immigration reform that's responsible and frankly that's lawful—that's what the president wants to see Congress do."
Legislation to create a path toward legal status for this segment of the undocumented population has received bipartisan support in the past, though it's fallen short of passing on several occasions. In the House, a measure to extend protections to undocumented immigrants who came to the United States as children has been introduced and enjoys Republican support, but it's not clear whether it has enough votes to pass. Some immigration restrictionists want to see the RAISE Act, a measure that would drastically reduce legal immigration, gain support in Congress—and see DACA as an opportunity.
Trump recently publicly backed the RAISE Act, which was introduced by Republican Senators Tom Cotton and David Perdue. The measure would cut legal immigration to the United States by 50 percent over a decade. Since the announcement, the White House has pushed out a slew of releases including praise for the legislation. Senate Majority Leader Mitch McConnell, meanwhile, has been mum on the proposal.
Congress faces a stacked schedule this fall. And despite Trump's calls for Congress to act, lawmakers likely face an uphill battle with any attempt to overhaul the U.S. immigration system. "He'll have to write a sequel to his book, 'The Art of the Choke,'" Krikorian said, if plans fall through.
Stein seemed to allude to a similar sentiment at the conclusion of his statement Tuesday. "President Trump has indicated that he is willing to forge a long-term solution for real immigration reform, but it takes two sides to make a deal. The American public is watching," he said.