How Puerto Ricans on the Mainland Are Getting News From Relatives
Members of the island's diaspora are coping with the trauma of Hurricane Maria by using technology to connect with family and help people on the island.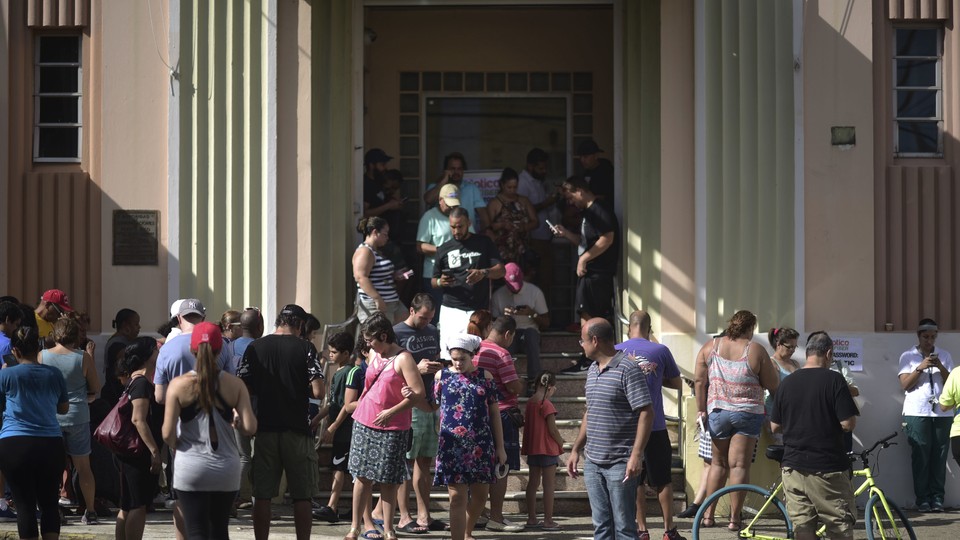 Perhaps the grimmest aspect of the ongoing emergency in Puerto Rico is that the knowledge of the aftermath of Hurricane Maria—including 10 deaths, the devastation of entire swathes of the island, and dire shortages of food, water, and fuel—come from the teaspoonfuls of information that have dribbled out of the island. Most places don't have power, and won't for weeks, if not months. Less than 300 of the island's 1,600 cellphone towers are functional, 85 percent of all above-ground cable and phone infrastructure was knocked out, and the more remote areas that make up the majority of Puerto Rico's landmass have mostly gone dark, with brief calls from satellite phones providing sporadic updates. There's no way to know for certain how bad the crisis is, and that dearth of information in turn has become part of the crisis itself.
For the millions of people in the Puerto Rican diaspora, both on the island and on the mainland, the lack of information is one of the most disruptive parts of the disaster. For people living on the island, it's often impossible to get word out as conditions deteriorate, to know when aid might be coming, or to coordinate the delivery and access to life-saving services. Their relatives scattered across the United States and elsewhere have been left entirely in the dark as to the status of family members. While there's no shortage of stories on the long-term implications of Hurricanes Irma and Maria on Puerto Rico and its existing humanitarian problems, at the moment many Puerto Ricans haven't yet settled a more basic question: Who made it through the storm and its aftermath?
On the mainland, Puerto Ricans are still waiting for any news about loved ones on the island. For Alexandra Gates, a graduate student at the University of Chicago, communication with extended family in Puerto Rico has been limited. "We have literally gotten two text messages and one or two very spotty phone calls from them," Gates says. "All they were saying is 'hey we're alive,' and that's it. Then it all goes dark again." Since most wi-fi on the island is down, the WhatsApp groups that the family usually uses to keep tabs seamlessly with people on both sides of the Caribbean have mostly gone dark, and family members have had to rely on pilgrimages to working cell towers in order to send brief status updates by text.
For cousins in or near the capital of San Juan, this is an inconvenient, but not terribly difficult proposition. For cousins further out in more remote areas, updating family means using limited gasoline supplies to take long trips across washed out roads, mud, and debris in order to stand in line outside a working tower.
But in more remote areas, even those options aren't available. The tiny, rural island municipality of Vieques, which used to house a Navy munitions test facility, only had tenuous infrastructure connections to the larger island before it suffered a direct hit from Maria. Now, according to residents, the only power on Vieques is supplied by generators, which must themselves be resupplied regularly with gasoline from the main island, which itself might face gasoline supply problems in the near future. Power isn't expected to be restored for months, and most telephone lines and trees on the island are down. Cell service hasn't been working, and only a handful of satellite phones—including some owned and operated by FEMA officials—are available to provide updates to the authorities or to families. According to Steven Mueller, a resident of Vieques currently working out of Washington, D.C., "they're entirely dependent on one power line and one water line that we have to the main island."
Still, residents of Vieques are working to get around those barriers. The day after Hurricane Maria hit, Vieques resident Brittany Roush began using Facebook to coordinate communications and aid. "This effort started with the Facebook page Vieques Peeps that most residents use to connect with each other," Roush says. "The morning after the storm, there were a few hours where people had lost contact and frantic posts were starting to pile up." Roush and friends who were not on Vieques when it was hit began taking calls and posts about family members and working to provide up-to-date information.
Those efforts evolved into the ViequesLove project, which Roush runs along with Mueller, her husband, and which has raised over $200,000 via GoFundMe. The group has worked to maintain a list of people verified as safe on Vieques by communicating with the few residents with satellite phones, having coordinated supply runs with government officials, and on Sunday and Monday managing to charter a plane to drop off more supplies on the island. Those flights helped resupply the hospital, where doctors and nurses are currently operating in tents, relying on a gasoline stockpile that can keep generators going for five days.
Although FEMA and the Red Cross are present on Vieques, as they are across Puerto Rico, with federal assets often slow to arrive and difficult to manage, social media and efforts by concerned citizens have been vital to keeping lines of communication open and coordinating relief. The "Puerto Rico Maria Updates" Facebook page boasts over 150,000 members, and has developed in a matter of days into perhaps the quickest real-time news service about developments in Puerto Rico, as well as one of the primary ways for Puerto Ricans on the mainland or in different municipalities to find out about relatives elsewhere.
Patricia Pichardo, who was born and raised in Puerto Rico, but lives and works in Atlanta, Georgia, started the Puerto Rico Maria Updates group the morning after Maria made landfall. "Wednesday morning when they were hit, I was expecting for communications to be lost, but not right away," Pichardo says. "But the news outlets were only communicating with very broad information," with very little in the way of news about individual towns. Pichardo was looking for news about her sister, Carolina, in Caguas, which is located about 20 miles inland from San Juan.
In her search for news about her sister and relative in Caguas, Pichardo came across posts from family friends on Facebook verifying that they were safe. She realized that a large-enough moderated Facebook group could amplify the sparse news from outlying municipalities, and could help connect Puerto Ricans with family and with resources.  "I said maybe if I can get enough friends and enough friends' friends to join, then maybe I can reach a critical mass where I'm able to hear more inside news than just by browsing my newsfeed alone," Pichardo says. So on Wednesday, she created posts exhorting people on the island and on the mainland to join, and paid to sponsor the posts. By the evening the group boasted almost a thousand people. At its most rapid growth rate, the page added 1,000 new members an hour, and generated hundreds of new posts and dozens of documents detailing logistics, supplies, and safe lists.
The Puerto Rico Maria Updates page has become such an indispensable source of knowledge to people seeking any sense of what's happening on the ground that it's become a key source for a tool from Univision News that provides municipality-by-municipality updates. That tool is powered by a mixture of official news reports and social media chatter, much of which comes from Pichardo's group.
The tool's usefulness is reliant on the quality of information from the Facebook group, which now features an extensive cast of moderators who regularly call out and ban false reports and posts that don't meet their strict guidelines for quality. Moderators upvote seemingly reliable content, use hundreds of volunteers to scour posts and discern whether information is corroborated internally or with news reports, block trolls and unauthorized fundraisers, and even issue corrections or warnings on faulty posts. All of those activities are directed by what Pichardo describes as "self-organization," with people volunteering for fact-checking duties. "The group itself has a very strong identity and a very strong desire for real information," Pichardo says. "But we're not sleeping very much."
The collection of efforts launched by activists on the island and family members on the mainland are similar in spirit to the deployment of the "Cajun Navy" in Houston after Hurricane Harvey. Then, residents used WhatsApp and the Talkie app, along with dozens of hours of work from unpaid volunteer dispatchers, to triage relief efforts in real time, get boats and trucks to people the most in need, and provide information to victims, their families, and authorities. In that example, the efforts of private citizens proved perhaps just as valuable as and more trusted than those of first responders and federal entities.
For Puerto Rico, where migration to the mainland is common, and where a recession and economic crisis have forced a wave of millions to move in the past few years in search of greater job prospects, political status, or health care, the connection is deeper. Crowdfunding and crowdsourcing simply mirror existing familial and community lines that have been maintained even as families are spread across the continental United States. And those lines are more important in Puerto Rico, which was singled out over Texas and Florida on Monday by President Trump as being "in deep trouble," and where official aid and federal authorities have been criticized for their slow response and lack of communication.
"We are doing things everywhere we are, and we're doing it because maybe our aspirations go beyond what the island can provide us in terms of infrastructure," Pichardo says. "We're everywhere. We're no longer all in Puerto Rico. But not because we don't love them and not because we are disconnected."