How Harvey Gave Congressional Republicans the Excuse They Wanted
The storm has allowed GOP leaders to put off showdowns over spending and the debt. But the truce might not last long.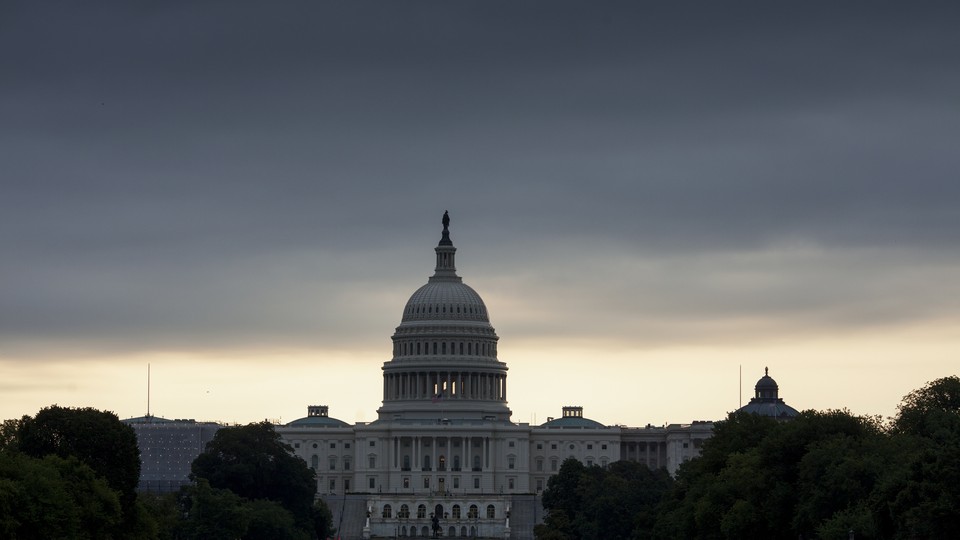 Republicans have spent most of 2017 fighting among themselves. Conservatives have jousted with moderates. Both factions have tangled with party leaders. And President Trump has bickered with just about all of them.
September was shaping up to be the nastiest brawl of all. With the end of the fiscal year approaching, Congress faces a series of deadlines that had promised to be a nightmare for a GOP that has yet to find its way as a governing party. Bills to fund the government; raise the debt ceiling; and reauthorize the Federal Aviation Administration, the National Flood Insurance Program, and the Children's Health Insurance Program are all due by September 30. And all of them carried divisions not only between Republicans and Democrats but within the GOP itself. That's on top of the GOP's already delayed attempt to pass a budget resolution, launch its tax-reform push, and figure out some way forward on health care.
Then came Hurricane Harvey.
The storm that flooded Houston has, somewhat awkwardly but not altogether unpredictably, had the opposite effect on Washington, draining Congress of the tension that had been building in the weeks since the House and Senate left for their summer recess. As lawmakers return to the Capitol this week, they seem to have left the will to fight at home. The threats of an imminent government shutdown have quieted, and the anxiety over a possible debt default has lessened, too.
Before they do anything else of consequence, House Republicans plan to take up a Trump administration request for nearly $8 billion in initial relief money for Texas and Louisiana, the first in what leading lawmakers expect will be multiple tranches of aid for recovery and reconstruction totaling as much as $100 billion or higher. Democrats have signaled no opposition, and conservatives who a few years ago opposed a relief package after Superstorm Sandy have said they're fine with an emergency spending package as long as it doesn't balloon into a legislative pork project. (It helps that many of those one-time critics are the Texas Republicans now seeking the money.)
"It's an easy bill to pass, honestly," said Representative Tom Cole of Oklahoma, a top House appropriator.
Tragedies often, but not always, have this kind of impact. Increasingly, they seem like the only effective antidote to political rancor. And even then, the remedy wears off quicker and quicker.
Indeed, nobody expects the Harvey effect to last very long. Republicans are responding to the disaster not by striking lasting compromises to resolve the various impasses, but by punting the fights to December and buying more time to figure out a resolution. GOP leaders had already planned to put off a debate over an omnibus spending bill and try instead to pass a three-month continuing resolution. Now they have added reason to set aside Trump's demand for a down payment on funding for a Southern border wall, over which he had threatened a government shutdown in the days before the storm hit. One senior House GOP aide told me that, in Harvey's wake, a shutdown fight over the wall was "the last thing we need."
Republican lawmakers and aides also acknowledged that the storm meant that Congress was even more likely to pass a straightforward extension of federal flood insurance rather than debate a more contentious proposal from Representative Jeb Hensarling of Texas, chairman of the House Financial Services Committee. Hensarling's legislation, which his committee narrowly approved in July, would open up the program to private competition and faced opposition not only from Democrats but many Republicans as well. "The Senate is not really on board with the Hensarling approach," the GOP aide said.
The debt ceiling remains a thorny issue for Republicans, who are divided between those who want to dispense with an increase quickly and those on the right who believe the party must attach spending reforms to any additional borrowing authority—a demand the GOP made for a time under former President Barack Obama. "After six or seven years, how many times are Republicans in the House supposed to be looking the other way and just giving a clean, blank check every year?" asked Representative Mark Walker of North Carolina, chairman of the Republican Study Committee, which represents the largest bloc of conservatives in Congress. "Why is Congress even relevant if this is just a rubber-stamp each year without any kind of serious, long-term reform?"
The RSC has the support of the more confrontational House Freedom Caucus, but with the Trump administration seeking a clean, drama-free increase in the debt limit, the party leadership has made little effort to fashion a proposal with a chance of passing the House and Senate. Majority Leader Mitch McConnell has vowed that the Senate would not allow the nation to default on its debt, and he would need the votes of at least some Democrats who would almost certainly oppose the kind of cuts conservatives want. Adding to the conservatives' challenge is that they have thus far not coalesced around a single proposal, nor are they vowing any kind of retribution if GOP leaders simply go around them and arrange with Democrats to raise the debt ceiling without their votes.
The Trump administration wants congressional leaders to attach the debt-ceiling increase to the Harvey relief bill, knowing that it would be politically difficult for lawmakers in either party to vote against sending help to flood victims. "At this point, we need to put politics aside," Treasury Secretary Steven Mnuchin said on Fox News Sunday. He argued that because the government needed to spend billions more than expected due to the storm, the Treasury might hit its borrowing limit earlier in September than it initially thought.
But the idea of tying the debt limit to hurricane aid had already encountered pushback from conservatives. "I don't think people should feel like they were blackmailed into voting for a continuing resolution or a debt-ceiling increase, and I think it would sort of backfire," Cole told me. (The Associated Press reported Friday that GOP leaders might wiggle around conservatives by having the House pass a clean Harvey-aid bill and then have the Senate attach the debt-ceiling increase and send it back. But it's unclear that conservatives would find that solution any more palatable.)
According to Cole, a senior Republican who is close to the party leadership, another possibility is that the debt-ceiling fight will get punted to December along with everything else. Rather than authorize a certain amount of new borrowing, Congress could simply suspend the debt limit for a certain period of time, which it did a couple of times during the Obama administration. The goal for lawmakers, Cole told me, would then be to strike a broad, bipartisan fiscal deal at the end of the year, one that would raise the debt ceiling on a long-term basis, fund the government for 2018, and set spending levels that are not subject to sequestration under the 2011 Budget Control Act.
"If you could, you really want a big deal here," Cole said. "You want something that would make sure you didn't have to revisit the debt ceiling until after the president's first term." Such an agreement could also encompass other controversial issues. One idea that Republicans have floated is securing Democratic support for funding of Trump's border wall (or at least additional fencing) in exchange for permanent protections for Dreamers, undocumented immigrants brought to the United States as children. Their status would be jeopardized if the president ends Obama's deferred action program known as DACA.
Cole's suggestion of a year-end grand bargain of sorts sounds like a fantasy at a time when Democrats are opposed to giving Trump any kind of victory and when Republicans can't agree with each other on many issues. And if the GOP is able to do serious legislating this fall, party leaders have made clear their first priority is tax reform. But even if fiscal deal-making on that scale is overly ambitious, the disruption caused by Harvey may have uncovered a new emerging dynamic on Capitol Hill. The storm didn't cause Republicans to bring a sudden end to their bickering; rather, they were already looking for a way out of the September fights and seized on a good excuse.