Groundhog Day for Obamacare Repeal
The GOP is still missing the crucial 50th Senate vote for the Graham-Cassidy proposal. But a looming deadline is providing new momentum, and the legislation has advanced from no-shot to long-shot.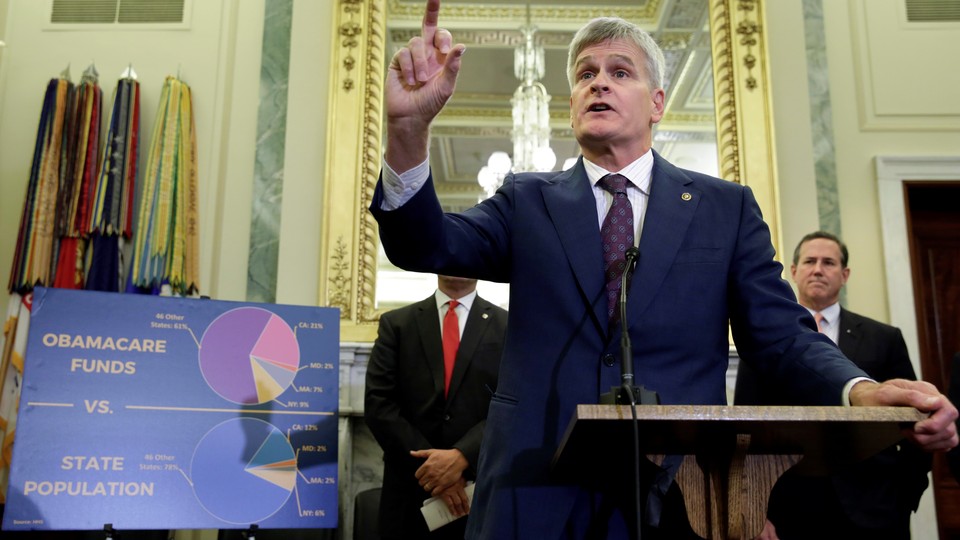 Updated on September 18 at 4:30 p.m. ET
Two things can simultaneously be true about the latest, back-from-the-dead attempt to repeal the Affordable Care Act. One, Republicans are very close to passing a proposal that would sharply curtail the law and result in millions fewer people having health insurance. And two, they are no closer than they were two months ago, when the party fell a single vote short of advancing legislation that would have repealed Obamacare's core insurance mandates.
The proposal unveiled last week by, among others, Senators Lindsey Graham of South Carolina and Bill Cassidy of Louisiana has undeniably been gaining momentum in recent days. The White House has reengaged Republicans in an effort to push it over the top. Senate Majority Leader Mitch McConnell, after giving up on repeal in July, is assessing the bill's support within the conference and has asked the Congressional Budget Office to prioritize its analysis of the Graham-Cassidy proposal so that Republicans can have a score—and thus a vote—on the legislation before a September 30 deadline to pass it with just a simple majority vote. And on Monday, the legislation won the endorsement of a key Republican governor, Doug Ducey of Arizona, which could bring with it the support of Senator John McCain, who effectively killed the last repeal bill.
Democrats and their allies in the health-care advocacy community have taken notice, sounding alarms in a bid to mobilize the same level of opposition to the new bill as they were able to do successfully against previous GOP proposals.
"This is a red siren moment for the entire country," Senate Minority Leader Charles Schumer said at a press conference Monday. "If this bill becomes law, our health-care system will be dramatically curtailed, and there will be chaos in many states."
The Graham-Cassidy bill would repeal Obamacare's individual and employer mandates for health insurance but differs from some earlier proposals by keeping most of the law's tax increases. That revenue is then converted into a block grant for states, which could choose how to use it to best fit their needs. Graham and Cassidy are trying to appeal to the conservative preference for federalism and attract the support of governors by offering them maximal flexibility. They could keep Obamacare's standards and requirements, or they could ditch almost all of them, including some of the protections intended for people with preexisting conditions. But as my colleague Vann Newkirk  explains, the proposal is not as much of a compromise as it might appear to be, since the measure scales back funding for Medicaid over time, and the states that would be most likely to keep Obamacare's structure would receive substantially less money from the federal government.
According to Cassidy, the bill has the private support of 49 GOP senators, putting it, again, just one vote shy of the 50 needed to clear the Senate under the budget reconciliation rules that expire at month's end and that allow Republicans to avoid a Democratic filibuster. Cassidy's rosy claim is impossible to verify, because plenty of GOP senators have said little or nothing publicly about the proposal. But even if it were true, the 50th vote has always been the hardest for the party to get, and it's unclear what in the Graham-Cassidy proposal would secure the backing of either Senator Lisa Murkowski of Alaska or McCain—two of the three senators who opposed the last repeal proposal in July.
Already, two of the 52 Senate Republicans appear to be out of reach for Graham and Cassidy. Senator Rand Paul of Kentucky has declared the proposal to be "Obamacare lite" and debated its merits with Cassidy on Twitter. "Graham/Cassidy keeps Obamacare and tells the states to run it. No thanks," Paul concluded Monday morning. Senator Susan Collins of Maine hasn't taken quite as strong a stance, but she had opposed each and every one of the previous GOP repeal proposals and does not appear inclined to back this one.
"Senator Collins has a number of concerns with the Graham-Cassidy proposal, including the cuts to the Medicaid program and the impact to the requirement that insurers provide coverage to people with preexisting conditions," Collins spokeswoman Annie Clark told me on Monday. "She will be examining the forthcoming CBO analysis."
Murkowski has not said much about the proposal. But like Collins, she has pushed for the Senate to take a bipartisan approach to health care and criticized the push to pass legislation without hearings and on party-line vote. She has also opposed efforts to cut off federal funding for Planned Parenthood, which is part of the Graham-Cassidy bill. And perhaps most importantly, states like Alaska that expanded Medicaid under Obamacare would stand to lose the most under Graham-Cassidy, and Murkowski has emphasized that her home state's interests will be crucial to her vote.
McCain is a more curious case. The Arizona senator, who is undergoing treatment for brain cancer, provided the dramatic and decisive vote to kill the last GOP repeal plan in July. At the time, he excoriated the process Republicans used to go after Obamacare, calling for hearings, bipartisanship, and "regular order" going forward. But McCain is Graham's best friend in the Senate, and he spoke positively about the proposal earlier this month. With Ducey's support on Monday, McCain's vote could be up for grabs. Appearing on CBS's Face the Nation on Sunday, McCain signaled his preference for the bipartisan approach to fixing Obamacare that Senators Lamar Alexander, a Republican from Tennessee, and Patty Murray, a Democrat from Washington state, are pursuing in the health committee.
But despite his concerns about process, McCain hasn't ruled out the Graham-Cassidy bill. "I am not supportive of the bill yet," he told reporters on Monday, reiterating his desire for the proposal to go through a full "regular order" process, which would including hearings, a committee vote, and the ability to offer amendments. There are no plans for a formal committee hearing on the Graham-Cassidy bill, but Senator Ron Johnson of Wisconsin, a co-sponsor of the proposal, has scheduled a hearing in the Homeland Security Committee next week on health-care block grants, one of its central features. McCain is a member of that committee.
The CBO on Monday announced it would only be able to provide a limited assessment of the Graham-Cassidy proposal by next week. Its report would allow the GOP to know whether the bill meets the minimum requirements for passage under reconciliation, but it would not  give a complete picture of its impact. A full projection on how the bill could impact the deficit, health insurance coverage, and premiums won't be ready "for at least several weeks," the nonpartisan budget watchdog said. The news means wavering Republicans will face intense pressure not to vote for a bill that could reshape the health-care system without sufficient knowledge of its impact. But the impending reconciliation deadline could move them to act anyway. "It would be outrageous for our Republican colleagues to vote for this bill without knowing its effects on people," Schumer said. "That, whatever your ideology, would be nothing short of a disgrace,"
There is better news for Graham and Cassidy on other fronts. They have won endorsements from two of the most vulnerable Republican senators up for reelection next year, Jeff Flake of Arizona and Dean Heller of Nevada, who is a co-sponsor of the bill. And although Paul is rallying against it, another staunch conservative, Senator Mike Lee of Utah, appears to be warming to the idea. "Senator Lee is very encouraged by the waiver provisions in the bill," spokesman Conn Carroll told me. "We are working with them on some technical questions."
The bill would still have to pass the House without changes by September 30 even if the Senate can clear it. And after a repeal measure passed by the narrowest of margins in May, Republicans are likely to have challenges winning the support of lawmakers from California and New York, whose votes were critical in the spring. Those states stand to lose billions under the Graham-Cassidy proposal, which redirects money from states that expanded Medicaid to those that did not.
Because Graham and Cassidy do not repeal Obamacare's biggest tax increases, they have more money to offer to states as an enticement for crucial votes. But that was the strategy McConnell tried in the Better Care Reconciliation Act, without success. And with just 12 days remaining before the deadline and no score from the CBO, time is far more of a factor now. Both Republicans and Democrats are taking the possibility of repeal seriously for the first time in two months, and the unexpected opportunity for the GOP to correct its biggest legislative failure—combined with a looming deadline—is explanation enough for the late momentum. But the political dynamic hasn't shifted enough yet to overcome the GOP's underlying pessimism about reaching that elusive 50th Senate vote.
"They are making a push," one senior Republican aide told me on Monday, "but this bill has many of the same problems BCRA did, and it's unlikely it will succeed."