The Graham-Cassidy Obamacare Repeal Bill Still Covers Fewer People
The new Affordable Care Act replacement currently making rounds in the Senate looks different than previous efforts, but the fundamentals are still the same: fewer funds, fewer rules, and fewer people covered.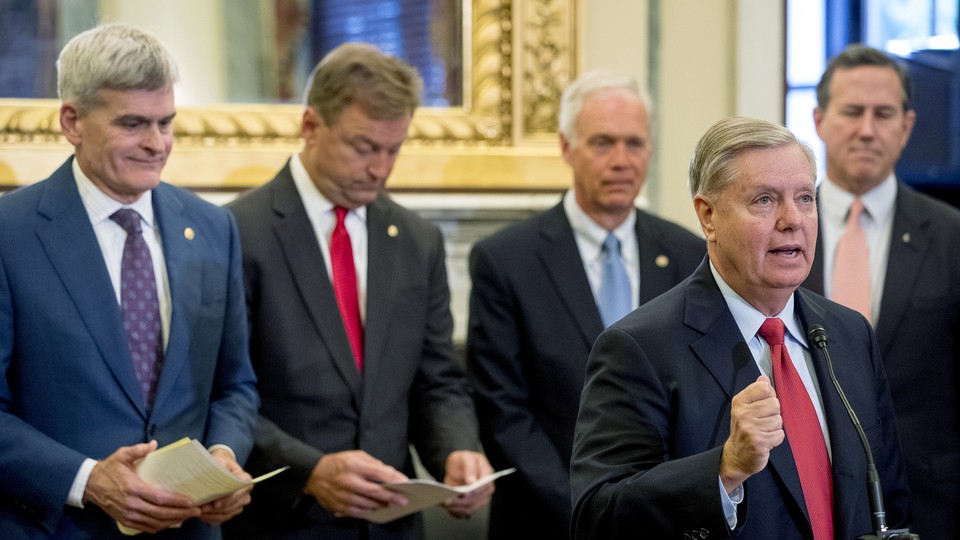 There's a new sheriff in town in the debate over repealing Obamacare, and it might be the most dramatic proposal yet.
The Graham-Cassidy proposal, sponsored by South Carolina Senator Lindsey Graham and Louisiana Senator Bill Cassidy, has long percolated on the Hill as a compromise alternative to the doomed efforts of previous bills to replace Obamacare. With the window for passage of any such law waning—in order to pass by simple majority via reconciliation, the legislation has to pass by September 30—on Wednesday, the senators finally released a draft of the bill. But that draft is much less of a compromise than reputation suggests—and would probably reshape the American health-care system in some of the same ways as previous efforts.
The reputation of the Graham-Cassidy bill as a compromise that avoided some of the more contentious elements of its predecessors in the American Health Care Act and the Better Care Reconciliation Act was built on the premise that it largely kept the funding structure of the Affordable Care Act intact, and redistributed its funds to states in the form of block grants. As the premise went, Graham-Cassidy would have allowed states to choose to take the money to basically go forward with insurance systems that resemble Obamacare as it exists today, or to use waivers to deregulate insurance and provide less comprehensive benefits.
It turns out, though, that the draft version of Graham-Cassidy only does one of those things. The bill would keep most of Obamacare's revenues, save for the mandate tax penalties and medical-device taxes, but would allow no way for states that have expanded Medicaid to continue current insurance systems or cover the same amount of people that they do now. The legislation would take funds currently allocated to premium tax-credits, subsidies, basic health plans, and the ACA's Medicaid expansion and convert some of those funds to a large pot of money from which states could apply for grants, for which they would have to pay some of their own funds to match.
Those grants, however, wouldn't cover the same number of people. For starters, the total allocated money would be less than what's spent on those programs today. Also, as Health Affairs reports, Graham-Cassidy likely wouldn't count all of the Medicaid expansion population in its allotment formula, likely excluding many able-bodied adults making less than half of the federal poverty level. In addition to those restrictions, the plan would also spread funds to every state based on the sum total of existing Medicaid expansion allotments—meaning that states that haven't expanded Medicaid would siphon off money from states that have. In essence, Graham-Cassidy would be like taking half the amount of butter and spreading it over twice the slices of bread.
And that's not all. Graham-Cassidy goes perhaps even further than its predecessors in eroding basic insurance protections and providing for poor people, allowing states to spend their grant money on just about any kind of insurance program—with no obligations to cover a certain amount of low-income people. There would also be opt-outs for most of the significant insurance regulations in Obamacare, including its strict measures on community rating, and premium price controls on the basis of preexisting conditions, age, and other factors (except sex). The plan would also cut the ability for states to pay for their share of care through provider taxes, reducing the richness some states can afford.
So, in theory, while Graham-Cassidy would curtail the ability of the most generous states to preserve that generosity, it would also allow some of the more miserly states to be more miserly, and cover even fewer services.
Although the dismantling of the exchange markets and the Medicaid expansion, and their replacement with a more restrictive grant get the top billing on Graham-Cassidy, the bill's changes to the underlying Medicaid program arguably will affect more people, and will also end up moving millions of people off of coverage. In that domain, Graham-Cassidy isn't different from its predecessors, changing the Medicaid program to a per-capita cap-funding structure that would underfund the program over time and leave it less and less responsive to the health needs of low-income people.
And between those changes and the aforementioned changes to private insurance and expanded Medicaid, when states are forced to reckon with shrinking health budgets relative to the number of potential beneficiaries, the resultant cuts will tend to be on some obvious lines: People with mental-health problems, children above poverty but below middle class, and people in need of home-health services.
Given those outcomes, it's unclear what senators who fought against BCRA might find to like about Graham-Cassidy. It doesn't seem that governors have bought in to the idea yet, and the high-profile bipartisan group of governors involved in health policy still supports a much less expansive bill designed to fix Obamacare, instead of replacing it.
Still, so long as Republicans control both houses of Congress and the presidency, repeal will always be on the table. But this one, from the perspective of patients, mostly looks like more of the same.