From Donald Trump, a New Low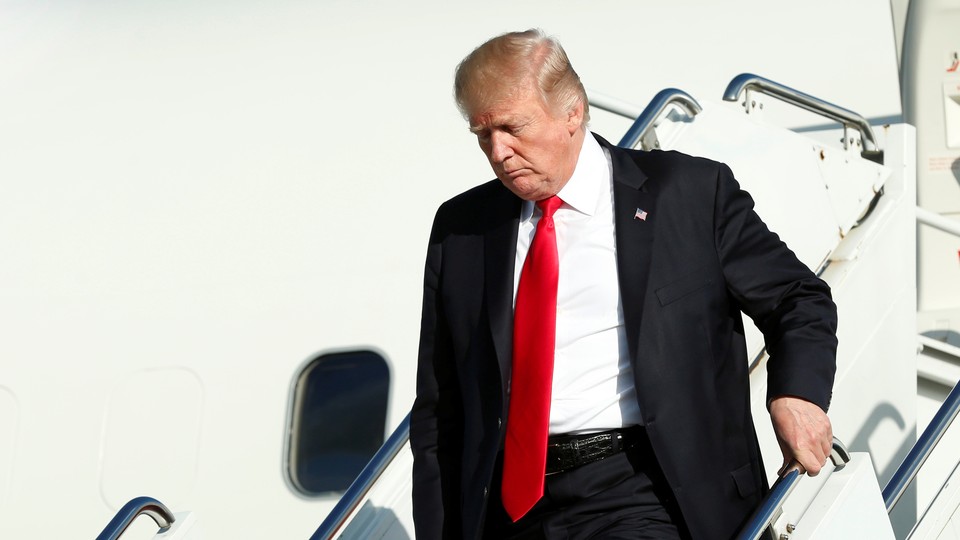 Editor's Note:
This article previously appeared in a different format as part of The Atlantic's Notes section, retired in 2021.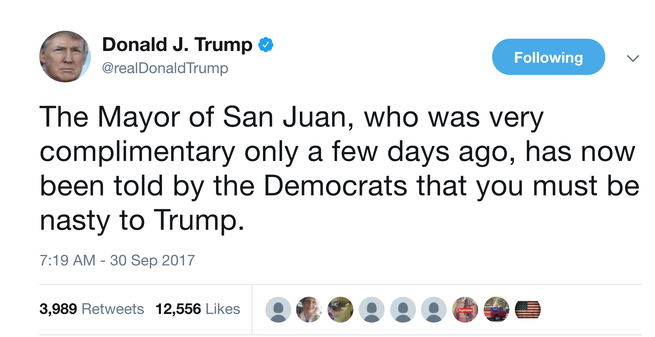 The purpose of my 152-installment Trump Time Capsule series during the 2016 campaign was to record, in real time, things Donald Trump said or did that were wholly outside the range for previous serious contenders for the White House.
I've resisted continuing that during his time in office, because the nature of the man is clear.
But his Twitter outburst this morning — as he has left Washington on another trip to one of his golf courses, as millions of U.S. citizens are without water or electricity after the historic devastation of Hurricane Maria, as by chance it is also Yom Kippur — deserves note. It is a significant step downward for him, and perhaps the first thing he has done in office that, in its coarseness, has actually surprised me. (I explained the difference, for me, between shock and surprise when it comes to Trump, in this item last week.) Temperamentally, intellectually, and in terms of civic and moral imagination, he is not fit for the duties he is now supposed to bear.
***
His first tweet, at the top of this item, dramatized his inability to conceive of any event, glorious or tragic, in terms other than what it means about him. People are dying in Puerto Rico; they have lost their homes and farms; children and the elderly are in danger. And what he sees is, "nasty to Trump."
That was followed by: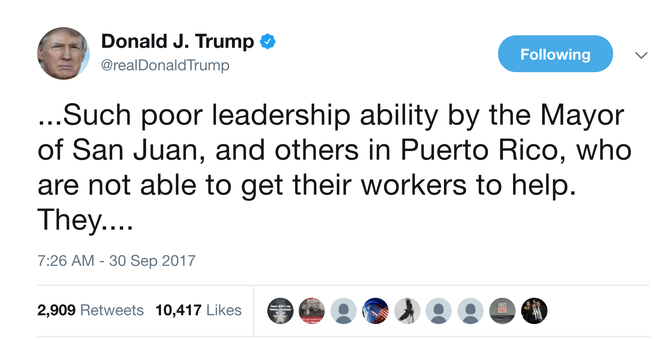 This is an outright attack on the mayor of San Juan, Carmen Yulin Cruz, whose passionate appeals for her citizens would evoke compassion and support from any normal person — and from other politicians would stimulate at least a public stance of sympathy. I can think of no other example of a president publicly demeaning American officials in the middle of coping with disaster. There were nasty "God's punishment!" remarks about New Orleans and Hurricane Katrina, but they did not come from the White House or George W. Bush.
And then:
They "want everything to be done for them." It is impossible to tell whether this is a conscious racist dog-whistle by Trump—these people! always looking for a handout—or whether it is instinctive. Either way, it is something that no other modern president would have said in public, and that no one who understood the duties of the office could have done.
***
A man who can say these things—from a golf course, while millions of his fellow citizens are in dire straits, and during an emergency that is worse because of his own narcissistic inattention—does not understand the job.
This has not happened before. It is not normal. It should not be acceptable. The United States is a big, resilient country, but a man like this can do severe damage to it and the world — and at the moment, he is leaving many Americans in mortal peril.
During the campaign, I argued that the greatest responsibility for Trump's rise lay not with the man himself—he is who he is, he can't help it—but with those Republicans who know what he is, and continue to look the other way. Their responsibility for the carnage of this era increases by the day, and has grown by quite a lot this weekend.
As it happens, I wrote and published that preceding paragraph a week ago.  The Republicans' responsibility is all the graver now, and deepens by the day.