When Escaping a Hurricane Means Risking Jail
A Florida sheriff department's plan to check warrants at shelters could risk lives among evacuees and first responders alike.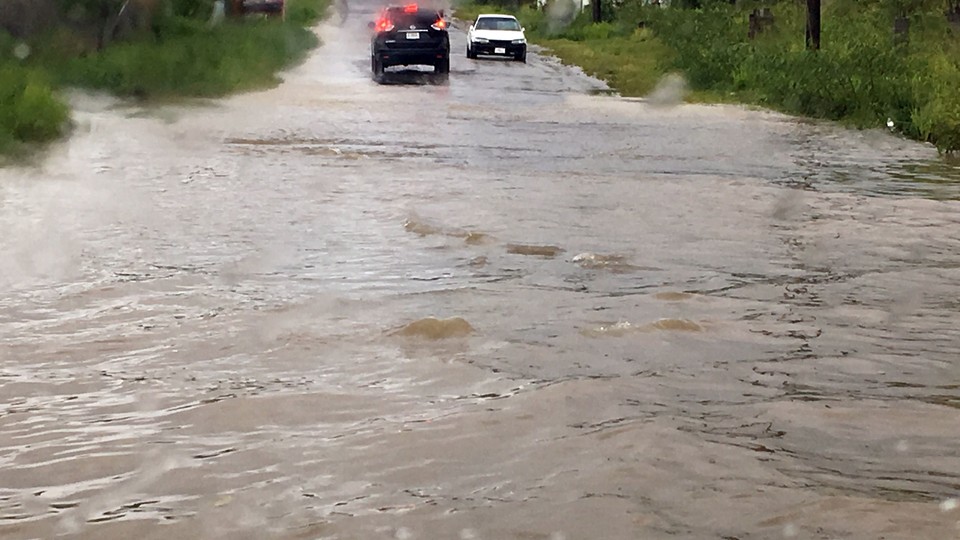 The Polk County Sheriff's Department in Florida sent out a stark warning to residents this week as Hurricane Irma churns toward the peninsula: Some of those seeking aid at local shelters could face jail instead—or be barred altogether.
"If you go to a shelter for #Irma and you have a warrant, we'll gladly escort you to the safe and secure shelter called the Polk County Jail," the department wrote on Twitter Wednesday. Minutes earlier, the account had warned that officers would be stationed at every shelter and that "sex offenders/predators" would not be allowed in.
It was a striking message for a law-enforcement agency to deliver as a potentially cataclysmic disaster nears: that whether a person can seek refuge in an evacuation shelter depends on his or her criminal status. Not only could the department's policy put residents' safety in severe jeopardy—if they avoid shelters as a result, or are turned away—but the tweets effectively divide the community into those who are worth saving and those who aren't.
Seth Stoughton, a University of South Carolina law professor who specializes in policing issues, said he was stunned when he read the warnings.
"If you believe, as I do, that sanctity of human life is the single most important priority for policing—that public safety is at the core of policing—then discouraging people from going to shelters because they have a warrant is a betrayal of those fundamental values," he told me.
Polk County residents who have warrants or are listed on a sex-offender registry now have three choices, Stoughton said: They could seek refuge at a shelter and risk arrest, they could try to sneak into one and risk a harsh response, or they could stay at home during one of the most dangerous storms to approach Florida in modern history. Polk County is in the middle of the state; Winter Haven, where the sheriff's office is located, is about 50 miles from the Gulf Coast and roughly 70 from the Atlantic Ocean.
The directive "puts [affected residents] in danger," Stoughton said. But it also "puts the officers and other first responders who are going to have to rescue them in danger. It puts their families and their dependents in danger."
The problem is compounded by the sheer number of Floridians with active arrest warrants. In 2011, the Miami Herald reported that the Florida Department of Law Enforcement had more than 100,000 active warrants for felony offenses. The state's large counties also had significant backlogs, the Herald found: Palm Beach County had 58,000 outstanding warrants, while nearby Broward County, where the city of Ft. Lauderdale is located, had an "astounding" 219,000. (Numbers for Polk County weren't immediately available.)
Some of the warrants in Palm Beach and Broward were for serious offenses. But the overwhelming majority were for misdemeanors and other minor crimes, including traffic offenses, failure to appear in court, and unpaid court fees. A resident might not be aware there is a warrant out for his or her arrest in minor cases, Stoughton noted. As a result, someone seeking refuge could arrive at a Polk County shelter with family, discover he or she has an active arrest warrant, and be hauled off to jail during a hurricane.
If some Polk County residents stay away from shelters, it won't be the first time people have avoided help for fear of legal consequences. When Hurricane Harvey struck Texas last month, members of Houston's large community of undocumented immigrants feared they would be arrested and deported if they sought assistance from authorities during the storm. City officials responded by telling them they wouldn't be targeted at shelters and food banks, and federal immigration-enforcement agencies said they would scale back their operations at rescue facilities.
After the sheriff's department's posts received national attention, a representative told The Daily Beast that officers have to arrest people they encounter if they have outstanding warrants. But Stoughton said no such legal obligation exists—officers can use their own discretion.
He recalled an example from his own time as a police officer when he pulled over a woman with three young children in her car during a routine traffic stop. She was from a different city and was the children's sole caregiver. Stoughton discovered she had an active warrant for a minor misdemeanor related to court fines, but after discussing it with his supervisor, he decided not to arrest her for it.
"That's a not-uncommon situation," he told me. "Arresting her in that situation would cause more harm than it addresses."
Stoughton also expressed skepticism that officers can lawfully check whether evacuees in a shelter have outstanding warrants. Every state allows officers to demand identification during a traffic stop, he explained. Some states, including Florida, also have "stop-and-identify" laws that allow officers to demand identification when someone is walking along the street. But to demand identification, the stop itself must be lawful, meaning the officer has a "reasonable suspicion of criminality," Stoughton said. "When someone shows up to a shelter, they're not being lawfully detained by police," he added.
Some counties in Irma's danger zone ruled out stringent measures regarding which residents are allowed into shelters. A Palm Beach County representative said that evacuees only need to show proof of residency to enter the county's shelters when they open on Friday. Martha Ann Kneiss, a spokeswoman for the Martin County Board of Supervisors, told me that residents on sex-offender registries will be allowed in emergency shelters there, but that they would be kept separated from others. Officials in Broward and Miami-Dade counties, two of Florida's largest jurisdictions, did not respond to requests for comment.
Restrictions for people on sex-offender registries are a hazier legal question. Courts have generally upheld broad legal restrictions on those with prior convictions, although the states' ability to impose them isn't unlimited. The U.S. Supreme Court struck down a North Carolina law in June that banned registrants from using social-media networks like Facebook. Justice Anthony Kennedy, writing for a unanimous Court, said the unusually broad restrictions ran afoul of the First Amendment's free-speech protections. Other evacuees may be genuinely fearful that shelters welcome people on sex-offender registries, but it's unclear whether officials can lawfully bar them from seeking refuge.
In a broader sense, whether the Polk County Sheriff Department's restrictions are justified is as much a moral question as it is a legal one. "Is arresting those people really the best use of police resources in an evacuation situation?" Stoughton asked, referring specifically to residents with warrants. "Even [they] are still members of the community that officers are supposed to be serving and protecting."