Is Trump's 'Wiretap' Claim Vindicated?
The president's defenders say reported surveillance of Paul Manafort justifies an accusation against Barack Obama, but they overstate the facts.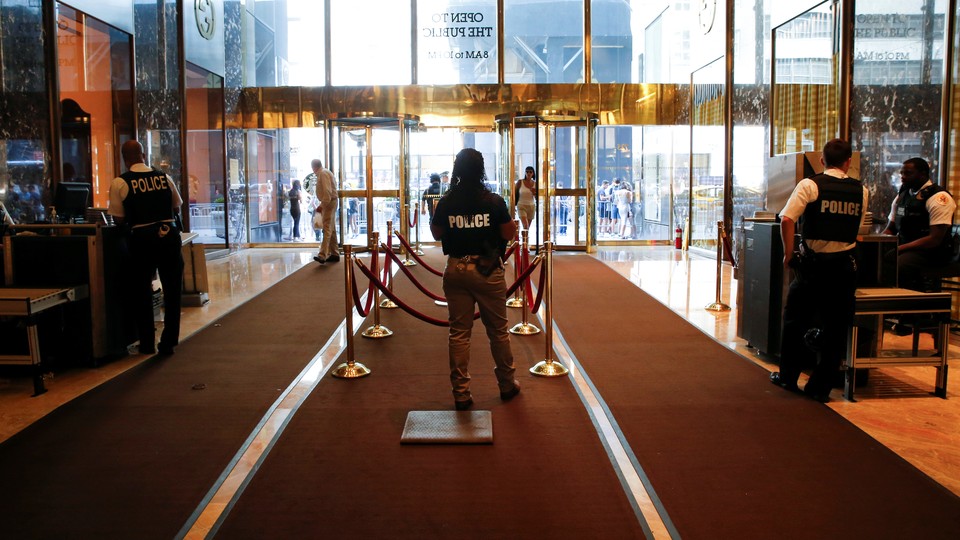 Viewed from the most obvious angle, the latest scoops about special counsel Robert Mueller investigating Paul Manafort are at best neutral news for the president and more likely bad news.
The new reports say that U.S. officials got warrants to surveil Manafort, Trump's former campaign chairman, before and after the 2016 election under the Foreign Intelligence Surveillance Act, and that Mueller told Manafort he would soon be indicted. At the least, this means Trump made the dubious decision to hire a man with shadowy ties as a top aide. At worst, it could mean Mueller wants to flip Manafort into a witness against Trump or his campaign.
But viewed from a more oblique angle, could the fresh revelations actually be good news for Trump? So far several of the president's allies argue that this represents vindication for Trump's thus-far-unproven allegation that President Barack Obama improperly surveilled him.
"TRUMP VINDICATED: REPORT SAYS OBAMA GOVERNMENT WIRETAPPED TRUMP CAMPAIGN," reads the headline on Breitbart. Dinesh D'Souza is more colorful:
So does this really vindicate Trump? As surprising as it is that convicted fraudster D'Souza is not a trustworthy source, the short answer is no; a longer answer is that it probably does not, though it does make for a more complicated picture than previously known.
Let's go back to Trump's original claim, which he made in an early morning tweet in early March:
Terrible! Just found out that Obama had my "wires tapped" in Trump Tower just before the victory. Nothing found. This is McCarthyism!

— Donald J. Trump (@realDonaldTrump) March 4, 2017
Trump makes a very specific charge here: That he, Donald Trump, was personally the target of surveillance at his home or office in Trump Tower, during the election. He made clear his specific meaning in several follow-up tweets. "Is it legal for a sitting President to be 'wire tapping' a race for president prior to an election? Turned down by court earlier," Trump wrote. (No further information has shed light on why Trump believed Obama had been turned down by a court earlier.) "I'd bet a good lawyer could make a great case out of the fact that President Obama was tapping my phones in October," he wrote. "How low has President Obama gone to tapp [sic] my phones during the very sacred election process."
There were two major problems with the accusation. First, Trump offered no evidence to support them. Second, the system is set up to prevent politically motivated surveillance by requiring that judges sign off any surveillance warrant, meaning a president could not simply order a wiretap (or any other form of eavesdropping). Recent White Houses have made it a rule not to interfere with the Justice Department, though Trump himself has on occasion broken that barrier.
CNN's scoop doesn't say at all what Trump did. According to that report, officials twice obtained warrants from the Foreign Intelligence Surveillance Court to eavesdrop on Manafort. Though the Trump campaign initially hired him for his delegate-counting expertise—he helped Gerald Ford defeat a floor fight for the GOP nomination against Ronald Reagan in 1976—he has spent much of his career working for unsavory world leaders. Most recently, that included Viktor Yanukovych, the Kremlin client who was forced out as president of Ukraine in a popular revolution in 2014. There are already questions about what and how Manafort was paid for that work. Starting in 2014, per CNN, he was subject to FBI surveillance over lobbying work on behalf of Yanukovych's party.
That surveillance ended because of lack of evidence before Manafort joined Trump's campaign in March 2016. But at some point last year—it's not clear when—the FBI obtained a new warrant and began surveilling Manafort once again. It's unknown as of yet whether that began while Manafort was working for Trump or after he departed the campaign in August. CNN says somewhat vaguely, "Sources say the second warrant was part of the FBI's efforts to investigate ties between Trump campaign associates and suspected Russian operatives." Manafort reportedly stayed in touch with Trump through Trump's inauguration, but they have since stopped talking.
The existence of two separate warrants cleared through courts contradicts the claim that Obama ordered the surveillance. Adding another wrinkle to the story, Trump claimed that he had been "wiretapped" at Trump Tower, and Manafort also kept an apartment in the building, but it is not known whether the FBI surveilled that property. Manafort also owns several other homes; there are accusations that some of them may have been used for money-laundering, while The New York Times reported that FBI agents picked a lock to conduct a no-knock raid on an apartment in Alexandria, Virginia.
But what about Trump? After all, the president's claim was that he himself was wiretapped. Yet he has refused, or failed, to produce any evidence to back that up, and many of his own aides were hesitant to defend the statement. Vice President Mike Pence declined to weigh in. Then-Press Secretary Sean Spicer insisted, incorrectly, that Trump's tweets spoke for themselves. Kellyanne Conway suggested the microwave might have been spying on Trump, then played it off as a joke.
Meanwhile, the White House demanded that Congress investigate whether Obama ordered surveillance on Trump, yet refused to share what reasons it had for believing it had happened. Eventually, the provenance of Trump's accusation began to emerge: Radio host Mark Levin had alleged surveillance; then a Breitbart story did the same, synthesizing already public information to make a speculative claim. Later, Fox News legal commentator Andrew Napolitano parroted it.
Pressed on his claim, Trump claimed, falsely, not to have rendered an opinion on whether Obama ordered him to be wiretapped, and said reporters should take it up with Napolitano, since it was his statement. Setting aside the fact that one expects the president of the United States to vet information before saying it, Fox News made clear that it viewed Napolitano's charge as baselessly speculative by yanking him temporarily off the air.
Finally, earlier this month, Trump's own Justice Department said in a court filing that it had no evidence for his claim. "Both FBI and [the National Security Division] confirm that they have no records related to wiretaps as described by the March 4, 2017 tweets," a motion said.
Now those who claimed Trump had been wiretapped are claiming victory. Pollak demanded an apology from The New York Times. Napolitano claimed the new report was absolutely consistent with what he'd alleged before. This is not true—Trump claimed he had been the subject of Obama-ordered, politically motivated surveillance, for which there remains no evidence. The notion that surveillance of a Trump associate, which may or may not have occurred while he worked for Trump, constitutes surveillance of Trump contradicts the White House's attempts to distance the president from Manafort as just another random campaign aide.
Insofar as there are parallels between what Pollak, Levin, and Napolitano said and the new story, it looks like luck. None of them claims to have known about the Manafort surveillance—"This was stuff that was being reported and just nobody had really pulled it together," Pollak said—and it's all but impossible to believe that they would have withheld such juicy information if they knew it.
The same goes for Trump. Is it possible that he knew of the surveillance on Manafort, either from Manafort himself or from inside the government? Yes, but there are reasons to doubt. When pressed for evidence this spring, he did not cite any such information, instead pointing to Napolitano. It is true that customarily a president would not reveal the existence of a secret wiretap, but Trump has shown no such hesitations. He has casually revealed classified information, including to Russian officials, and if there really had been surveillance ordered by Obama, he would have revealed it in his tweet.
But even though Trump's claim that Obama was targeting him remains without proof, CNN's Manafort scoop leaves open the possibility that Trump was caught up in surveillance while speaking with Manafort. CNN was unable to learn the answer, and no other outlets have gotten any further.
That wouldn't vindicate Trump's claim, but it would be significant. It could mark the first time that a presidential nominee was swept up in surveillance. It isn't altogether uncommon for Americans who are not subject to surveillance to be caught up in conversations with targets. When that happens, intelligence officials are required to redact their names, and they can only be revealed if certain officials ask for them to be "unmasked." The names of some Trump team members are known to have been unmasked by Obama officials, though there's no sign that Trump was among them. There's no public evidence that any of those unmaskings were improper.
The idea that intelligence officials might have been listening to Trump is disconcerting from any angle. It's deeply concerning to think that intelligence officials could have been listening in on Trump, and even more concerning if they had strong and legitimate reasons for doing so.
The prospect of intelligence officials using secretly obtained information for leverage on a president or president-elect is chilling, yet if Manafort, or anyone else around Trump, was in violation of the law—and the FISA court would have approved the warrant only if it decided there was probable cause to believe Manafort was in contact with an agent of a foreign power—they should be prosecuted, and their presence brings into question Trump's hiring practices and the behavior of his campaign team. There are, of course, serious questions about the actions of several other team members, including Michael Flynn, Jared Kushner, and Carter Page.
It's also possible that ultimately no one is convicted of any crimes. As yet, there is very little known about why Manafort was under surveillance and what that surveillance found—one of many areas in which speculation about Mueller's moves far outpace actual facts. In his March tweet, Trump declared, "Nothing found!" Mueller's investigation will determine whether that claim is any more true than his still-unproven allegation that Obama ordered him surveilled for political reasons.