Democrats Dare to Trust Trump on DACA
Republican leaders recoiled from the president's agreement on immigration, and now Nancy Pelosi and Chuck Schumer are relying on him to see it through.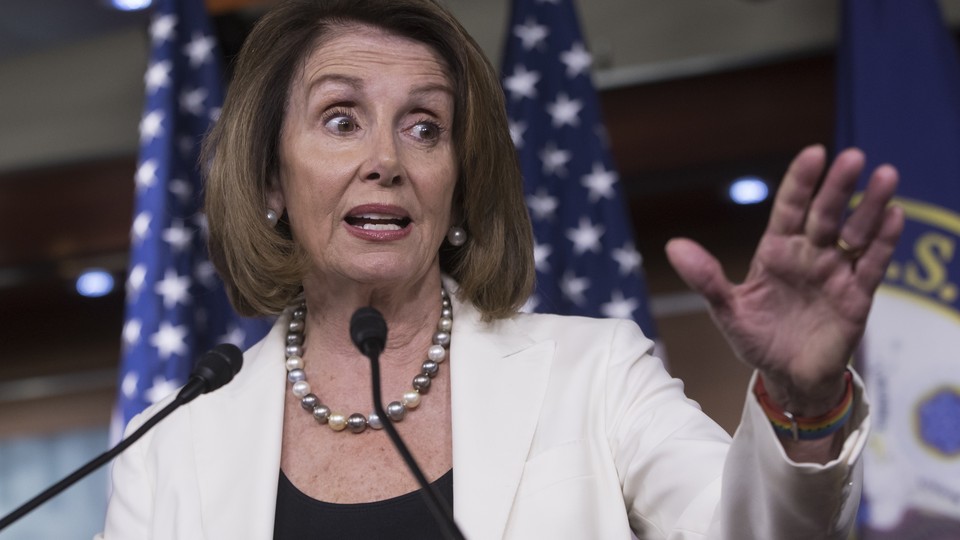 At a press conference in the Capitol on Thursday morning, Nancy Pelosi answered perhaps the most difficult question she's faced since the election of Donald Trump.
"Do you trust the president of the United States?" a reporter asked the House minority leader. Pelosi was momentarily taken aback. "Now is that a fair question?" she replied at first.
Even a couple weeks ago, the answer Pelosi might have given would be a quick and easy no. But on Thursday, the question carried significant weight in light of the "agreement" that Pelosi and Senate Minority Leader Charles Schumer claimed they struck with the president the night before over legislation to protect from deportation undocumented immigrants brought illegally into the U.S. as children. Pelosi has called Trump's actions as president "immoral," "hateful," "indecent," among many other epithets. Now she is depending on him to honor a commitment to the undocumented immigrants known as "Dreamers" that came under immediate attack from some of Trump's most loyal supporters.
Pelosi paused for a few seconds to search for the right words, and she answered carefully. "When we're talking about this legislation to protect the Dreamers, yes I do trust that the president is sincere in understanding that the public supports, overwhelmingly supports, not sending these young people back," she said.
The understanding—don't call it a "deal"—that Pelosi and Schumer reached with Trump was that as part of a legislative package granting legal status to Dreamers, Democrats would support additional border-security measures as long they did not include construction of the president's proposed border wall. Trump had called for Congress to act on the issue as soon as his administration announced last week that he would end former President Barack Obama's Deferred Action for Childhood Arrivals program after six months, placing around 800,000 young undocumented immigrants brought to the U.S. as children at risk for deportation. This was, as Schumer said on the Senate floor, a "framework" for a legislative agreement.
Yet by midday on Thursday, the understanding, or agreement, or framework that the leaders reached between bites of "honey sesame crispy beef" at the White House amounted to little more than confusion. First, there was a dispute about what Trump had committed to supporting. Was he backing, as the Democrats asserted, enactment of legislation known as the DREAM Act, which would provide a path to full citizenship for DACA recipients? Within the span of an hour, Trump and a White House spokeswoman said two different things. "We're not looking at citizenship. We're not looking at amnesty," the president told reporters in Florida. "We're looking at allowing people to stay here." Yet the spokeswoman, Lindsay Walters, had just used the words "legal citizenship" to describe the president's position on the DACA question.
As to the border-security component, both sides acknowledged there were still a lot of details to be hammered out. Trump warned that he would not give up on "the wall" and that Democrats could not obstruct it indefinitely, but he did not dispute Schumer's assertion that it would not be part of the DACA agreement. In a Senate-floor speech, Schumer said Democrats had and would continue to support funding to deploy more drones and other surveillance technology at the border, as well as to build new roads to allow border agents to patrol longer sections of the divide. He and Pelosi also touted bipartisan legislation that emerged from the House Homeland Security Committee that would require the Department of Homeland Security to devise a comprehensive strategy to certify that it had operational control over the border. Whether those provisions would be enough for Trump or congressional Republicans, however, was unclear.
From the perspective of Republican leaders who were pointedly excluded from the White House meeting, there was no agreement at all; House Speaker Paul Ryan, perhaps seeking to quell a revolt among his most conservative members, downplayed Trump's talks with the Democrats as akin to idle chit-chat. "It was a discussion, not an agreement or negotiation," Ryan told reporters. The speaker reiterated that a DACA bill would only come for a vote as part of a package that also addressed border security and immigration enforcement, although he refused to detail what specific provisions would be required.
And while Ryan has been careful not to criticize Trump, he reminded the president that it was Republicans, not Democrats, who determined what bills come to the floor in Congress. "I think the president understands," Ryan said, "that he's going to have to work with the congressional majorities to get any kind of legislative solution." Senate Majority Leader Mitch McConnell was similarly noncommittal, saying in a statement that DACA would be "part of" the discussions around border security and that he would await a legislative proposal from the president.
Pelosi had told her members that she hoped legislation could be finalized and passed "in a matter of weeks." Without Republican support, that timeline seems overly optimistic. The DACA issue is far more complicated than the fiscal deal Democrats struck with Trump last week, which went through both chambers of Congress within a days. This agreement is more substantive, and it will present a much bigger test for the unlikely Trump-Pelosi-Schumer alliance.
The Democratic leaders are aligning with a president they do not like or trust, and this time they're relying on him not merely to strike a deal, but to see it through. Given that Trump has struggled to wrangle his party in support of their own agenda, he faces a much tougher task in rallying them around a top priority of the opposition.