DACA Pits Trump Against His Own Administration
Since Jeff Sessions announced the end of the program for Dreamers on Tuesday, the president has repeatedly criticized his own policy.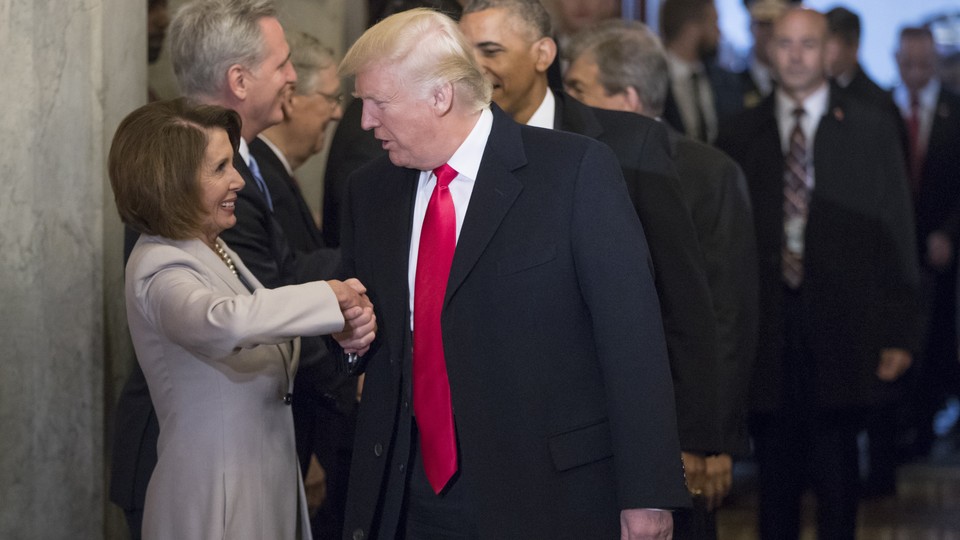 This week, the Trump administration fulfilled a major campaign promise, announcing the end of the Deferred Action for Childhood Arrivals program, with a few caveats, including a six-month delay in implementation, giving Congress a chance to replace DACA.
One might imagine that for the president, who has struggled to push his top priorities through over a shambling seven months in office, this would be cause for celebration and horn-tooting. Instead, President Trump seems to be directly at odds with his own administration on many key details of the plan. Thursday morning, Trump tweeted this:
For all of those (DACA) that are concerned about your status during the 6 month period, you have nothing to worry about - No action!

— Donald J. Trump (@realDonaldTrump) September 7, 2017
But that statement of reassurance contradicts a set of White House talking points on the end of DACA, which stated:
The Department of Homeland Security urges DACA recipients to use the time remaining on their work authorizations to prepare for and arrange their departure from the United States—including proactively seeking travel documentation—or to apply for other immigration benefits for which they may be eligible.
Of course, what those subject to DACA are most worried about is what happens at the end of those six months, not during them. Trump's reassurance only makes sense to those who share his confidence that Congress will institute some sort of roughly identical replacement for DACA; otherwise, DHS's suggestion may be prudent. Trump remains one of the few people—perhaps one of the last—who has faith in Congress's ability to act on this or on anything else.
Even stranger, Trump's tweet is reportedly the result of a phone conversation he had with House Minority Leader Nancy Pelosi, in which she urged him to issue the assurance. It's surprising to see Trump working hand-in-glove with the Democratic leader, whom he has repeatedly criticized, and all the more surprising because no one else seems to have been able to wrangle Trump's Twitter habit to their advantage. (Pelosi said during a press conference on Thursday that Trump had assured her he would sign a DACA replacement.) On Wednesday, Trump stunned and infuriated Republican legislators and leaders when he agreed to an offer by Pelosi and her Senate counterpart, Chuck Schumer, to pay for disaster relief and to fund the government and raise the debt ceiling through December. One more incident of Trump-Pelosi coordination will make the alliance of convenience official for as long as they can resist jabbing each other, which will probably not be long.
Trump's deal with Pelosi and Schumer did make some sort of DACA replacement more likely. Many members of Congress (as well as an overwhelming majority of the general public) oppose deporting "Dreamers," as those subject to DACA are known, and while Republicans would like to extract some concessions from Democrats in exchange for any deal, the fiscal cliff of the debt ceiling and a government-funding expiration in December might provide Democrats leverage to force through a simple authorization of a DACA replacement with few strings attached.
That drove many Republicans to apoplexy, but one can see the logic for Trump. Trump is no moderate, on immigration or anything else, but as I wrote on Tuesday, he has repeatedly expressed misgiving about ending DACA outright. The president had called DACA "a very, very tough subject," promised to deal with it with "great heart," and said he wanted to find a way to "get just about everything, in some ways more" than the existing system.
Yet when Attorney General Jeff Sessions emerged to announce the policy on Tuesday, there was no such waffling, and there were no concessions except the six-month window. Sessions argued that ending the program was the only truly compassionate step, and while he conceded that Congress could act if it wanted, he offered it little encouragement. The White House, by contrast, repeatedly called for Congress to enact a fix. Sessions and Trump were coming at the policy from starkly different perspectives.
Even stranger, Trump tweeted Tuesday night that if Congress didn't act within the six-month window, he would "revisit the issue," effectively undermining the deadline his own administration had set.
Before the attorney general's remarks, White House aides suspected that Trump didn't truly understand the policy his administration was pushing, according to The New York Times:
As late as one hour before the decision was to be announced, administration officials privately expressed concern that Mr. Trump might not fully grasp the details of the steps he was about to take, and when he discovered their full impact, would change his mind, according to a person familiar with their thinking who spoke on condition of anonymity without authorization to comment on it.
Trump's actions since then, from his call for congressional action to his deal with the Democrats to his Thursday morning tweet, all suggest those concerns were right. Trump, the most isolated president in recent history, isn't just in a feud with his own party—he's also in a feud with his own administration. At least he's got some new friends in the Democratic caucus.