Can Conservative Journalism Survive?
The right's old guard faces an existential threat in populism. But it isn't yet clear that they understand the stakes or possess the confidence to fight back.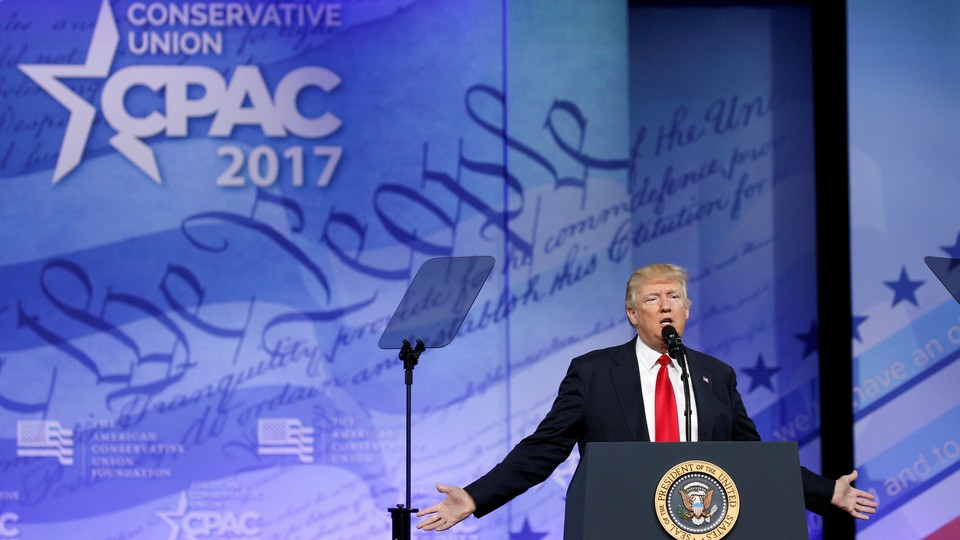 Donald Trump's rise to power put National Review, The Weekly Standard, and the sorts of journalists who work there in a distressing bind. Neither the president nor the #MAGA loyalists who staff his White House adhere to conservative principles. Yet many donors, subscribers, and readers who sustain their publications prefer Trump's blustering, bombastic project, massively shifting the center of gravity on the right.
Tribalist populism is ascendant––and conservative publications no longer thereby benefit, in part because newer magazines and web sites are more closely aligned with it.
During the 1950s, when the postwar governing establishment presumed a liberal consensus and the right was as internally divided as it is now, William F. Buckley built a competing coalition in part by winning converts on the right to conservatism, famously declaring himself to be standing athwart history yelling, "Stop!"
Today, as populists pose the more potent challenge, many conservative journalists are too timid to yell. A few institutions and writers have shown spine by opposing Trump himself; but even they fear alienating the rank-and-file supporters who fueled his victory, many of whom they want reading their articles and subscribing to their magazines. Full-throated challenges to the populist ethos are accordingly rare.
And appeasement is common, as if by accommodating the populists they can at least secure peace on the right in our time, a strategy doomed to cede ever more ground.
There are historical reasons why conservatives don't see that. As counterbalances to a liberal order, National Review and its imitators trained readers to look upon intellectual elites with skepticism if not hostility. They sought to harness populist impulses for conservative ends. And the approach bore fruit. Without populist allies there would not have been a Reagan Revolution or a successful push to take back the House.
Having so long exploited populist energy––and having never been part of the minority communities that suffered from its excesses––many conservatives are blind to its dangers. Their reflexive focus on the left's excesses render them unprepared to confront an enemy every bit as incompatible with their philosophy and attacking daily. They dither even as its worst elements savage conservative insights and journalists, some of whom find themselves photoshopped into Holocaust ovens.
Their right flank is overrun.
So I've been wondering whether conservative journalism can survive this populist moment––and never so much as after this Labor Day weekend in San Francisco, California, when the Claremont Institute, a historically conservative think tank, sponsored a series of clarifying panels at the American Political Science Association conference. One included the Trump administration staffer Michael Anton, author of the influential pro-Trump campaign essay, "The Flight 93 Election." Another featured editors from two publications founded in sympathetic response to Trump's rise—Gladden J. Pappin for American Affairs and Christopher Buskirk for American Greatness—alongside two representatives of the old guard, The Weekly Standard's Mark Hemingway and Washington Free Beacon's Matthew Continetti.
Heated clashes would have been a sign of health.
Here were discussions about the future of an ideological movement and its journalism among people with sharply conflicting assessments of what they ought to look like.
And fiery criticism was offered. Anton and Buskirk were both blunt about the low regard in which they hold movement conservatism's old guard. But if the old guard possesses the energy to join the fight, or the confidence to beat its antagonists, I didn't see it in San Francisco. Like the GOP field in the 2016 primaries, its representatives seemed unable to comprehend the forces threatening their ambitions, even as Trumpist antagonists spoke plainly about their intentions as usurpers.
Birth of  a MAGA 'zine
Starting around October of 2015, Michael Anton, who then considered himself a conservative intellectual, began thinking that Donald Trump was not just someone to support if he won the GOP nomination, "but maybe the best candidate running." So he asked the Claremont Review of Books, where he had contributed many essays over the years, to write "the intellectual case for Trump," on what he considered to be Claremontian principles, "or so I thought." They said, "sure, write it, we're very interested."
His submission met predictable resistance.
The CRB is run by a think tank composed of people who describe themselves as conservatives, regard Abraham Lincoln as a model of statesmanship, and operate under a mission statement that emphasizes the project of restoring "the principles of the American Founding to their rightful, preeminent authority in our national life."
Could any of that be reconciled with backing an unapologetic adulterer, reality TV star, Birther conspiracy theorist, and eminent domain enthusiast in a 16-candidate primary?
"They had an internal discussion. And they didn't publish it, which made me angry," Anton recalled during a panel about the future of conservatism. "I happened to go to dinner shortly after with a fellow in a similar position. He had written another kind of vaguely pro-Trump argument that a magazine didn't publish."
Together, they conceived The Journal of American Greatness, an idiosyncratic blog, authored anonymously, and signifying their break from existing conservative think tanks and magazines, many of which had declined to publish pro-Trump sentiments.
"Does conservatism deserve to survive?" Anton had wondered. "I concluded pretty firmly that it didn't," he told the ballroom of conservatives, "at least not in its present form."
A four month run of The Journal of American Greatness ensued. The blog began to attract attention as Trump's political fortunes rose (in part because they were rising). In fact, Trumpism was sufficiently ascendant that the blog  was no longer necessary. "Claremont was all of a sudden interested in publishing some of our things on their site."
That is how The Claremont Institute came to publish "The Flight 93 Election," an alarmist and influential essay urging conservatives to vote for Donald Trump. "2016 is the Flight 93 election," Anton warned, likening a Democratic victory to fiery death at the hands of al-Qaeda terrorists. "Charge the cockpit or you die," he insisted. "You may die anyway… a Hillary Clinton presidency is Russian Roulette with a semi-auto. With Trump, at least you can spin the cylinder and take your chances."
Publishing it was a concession to populism for the think tank, which was airing the notion that the Framers' checks weren't equal to sustaining the country through one more Clinton term, and that radical action was the proper response. As political scientist Greg Weiner would aptly observe in response to the essay, "those are stark choices indeed, and one of two possibilities is available. Either they are wholly detached from reality, in which case Decius has rejected prudence as the conservative virtue par excellence, or they are true, in which case Decius accepts the anti-constitutional and thus anticonservative proposition that the President straddles the Constitution like the Colossus astride the harbor at Rhodes." The essay was probably the most controversial thing The Claremont Institute has ever published.
"If you'd only published the first piece," Anton said in San Francisco, while turning mischievously to the Claremont Institute's chief operating officer, "none of this would have happened. It would have ended there. I would have gone back into obscurity."
As it turned out, Anton's essay went viral; his identity became known, despite his use of a pseudonym; he wound up joining Trump's National Security Council as deputy assistant to the president for strategic communications; and the short-lived Journal of American Greatness inspired the creation of two new successor publications, at least one of which is bristling with contempt for conservatism's old guard.
Attacking the Ancien Régime
Where does the rise of Trumpism leave the old guard of professional conservative journalists? In San Francisco, they welcomed the Trumpists onto their panels; listened politely as the Trumpists explained why the old guard doesn't deserve to survive; and acted all the while as if the exchanges were friendly intramural chats among allies, even as the Trumpists explicitly rejected and even mocked the very models of conservatism that many of those assembled had long embraced or championed.
The most striking exchange began with Christopher Buskirk, the Publisher and Editor of American Greatness, during the panel "Conservative Publications Post-2016: A Realignment?" He began his remarks by reading a series of bygone headlines:
Why President Trump Would Be a Bigger Disaster Than President Clinton
Donald Trump Is Crazy and So Is the GOP for Embracing Him
The New Nationalism Amounts to Generic White Identity Politics
The White Nationalism Propagandists Who Will Advise President Trump
The End Is Nigh: Donald Trump, Horseman of the Republican Apocalypse
Here's Why Donald Trump's Long Con Works So Well
The Art of the Con
Thank Goodness Trump Is a Compulsive Liar
After reading them, Buskirk asked those gathered in the audience, "The Huffington Post? Buzzfeed? Those were all posts from either National Review or The Weekly Standard, which tells you what an unusual political moment we live in … When was the last time that conservative journals like National Review and The Weekly Standard were in substantial agreement with the bastions of the progressive left like The New Republic, Mother Jones, and The American Prospect in a presidential election?"
Of course, most principled conservative journalists would have preferred any of the other Republican candidates in that presidential election to Hillary Clinton, and were in agreement with the progressive left about just one thing: the unfitness of Donald Trump. That elision allowed Buskirk to claim that "from the perspective of the permanent political class, the only real argument was about whose turn it was to be in charge." In fact, that class disagreed about health care policy, tax rates, Supreme Court nominations, school vouchers, abortion, and any number of other major issues that profoundly divide Beltway conservatives and Beltway progressives.
"Outside the Beltway," Buskirk continued, alluding to regions where Clinton won almost 3 million more votes, "regular Americans had learned the lessons taught by these very same conservatives in their journals and magazines … respect for the Declaration and for the Constitution, love of the country and her people, a reasoned devotion to the understanding of the basic principles of self-government. It turned out that the average Republican voter from Michigan understood constitutional government better than the average conservative intellectual in Washington."
But Michigan's Republican primary ended with Trump, who shows no particular understanding of the Declaration or the Constitution, winning just 37 percent of the vote, while Ted Cruz, John Kasich, and Marco Rubio combined to win 59 percent.
More plausibly, Buskirk argued that Trump supporters are driving a generational shakeup in conservative media, "because they're tired of the failed policies of the moribund D.C. conservative establishment, and they're looking for someone who speaks for them, for someone who can articulate and define what they know in their bones."
But "the legacy conservative media had gone native," he alleged more dubiously. "They were just as dismissive of voters and just as out of touch with the rest of the country as the leftists and progressives they had long railed against. For all the Buckley quotes and superstitious invocations of Reagan's name, it was all just a cover for a movement that was exhausted and out of ideas, and whose standard bearers and media defenders had largely accepted the premises of the progressive left."
What of all the staffers at National Review and The Weekly Standard who explicitly reject the premises of the progressive left, and would object that they opposed Trump to honor conservative principles? "The pleas of standing on principle sound like nothing so much as the buggy whip manufacturers explaining that the automobile is just a fad," Buskirk said, as if political history has a linear trajectory, and opposing morally fraught changes is as pointless as opposing amoral changes in  consumer technology.
Buskirk's formulation is populist in the most anti-conservaive way. In his telling, being "out of touch" with something that is popular is itself a mark against someone, an ethos many Claremonters would ridicule if it was uttered by a leftist. "We've passed the inflection point," Buskirk insisted. "The fact that new journals have been founded tells us that time has already come and gone, that we're now into a new era."
Then, having evaded an argument about principles by shifting to one about popularity, he segued again to an argument about self-conception:
To what extent do the legacy conservative media not think they are part of the mainstream media? They have a well known role in the choreography of news and commentary. In a famous phrase published in the Flight 93 essay, they're the Washington Generals and the mainstream media of the left are the Harlem Globetrotters. It didn't and doesn't have to be this way.  Voters want to support conservative ideas and they do when given the chance. Why else would we have 34 Republican governors?

It's action, reaction, repeat ad infinitum.

The New York Times prints a story, it starts a narrative, and we on the right simply react, we don't drive our own narratives or our own stories. Why is the right so intent on fighting the left wing media rather than setting the agenda?
How strange for a man allied with Trump and his coalition, people obsessed with fighting "the failing New York Times," to complain that conservative dissenters from their #MAGA movement are obsessed with The New York Times. And weren't National Review, The Weekly Standard, and the rest of the legacy conservative media the ones laying much of the intellectual groundwork during the period that produced those 34 Republican governors and state legislative majorities aplenty? I find it unlikely that the Washington Generals ever won a string of contests in 34 states.
Swaths of the conservative media do conceive of themselves as a permanent counterbalance to the MSM, rather than endeavoring to join or build mainstream institutions––or accepting intellectual responsibility commensurate with their influence. Just as left-wing academics see themselves as providing a counter to triumphalist narratives of Western Civilization, even in enclaves where self-critique long ago went mainstream, conservative journalists continue to see themselves as put-upon underdogs, even when driven across New York City or Washington, D.C. in town cars to make appearances on a highly-rated cable network owned by Rupert Murdoch.
Buskirk concluded, "Whether or not the legacy conservative media have a meaningful role going forward is an open question, and in part out of their control. Incumbent oligopolists do not have a very good track record of successfully handling a newly competitive marketplace. The good news is that there's a lot of energy on the American right, a lot of smart people, and they are busy building new institutions."
A Low-Energy Defense
The old guard could hardly miss the attack: you're useless; there's nothing you can do about it; and Trumpists are now the true and rightful inheritors of American conservatism.
But to be a Trumpist attacking the conservative establishment right now is to be secure in the knowledge that the folks you're antagonizing are unlikely to raise the strongest objections to what you say, let alone to hit back even half as hard. They are unlikely to challenge the populist premise that the masses, or at least the subset on the ideological right, are both wise and noble, especially when in a disagreement with elites. That the masses are at times easily manipulated and sadistic is absolutely taboo.
As Mark Hemingway rose next to the lectern he began by trying to make light of the previous speaker's contempt. "One of my first jobs out of college was at the American Spectator maybe 20 years ago when it was a viable print concern," the longtime conservative journalist began. "Then I worked for National Review for a couple of years. Now I've been at the Weekly Standard for 7 years. So I've kind of hit for the cycle in terms of legacy conservative publications. And on that note I would just like to thank Chris for the warm welcome and glowing assessment of my life's work."
I leaned forward, anticipating a defense of that life's work as forceful and confident as the jeremiad that preceded it. Instead, I watched an honest man with an even temper, a friendly demeanor, and an inclination toward comity struggle to follow a critic who could not be fully rebutted without a taboo attack on his populist premises. Hemingway began by conceding, "I don't think Chris is wrong about some things," asserting that "after the last year conservative publications do need some sort of reckoning. They do need to come to terms with a few basic things. One is that they're not as influential as perhaps they might have thought. And for good and for ill, they have come to be seen as part of the conservative establishment."(Indeed, they must defend the value of an establishment to defend themselves, yet persist in using "establishment" as a dirty word from establishment perches.)
To say in a crowd of Republicans at a campaign rally that one works for National Review once evoked reverence, Hemingway recalled. Today, it is as likely to be met with accusations of betrayal. "We have to remember at the end of the day that something like 90 plus percent of the Republican Party voted for Donald Trump," he said. "I'm not sure that was the case at conservative magazines or among Beltway Republicans. I think it is important to remember one thing, though: the fact that there was a gulf between where these intellectual Republicans were, versus grassroots voters, could simply be a legitimate difference of principle in a lot of ways."
Could?
Hemingway knows that his anti-Trump colleagues and many of his anti-Trump acquaintances in movement conservatism did have deep differences of principle with Trumpism. That he diplomatically reached for "could" epitomizes how reluctant, unprepared, or disinclined the old guard is to forcefully attack the populist narrative.
"I don't think we should necessarily dismiss that as them being horribly out of touch," he continued, hedging again. "That said, I do think there are reasons to worry about why people in establishment organizations like magazines and think tanks are out of touch," he urged, emphasizing common ground with the populists. "It is a matter I think of Conservatism Inc. We've established these parallel institutions, our own sort of Ivory Towers. There are people who get to sit around D.C. thinking about policy and things like that. To an extent these people do live in the D.C. and New York bubble. And that does on some level come to affect their thinking."
Even so, he noted, brands like National Review and The Weekly Standard add value. "I think they still do set the gold standard for journalism, and if nothing else they take professional responsibility very seriously," he explained, adding that a slew of smaller conservative journals, like  National Affairs and The New Atlantis, do high quality work. Those publications come to mind when conservative intellectuals think of what constitutes conservative journalism, he added, but are not what the base conjures:
Barriers to entry to publications have been lowered greatly. And I don't think people have quite grasped how fundamentally things have changed.

To give you an example, this morning I looked up on Alexa, which shows traffic different web sites get, National Review, the largest of the legacy brands. It is the 1,129th most visited web site. Breitbart is 58th. Now, I would suggest it's no accident that the Trump campaign embraced Breitbart so fully. If you're trying to reach people, you go to the place that has the most reach. At the same time, I think it's important that intellectual journals should not view themselves in terms of popularity contests.
Indeed, National Review did more to advance conservatism as a small circulation magazine in the decades preceding the Reagan Revolution than Rush Limbaugh has achieved for conservatism in as many years reaching a mass audience on the radio.
The publications Hemingway recommends are a testament to his good taste. And he proceeded to flag the populist Breitbart, the most widely read publication aligned with Trumpism, as flawed, albeit in the most understated, diplomatic way possible:
There's very much a need for articles explaining how Obamacare's independent payment advisory board raises Tenth Amendment issues because it allows unelected bureaucrats to usurp Congress' power of the purse and set the Medicare budget, which is 17 percent of federal spending.

Dry as it may sound, that was an article I wrote, and I like to think these issues are important to discuss. But at the same time, it doesn't have the same impact as the latest blaring Breitbart headline about how Mexico is stealing all of our jobs. At a minimum, these articles are often presented in a way that is unhelpful or inflammatory, even for someone like myself who believes in the rule of law and thinks immigration enforcement is a legitimate issue.
One wonders what he thinks those articles do "at a maximum."
Before concluding by sagely advising conservative publications to keep standards high, to host more debates on pressing questions that are dividing the right, to "affirmatively lead voters to see both the perils and the promise of what Trump is doing without looking down on them for voting for the man," to write more about culture, not just politics, and to publish more female writers to attract an audience that reaches beyond the old, white men who dominate the current readership, Hemingway offered a discerning diagnosis of a core tension conservative publications face:
It used to be the best that we could do is to view ourselves as influential in certain intellectual and political circles and have an impact on the debate through intermediaries. Well, the reality is that you now have publications like Breitbart that are speaking directly to millions and millions of people.

And I think the goal is that conservative publications have to find a happy medium––realize that their ambitions shouldn't be limited to being an intellectual journal with an influential reach inside the Beltway, that in the era of the internet we can speak to the people and there's a way you can communicate on a mass base level and at the same time hopefully elevate the discussion.

But there is an underlying reality here: that populism isn't just good for electing presidents. It's good for clicks, which translates into revenue and influence.
Clicks are also appealing to conservative donors who want to buy influence with their patronage, and don't particularly care about the journalistic integrity of what they support. The challenges confronting principled conservative journalism are many.
Matthew Continetti, the old guard's second representative, seemed resigned to populism's triumph. "I would trace this disintermediation, this process of basically removing the function of the conservative media as an arbiter of priorities or policy or authority, to the founding of CSPAN in the early 1980s, where you have the public with an ability to call in and voice their opinion," he observed in an insightful sketch of recent history. "This becomes more important when Rusty Sharpe, otherwise known as Rush Limbaugh, begins to be nationally syndicated in 1988. It's the rise of talk radio, where the conservative grassroots has its voice, where you see this process of the intellectual arbiters, or the establishment, or whatever, losing their ability to control the conversation. I don't think it was a mistake that talk radio was one of the most significant and earliest bases of support for President Trump."
In his view, "There's been a realignment in kind of the meaninglessness of the conservative media. The conservative media is whatever you want it to be." He didn't foresee that changing. And he offered no vision for fighting back, like the manifesto for "combat journalism" he once penned as a battle cry against the mainstream media. It isn't that these conservative journalists are blind to the flaws of Breitbart, but that, for various reasons, they have never  mustered as much energy or enthusiasm or vitriol for criticizing the biggest, sloppiest force for malign populism in American media as I've heard Hemingway marshal against CNN or Continetti against The New York Times. Yet neither CNN nor the Times is transforming the right in a way neither likes while savaging their colleagues and father-in-law.
How much damage must populism do before conservatives treat the worst excesses of its flagship as warranting as much attention as the most venial mainstream media sins?
National Review was not represented on the panel. Surely Charles C.W. Cooke, its online editor, perhaps the most confident defender of conservatism younger than George Will, would have championed the substance of his magazine, which is presently as intellectually alive and vital as it has been in a generation, against Buskirk's critique.
Instead, during the brief question and answer session, a man in the audience gave what he intended as a defense of the flagship publication of American conservatism:
I'm the only academic member of the board of National Review. And I know the magazine has been very sensitive, since Trump's election, to try to not be too offensive to Trump supporters, to try to give a kind of pluralistic account of conservative attitudes toward Trump, so it's different than The Weekly Standard. They have very strong pro-Trump voices like Conrad Black and Victor Davis Hanson writing on a weekly basis. Some of the editors who are ferociously anti-Trump, like Jay Nordlinger, tend not to write on Trump very much, because I think that they have trouble controlling their affects. But if you look at National Review, the articles that have appeared online and in the magazine, there's not a consistently anti-Trump editorial policy the way one finds at The Weekly Standard.

I think there's an effort to work with the Administration when they find themselves in agreement. There are a couple prominent writers online, Jonah Goldberg is very anti-Trump, and all that. I do think the magazine has been very self-conscious in trying to chart a middle way––I mean, for their institutional survival. If the magazine is continually engaged in a simple frontal assault on Trump, I mean, the number of print subscribers to National Review are down to 89,000. I think there's another 22,000 who subscribe digitally.
National Review shouldn't be reflexively anti-Trump; it should say so when it finds itself in agreement with a substantive position that Trump takes or an action that he carries out; its account of conservative attitudes should be pluralistic, which is to say, accurate; and it ought to be airing debates that help engaged people on the right to work through the many differences of opinion that divide populists and conservatives. (It is, in fact, often doing all those things with skill and intellectual honesty.)
But the apparent trustee did not merely observe the challenges the magazine faces in the Trump era, with many of its writers reaching different conclusions than many of its readers. Following a panel where his publication was attacked as irrelevant, corrupted, and out of touch, he chose to mount a defense only against that last indictment––the one defense that would cast him as accommodating rather than challenging the populist narrative. He seemed to advocate a defensive posture, whereby the magazine self-censors to avoid running too far afoul of populist readers, rather than deciding what is right, then unapologetically striving to bring folks around to that.
One hopes other NR trustees are more confident in conservatism's prospects, and more inclined to rise in defense of the magazine's mission––to champion conservatism––than in defense of its attentiveness to balance for readers who prefer populism. There are stronger defenses of National Review's recent work than was offered. And over time, foresight and conviction win more subscribers than equivocation.
Advice for the Old Guard
To survive, conservatism's legacy publications need more confident advocates who take greater umbrage at the notion that they are useless avatars of establishment decadence, refute the most unfair attacks of their critics more forcefully, offer more incisive formulations of why what they do is valuable, and counterattack more aggressively against hucksters who are stealing their business with lies and manipulation. It's as if National Review and The Weekly Standard have milkshakes, and Stephen Bannon and his ilk have been massing around them with long, bendy straws. They decided to drink those milkshakes. They've been drinking them right up.
If Breitbart's success was really about breaking from conservative orthodoxy on immigration, trade policy, and foreign policy, The American Conservative, a paleocon magazine, would've become a sensation years ago. Breitbart succeeds with bombast, shamelessness, vitriol, sensationalism, and ugly appeals to ethnic anxieties. One might expect an honest enterprise losing customers to hacks and malign hucksters to alert customers to the ways that they are being disrespected by the competition––to take Mark Hemingway's observation about "professional standards" and explain how those standards are a demonstration of loyalty to readers, and how their lack can function as a flagrant show of disrespect, even amid pandering.
With sites like Breitbart an indictment is easy to prosecute. Lots of people might, on reflection, be put off by a publication running cult-of-personality propaganda about its leadership. If a leftist publication pulled anything similar to the absurd page below, the conservative old guard would go wild with mockery, and who wouldn't laugh along?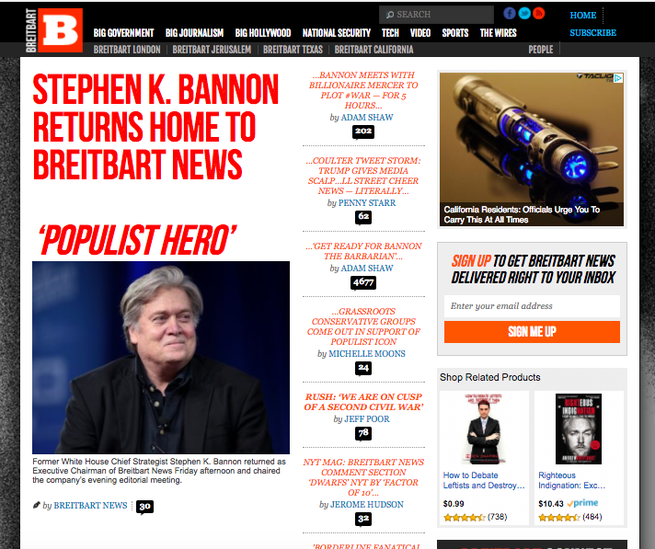 But Breitbart isn't viewed as an enemy and is not mocked.
Why?
It views National Review and The Weekly Standard as enemies. Perhaps fighting back carries risks, but perhaps it would signal appealing confidence to more readers than it alienated.
Some Breitbart readers would surely feel disrespected if they grasped just how little care is taken to spare them from untruths. My favorite example is a few years old. Criticism of LBJ is common on the right, but this Breitbart passage jumped out at me:
Reporters were aware that LBJ was heightening the conflict in Vietnam, but said nothing while LBJ promised not to send "American boys nine or ten thousand miles from home to do what Asian boys ought to be doing for themselves." Journalists on the campaign trail saw Johnson drunkenly board a plane armed with nuclear weapons and then accidentally drop them on the United States. Luckily, by the grace of God, they did not go off. None of this was reported, while newspapers editors worked in overdrive to portray Goldwater as eager to push the button.
Wait a minute. Journalists on the campaign trail saw Johnson drunkenly board a plane armed with nuclear weapons and then accidentally drop them on the United States? Excuse me?
I emailed the author, who replied, "I certainly do not remember writing about Johnson drunkenly dropping bombs out of planes. Even if I did, it had to have been at a first-draft, fact-checking phase. It is certainly my fault for not reading the finished product and requesting a correction. It is certainly Breitbart's fault for not sending me a proof before publishing it." I've written about this article before. And I've repeatedly,  publicly mocked the site for leaving it up unchanged. They still haven't fixed the error as I write. Even an absurdity didn't bother them enough to correct it.
Of course, critiques of Breitbart say nothing about the quality of American Affairs or American Greatness, but for all Buskirk's confidence about where loyalties lay on the right, those new publications, which probably do have something to teach the old guard on an issue or two, are orders of magnitude less influential than the old guard publications. It isn't the best of populism that is popular; only the very worst of populism.
So conservatives need to step up.
Trumpist populism is not an opportunity for conservatives to exploit; it is an existential threat to their project. Anton at least understood that to support Trump required a radical break with conservatism; he does not yet see that his Trumpist turn will work out as poorly as did his support for the Iraq War, a previous radical departure from conservative insights  that Anton and the right foolishly undertook after a previous bout of catastrophizing about the supposedly greater threat posed by the status quo.
If conservatism is to survive as a constructive force for the moment when Trumpism ends in another bankruptcy, and the country needs a healthy left and right to recover, conservatives need not only to learn from the flaws that caused their countrymen to lose faith in their project; they must openly and explicitly break with populism and its excesses, bringing a conservative critique to bear upon them. "America needs a reminder of conservatism before vulgarians hijacked it," George F. Will recently declared, "and a hint of how it became susceptible to hijacking."
Who will point out populism's flaws by drawing on conservatism's best insights, attack its hucksters as much as the left, and fight for the right as if conservatism could win?