Bernie Sanders Makes His Pitch for Single Payer
The Vermont senator will formally introduce the 2017 version of his "Medicare-for-all" legislation on Wednesday. Will it stand up to scrutiny?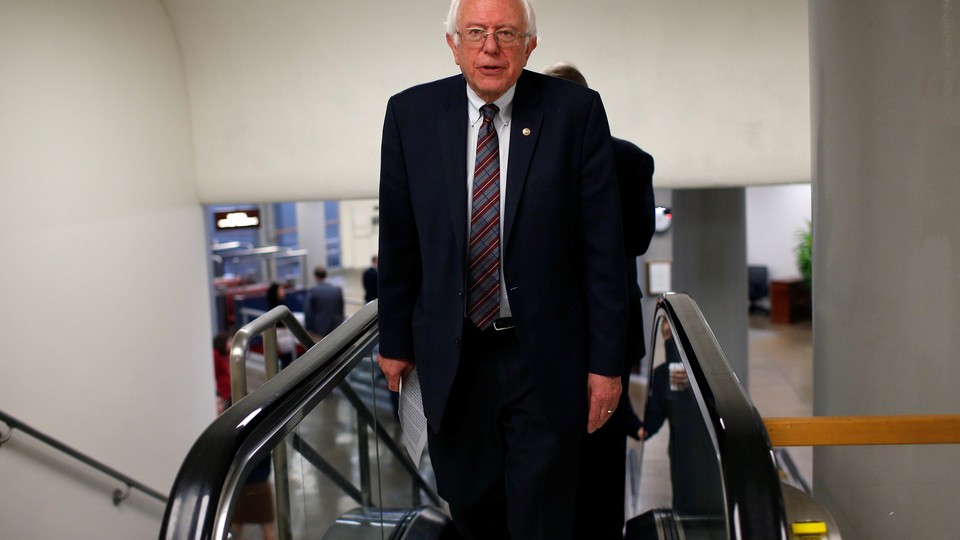 Vermont Senator Bernie Sanders is making big promises and raising the expectations of liberal voters on health care.
On Wednesday, Sanders will formally unveil the 2017 version of his "Medicare-for-all" legislation, shifting talk of single payer on Capitol Hill from an abstract conversation over whether the government should provide universal health coverage to a concrete discussion of a specific bill. With Republicans in control of Congress, single payer won't pass, but supporters hope the legislation will increase public support, and political will, for an idea that has long been considered a long-shot liberal dream in the United States.
In an indication of how far the Democratic Party has moved left on health care, high-profile Democratic senators and potential 2020 contenders, including Kamala Harris, Elizabeth Warren, and Cory Booker, announced they would co-sponsor the bill before it was even made public. The last time Sanders introduced a "Medicare-for-all" bill in 2013, he had zero co-sponsors in the Senate. This time, 15 Democrats are co-sponsoring the bill so far in addition to Sanders, according to an aide.
"Sanders's bill represents an important shift in where the Democrats have been on health-care reform for the past 25 years," said Jonathan Oberlander, a professor of social medicine and health policy and management at the University of North California-Chapel Hill. "Democrats thinking of running in 2020 for the presidency will have to decide whether to embrace his proposal or risk alienating Sanders voters and the party's liberal base."
The details of the legislation give policy wonks a chance to dissect the latest version of an idea that Sanders has championed for years, though never with the kind of political support it has now. The measure sets up a national health insurance program administered by the federal government. Everything from primary care to hospital stays would be covered under the plan without a requirement for out-of-pocket spending on deductibles and copayments. Access to abortion is also included, which would effectively overturn the ban on federal funding for abortion known as the Hyde Amendment. And patients could still use private insurance programs to cover services deemed not medically necessary by doctors, like plastic surgery.
There is a caveat to the idea of no out-of-pocket cost in Sanders's single payer system: The legislation gives the Health and Human Services secretary the ability to impose copays for prescription drugs as a cost-saving measure to incentivize the use of less expensive generic versions. The bill also promises to lower drug costs by calling on the government to negotiate prices with pharmaceutical companies.
Absent from the legislation is a detailed accounting of how the proposed single-payer system would be paid for. The legislation calls for the creation of a universal health insurance trust fund, and a bill summary mentions "changes in the Internal Revenue Code," but doesn't explicitly address the issue of what taxes might be imposed to cover the cost. On Wednesday, Sanders will outline potential ways to finance the plan, including the implementation of new, progressive taxes, as part of his single-payer push, through the specifics of those ideas won't be included in the text of the legislation, according to an aide.
The United States spends more on health-care costs per capita than other industrialized nations. Implementing a single-payer system could bring down overall cost by eliminating inefficiencies, but a significant increase in taxes would prove controversial and could create a significant political obstacle to enactment.
A majority of Americans, at 58 percent, said the government has a responsibility to provide health coverage, according to a June survey by the Pew Research Center. But as my colleague Olga Khazan has reported, support for single payer decreased when people were told their taxes would go up. Republicans, meanwhile, have already started to attack single payer as an exorbitantly expensive idea.
The policy specifics, and the potential consequences, of Sanders's single-payer legislation will be subject to intense scrutiny, from health-care experts and political opponents.
"The growing liberal enthusiasm for single payer has clouded the reality that the many formidable obstacles to its enactment have not disappeared," Oberlander said. "One of those barriers to how to arrive at a politically viable way to finance the plan. Is Sanders going to offer a more realistic financing approach and accept other trade offs, such as benefit limits, or will this be a legislative utopia? Single-payer plans are easy to devise, at least in theory; they are much harder to enact."
Support for single payer is fast emerging as a political purity test that the party's emboldened progressive wing wants to enforce. Sanders himself has said that he does not believe single payer is a litmus test, but that hasn't stopped his allies from suggesting it should be.
A number of big names in Democratic politics are sponsoring the legislation. That list includes: Harris, Warren, and Booker as well as New York Senator Kirsten Gillibrand, Wisconsin Senator Tammy Baldwin, Connecticut Senator Richard Blumenthal, Hawaii Senator Mazie Hirono, and Oregon Senator Jeff Merkley.
It's not yet clear how far Democratic leaders will go to either support, or push back against, the party's leftward turn on health care. While she welcomed the introduction of the bill, House Democratic Leader Nancy Pelosi has not said she plans to support it, emphasizing instead that she's focused on defending the Affordable Care Act. Senate Democratic Leader Chuck Schumer has refrained from saying whether he will co-sponsor the legislation.
After promising to repeal the Affordable Care Act while President Obama was in the White House, Republicans have so far failed to overturn the former president's signature health-care law under President Trump's administration. Democrats could run into a similar problem if they promise voters universal coverage, but fail to come up with a policy that's politically feasible. If the party wants a viable health-care plan to push for when, and if, it regains control of the levers of power in Washington, it will need to lay the groundwork, including the policy specifics, for that now.