America's Uneven Crime Spike
Violence in a few major cities drove the national murder rate higher in 2016, according to new FBI statistics.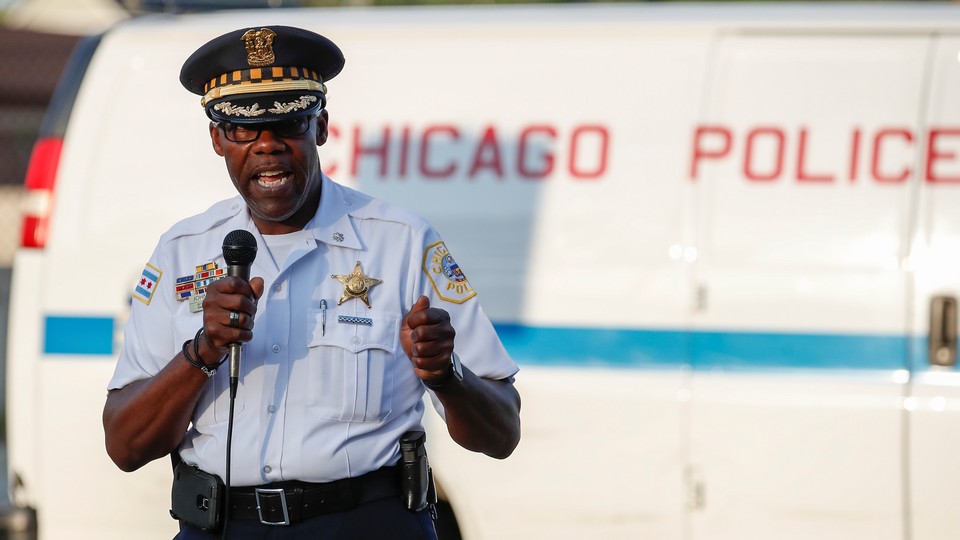 The FBI's latest crime report isn't heartening. Murders in the United States rose by almost 9 percent last year, the FBI reported Monday, mirroring similar increases in other forms of violent crime. The homicide spike is one of the sharpest one-year upticks since the Great American Crime Decline in the 1990s, and, when combined with 2015's numbers, marks only the second two-year increase since the 1980s.
But a deeper dive into Monday's stats doesn't suggest that the United States is backsliding to the high-crime years of the late 1980s and early 1990s. Instead, the FBI's data points to sharp geographic disparities in violent crimes in American society, with a few major cities accounting for large portions of 2016's growth in murders and other serious offenses.
The new figures come from the latest edition of the Uniform Crime Report, an annual collection of crime data published by the FBI. The UCR includes self-reported stats on an assortment of major offenses from almost every law-enforcement agency in the United States. Because people don't always report incidents to the police for a variety of reasons, criminologists typically use it alongside other datasets like the National Crime Victimization Survey to measure crime rates.
According to the UCR, murders in the United States rose by 8.6 percent in 2016, a notable increase even before it's placed alongside the 10.8 percent jump in 2015. Homicide data is considered the most reliable of the indicators measured by the UCR, because it tends to be more easily measurable by local law-enforcement agencies. Other offenses like rape and aggravated assault saw a slightly smaller increase, while property crimes remained roughly the same. (Auto theft, which rose 7.4 percent, was a notable outlier.)
Rural, urban, and suburban communities all saw increases in violent crimes in 2016. But they were of varying degrees. Some places, like Houston and Washington, D.C., saw the number of murders either stay roughly the same or slightly decline. Other communities fared worse. Chicago ended 2016 with 762 murders, a whopping 58 percent jump over 2015's total. Baltimore experienced its second-deadliest year on record with 358 murders, surpassing the previous record set in 2015.
That disparity could be felt in the national stats. John Pfaff, a Fordham University law professor who studies crime statistics, noted on Twitter that 22 percent of the nationwide increase in murders came from Chicago alone. But inside Chicago itself, 50 percent of the homicide rise came from just five neighborhoods, which account for only 9 percent of the city's overall population. Those neighborhoods, in effect, account for 10 percent of the national increase in murders.
In an email, Pfaff pointed out that Monday's data matched what scholars already knew. "Crime has always been highly localized," Pfaff said. "Studies in several cities have shown that about half of all reported crime occurs in under 10 percent of all city blocks, and almost all crime in under half. And those 'at risk' blocks remain fairly constant over time. So talking about crime in 'the U.S.,' or 'Illinois,' or even 'Chicago' has always been somewhat misleading."
New York City's declining crime rates also highlight the geographic incongruity in crime spikes. The city's struggle with violent crime in the late 1980s and early 1990s made it synonymous with the nationwide crime wave of that era. Its homicide rate peaked at 2,245 murders in 1990; by comparison, its rate dropped to 335 murders in 2016. Shootings dropped by 12 percent as other major crimes fell across the board. City officials attributed the decrease to a crackdown on violent gangs, although New York City Police Department data reported only 40 percent of murder cases had resulted in an arrest.
What's driving the increases in violence in the affected cities isn't clear. Researchers in Chicago have struggled to find any direct causal factors behind the jump in gun violence there. Shootings and murders noticeably rose around the time that the Chicago Police Department released a video of officers killing 17-year-old Laquan McDonald in November 2015, but it's uncertain if a subsequent drop in police street searches played a role. (Whether it would is also debatable: New York City defied predictions after its crime levels continued to drop after it all but abandoned stop-and-frisk in 2011.) And what exactly causes crime to rise and fall is far from certain: Scholars have plenty of theories but no conclusive explanations for the widespread crime decline of the 1990s.
It's unlikely that politicians will be content with the mystery. President Trump, who rose to power claiming he'd be a "law and order" president, has frequently invoked the specter of rising crime since he launched his campaign. Even before Monday's report, Attorney General Jeff Sessions cited recent jumps in violent crime as reason to roll back Obama-era reforms in the Justice Department aimed at curbing excessive sentences. In a statement Monday, Sessions vowed to work with local partners to "send a strong message to criminals that we will not surrender our communities to lawlessness and violence."
Proponents of criminal-justice reform have long feared that a resurgence of crime could unwind the growing political consensus against mass incarceration. On Monday, some noted that American crime rates are still a long way from their highs three decades ago. "The data debunk claims from the Trump administration that crime is out of control, but do highlight cities where violence is concerning," Inimai Chettiar, the director of the Brennan Center's Justice Program, said in a statement. "But by painting the entire country with too broad a brush, President Trump and Attorney General Sessions are peddling fear and distracting from the frank and honest conversations needed to find solutions to these real problems."
Whether Monday's figures will dampen those efforts remains to be seen. Iowa Senator Chuck Grassley and Illinois Senator Dick Durbin are planning to reintroduce a major federal sentencing-reform bill that failed to pass Congress during the presidential campaign last year. It seems destined to face major opposition from within the administration: Among those who defeated the measure in 2016 was then-Alabama Senator Jeff Sessions.
"The obvious lesson is that grand comprehensive theories [about crime rising] are likely not too trustworthy right now," Pfaff said. A single theory can sometimes explain a surge in crime, like the emergence of crack cocaine in the 1980s, he noted. But no single factor appeared to be driving the current spike. "What is happening is local and likely demands solutions that account for local conditions," he said.