Alabama's Strange Senate Rivalry
The contest between Luther Strange and Roy Moore raises the question of who has more sway with Trump's base: the president or conservative firebrands like Steve Bannon?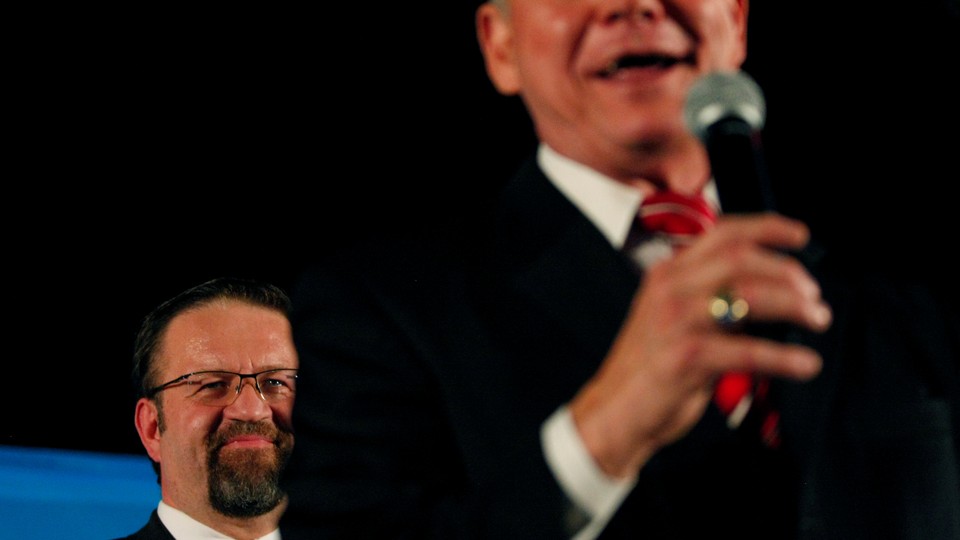 MOBILE, Ala.—Outside the Von Braun Center in Huntsville, Alabama, on Friday night, a man stood holding a sign.
Under the word "MOORE," it read "Make America Great Again" and "Yes," in big, bold red white and blue letters. Under "STRANGE," it said "Mitch," and "No," in a faint gray scrawl. This was outside a rally where President Trump was scheduled to campaign for one of the candidates in Alabama's special Senate election—and it wasn't Roy Moore.
Like a dubious nutrition label designed to satisfy FDA requirements while convincing shoppers that their granola bars are all-natural, the sign outside the Huntsville rally didn't exactly lie. It just elided the truth. And it's a perfect snapshot of the mindset in Alabama right now, where Moore, the ultra-conservative judge made famous by his crusade to keep a monument to the 10 Commandments displayed at the state's supreme court, is running against Senator Luther Strange in the race to fill Attorney General Jeff Sessions's old seat, for which Strange was appointed as the seat-warmer. Strange, a remarkably tall but otherwise not particularly distinctive former state attorney general, is the establishment pick.
The election has become a showcase for high levels of cognitive dissonance. It's an election in which the candidate who is benefiting from $10 million from a Mitch McConnell-aligned super PAC promises from the rally stage to keep McConnell in check in the Senate. Where Trump, there to campaign for said candidate, muses aloud about whether he's made a mistake in doing so and promises to campaign for the opponent in the general election, should he win. Where a reporter for Breitbart, which has gone all-in to support Moore, alleged he was denied entry to the Trump-Strange rally. Where the president's former chief strategist Steve Bannon, weeks after leaving the White House, is making a rare public appearance at a Moore event on Monday after weeks of using Breitbart as a pro-Moore, anti-Strange political instrument.
Most of all, this election is a test of Trump's bond with his own base, which has been key in safeguarding him within his own party as his presidency's troubles mount and which has so far stuck by him despite his failure to deliver on several key campaign promises. Alabama, where Trump won the Republican primary by 23 points, offers a useful locale for this proxy war. Who is more influential with Trump's base: Trump himself, or the constellation of powerful voices on the right to whom base voters listen and who are supporting Moore? Is the Trump movement about Trump the man, or is it about something else?
Moore supporters are reconciling the discrepancy by arguing that Trump has been the recipient of bad advice and emphasizing that they still support him despite this one disagreement.
"Bannon versus Trump is the sexy media narrative, but it's actually interesting because it's not just Bannon, it's Sean Hannity, it's Laura Ingraham, it's Mike Huckabee," said one Bannon ally. "It's Eagle Forum's Ed Martin, it's a whole host of these folks who were the president's biggest national supporters and remain his biggest national supporters."
"People are trying to paint this as Steve turning on the president somehow, when in reality it's perfectly normal to be able to completely support someone but have disagreements on endorsements," the ally said. "I think Trump still has influence but at the end of the day I think people are really passionate about Judge Moore."
This race isn't really about policy or even ideology. It's turned into a referendum on the Republican establishment—as well as, of course, a fight over internal Alabama issues and politics. Moore supporters see Strange as a tool of the establishment and are suspicious of the way he was appointed by former Alabama Governor Robert Bentley, who left office amid scandal over an affair with a staffer and an investigation into alleged misuse of state funds. They don't think Strange stands for anything.
Moore's beliefs, on the other hand, are vehement and well-known, on everything from homosexuality (he said in a 2005 interview that "homosexual conduct" should be illegal) to former President Obama's place of birth (as recently as December, he was still trafficking in birtherism). And, of course, the 10 Commandments saga, which lost him his judgeship twice, raised his profile among grassroots conservatives nationwide, and which plenty of Moore voters alluded to when I asked them why they like him so much.
The enthusiasm gap, at least anecdotally, is substantial. A few hundred Moore fans gathered in a converted railway station in Montgomery on Thursday night for an event hosted by Great America Alliance, a super PAC aligned with Bannon which has been running ads against Strange in the race. The evening began with a watch party for the Moore versus Strange debate that night, which was done Lincoln-Douglas style and in which Strange leaned heavily on his endorsement by Trump, mentioning it as much as possible. The special guests were to include Moore himself, Sarah Palin, and Sebastian Gorka, the former White House official and frequent Fox News commentator who was fired from—or quit, according to him— the administration last month.
Both Gorka and Palin are to varying degrees political celebrities—Gorka on the upswing of his notoriety, Palin on the downswing—and the crowd treated them as such. If you do a lot of Fox News, you become famous among the Republican base, and so has Gorka, as incongruous as his honeyed English accent may be at a  rally in the deep South. His latest move after leaving the White House has been to join the MAGA Coalition, a new political group whose founder has spread Pizzagate and Seth Rich conspiracies.
"On the one hand, you have a man who's proven through his life his dedication to this nation and to the values upon which this republic was founded," Gorka said of Moore. He then intoned, darkly: "On the other side, a man endorsed by Mitch McConnell. Enough said."
Palin, more so than Gorka, directly alluded to Trump's involvement in the race. Like many Trump supporters on the opposite side of this race from him, Palin spoke more in sorrow than in anger about Trump.
The swamp, Palin warned, has "hijacked this presidency."
"The swamp is trying to steal the victory that we worked so long and hard for—to steal the victory that a lot of us put our reputations on the line for," Palin said, pointedly. "We voted to put America first, not the political elite that had ignored us for decades."
Texas Representative Louie Gohmert also located the blame elsewhere. Trump has "gotten some bad advice," he said. "But he's a faster learner than anybody I've ever seen."
This idea—that Trump is being misled by malign influencers and that's the reason why he's backing Strange—has gained traction among voters I spoke with.
"Donald Trump has to rely on other people to give him information," said John Sowell, 69, at the Moore rally in Montgomery. "He hasn't researched Luther Strange like he should have."
"I think that's possible," said Stan Sinson, 56, also at the Montgomery rally, on whether Trump is getting bad advice, like Gohmert said. "Or he's been promised something from Mitch McConnell that probably will never happen."
To a man (or woman), though, Moore voters said they like the president as much as ever.
"I love everything Trump's doing. He can't do anything wrong to me," said Martha D. Shiver, 78, a local Republican activist in Montgomery. "I was disappointed that he didn't support Moore but I still think a lot of him."
On the flip side of the race, the very next night in Huntsville, some Strange voters told me they had been on the fence but Trump's appearance helped them make up their minds.
"I think actually both are good candidates," said Mike Ford, 56, outside the rally. "Just the fact that Strange, because he is supported by President Trump and did such a good job for President Trump so far … I did it because I really support the president."
"I have to believe Trump," said David Newton, 64, who stood outside the Huntsville rally afterwards watching some protesters nearby. "I have to believe that he's picking the right guy and go that way, because he's usually right."
Trump's rally Friday in Huntsville was a classic of the genre, a long (especially long—over 80 minutes), discursive playing of the hits plus the addition of a new controversy to keep things lively—this time, an attack on black NFL players who have taken the knee during the national anthem to protest racism and police brutality. Trump did devote large portions of the speech to Strange, lauding him for helping him on Obamacare repeal and ribbing him for his size. Trump also criticized some of his people who have backed Moore, a not particularly veiled dig at HUD Secretary Ben Carson who announced his support for Moore on Friday, and at Bannon, who Trump appeared to allude to specifically. "May have to get rid of a few of them," Trump said of employees of his backing Moore. "I've already gotten rid of a few of them."
But Trump's endorsement came with caveats.
"I'll be honest, I might have made a mistake," Trump mused. Trump decried the idea that he might be blamed for Strange's loss in the media, and promised to campaign for Moore if Moore wins the primary, while also doubting that Moore could win against the Democratic candidate in the general.
So why is Trump risking political capital on Strange if he thinks it's all a mistake?
"POTUS really didn't want to get involved in the primary," one source close to Trump said in a text message. "He did first as a favor to Luther who swore he would support the POTUS's agenda. And secondly as a final outreach to McConnell."
"This is a referendum on McConnell and establishment," the source said. "The base wants the person who will support Trump more, and not side with McConnell." In Alabama, this source said, McConnell's backing is now a "kiss of death."
And the bitter recriminations are only beginning.
"This race is really the start of the 2018 cycle and I think it's really the inflection point of the 2018 cycle," the Bannon ally said. "It's gonna decide what happens. This race is gonna open the floodgates to more insurgent candidates or it's gonna mean the establishment is gonna triple down on their tactics."
Nearly five hours south of Huntsville, Roy Moore held one of his final campaign events of the race. A family in the tiny hamlet of McIntosh has hosted a bluegrass and gospel singing annually for years. Handwritten signs on trees informed attendees that there was to be no profanity, alcohol, smoking or pets and that the hosts were not responsible for accidents. A couple hundred people from the area sitting on camp chairs faced a small stage illuminated by string lights hung between trees, and huge trays of pulled pork, egg salad, and other Southern treats were laid out on tables nearby.
Only a few national political reporters had made the long drive down from the north of the state. Breitbart, on the other hand, had sent not one, but three. "I just like bluegrass," joked Breitbart London editor Raheem Kassam, by way of explanation. Washington editor Matt Boyle has been camped out in Alabama for days, his second trip to the state this month. Jeff Poor, a Tallahassee-based Breitbart reporter who said he had initially been barred from entering the Trump rally on Friday, was also in attendance. (In recently leaked Slack conversations, Boyle told Breitbart staffers that "the only story that matters" right now is Alabama and that everyone would henceforth be working on it.)
Moore's friend Dean Young, who launched an unsuccessful bid for Congress last year, sported a red Make America Great Again hat and worked the crowd.
"Any normal candidate would have been squashed like a bug" by the establishment money being poured into Alabama, Young told reporters. "If they can beat Judge Moore they can beat anybody, anywhere, anytime."
"I think the president makes a difference but I also think the people of Alabama have watched Judge Moore for 25 years and they know that he's honest, they know that he's dependable, they know if he says he's gonna do something he'll do it," Young said. "They know he'll stand up for his god, and that would be the Christian god if anybody out there in the world is wondering which god."
Young said he appreciates the president's being "honest with the people of Alabama, honest with the nation" that he "may have made the wrong decision backing Luther Strange."
Moore showed up around an hour into the event after a few bands played. He took the stage after doing an interview with One America News and after an introduction by Young, who called for a round of applause both for Moore and for the president.
Unlike Young, Moore avoided mention of the president, focusing his message on the establishment out to get him.
"This has been a very hard time, for me, for my family, for my wife to suffer through $30 million, according to MSNBC, of negative ads, attacks, things that were untrue, simply because they want to buy the people of Alabama," Moore said. "Well, I'm here to tell you the people of Alabama are not for sale."
In the audience sat Jeff Trawick, 52, who drove up from Mobile about 45 minutes away to see Moore.
Trawick avidly listens to American Family Radio, a Christian conservative station out of Mississippi, and watches Fox News and reads a wide variety of websites, including Breitbart. He said he was surprised Trump had gotten involved in the primary when people like Phil Robertson, Steve Bannon, and Sean Hannity were supporting Moore.
"That's who I listen to," he said.
But Trawick, who's getting "two phone calls a day and two pamphlets in the mail a day for Strange," doesn't hold it against Trump or the NRA, of which he is a member and which has also endorsed Strange. "I can't help what they support," he said.
"It ain't that Trump ain't doing his job, it's that Congress ain't doing its job," he said.
"He can support whoever he wants to," Trawick said of Trump.  "Just because I voted for him doesn't mean I'm gonna agree with everything he says … He's a billionaire from New York, I'm not gonna agree with everything that stands for."