How Will the Church Reckon With Charlottesville?
Religious communities are grappling with the racism that enabled violent attacks against protesters—including the racism within their ranks.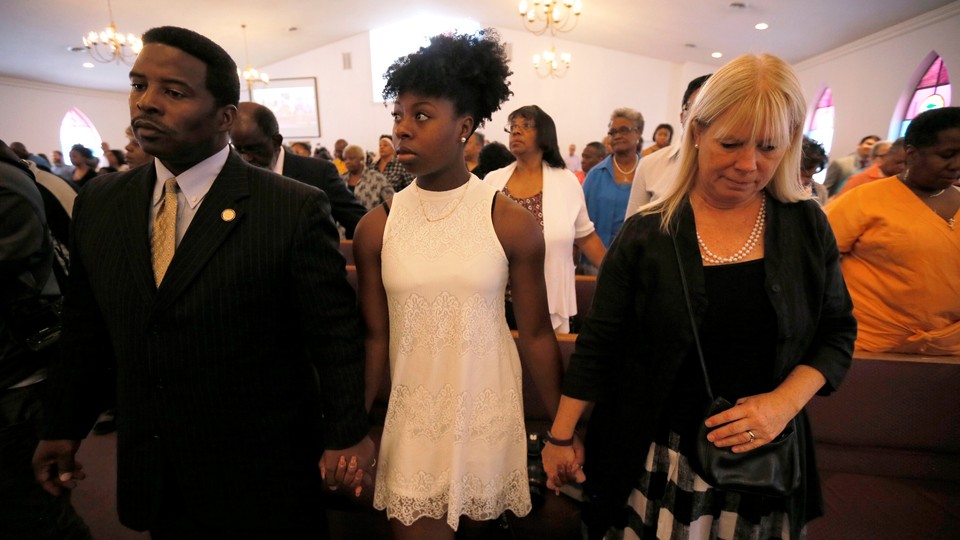 On Saturday, white supremacists violently attacked protesters marching against them in Charlottesville. A 20-year-old man, James Alex Fields Jr., allegedly rammed his car into a crowd of people, killing 32-year-old Heather Heyer and injuring at least 19 others. Two state police officers also died while monitoring the protests after their helicopter crashed.
The next day was Sunday. And that mattered.
Religious communities in America have long struggled with racism in and outside of their halls. Christians in particular have worked to overcome their complicity in slavery and Jim Crow. Almost immediately after the Charlottesville murder, a wide range of Christian leaders spoke out against the violence, encouraging fellow Christians to condemn white supremacism. But something else happened, too: Some people got angry, really angry, at the white Christians who they see as complicit in a culture of systemic racism. This included white Christians, black Christians, liberals, and conservatives: Many people within the church are frustrated with what they see as passivity in the face of bigotry. In the same way that Muslims are often expected to take responsibility for those on their fringes who commit violent acts of terrorism, people demanded that white Christians account for the violent racists who claim to share their faith.
Some Christian leaders were quick to condemn the Charlottesville attacks in specific, strong terms. Cardinal Daniel DiNardo, who serves as president of the United States Conference of Catholic Bishops, called them "abhorrent acts of hatred." Cardinal Blase Cupich, who leads the Archdiocese of Chicago and is widely see as a close ally of Pope Francis, seemed to criticize President Trump's initial statement on the attacks, which cited "hatred, bigotry and violence on many sides." "When it comes to racism, there is only one side: to stand against it," Cupich tweeted.
Russell Moore, the head of the political arm of the Southern Baptist Convention, tweeted that "the so-called alt-right white-supremacist ideologies are anti-Christ and satanic to the core." Jack Graham, a Texas megachurch pastor who serves on Trump's evangelical advisory committee, wrote that "white supremacy and its movements are evil to the core and are to be condemned."
Other white Christian leaders spoke only in vague terms, much like the president. For example: Franklin Graham, the evangelist and son of Billy Graham, asked his Facebook followers to " pray for Governor of Virginia Terry McAuliffe, law enforcement, and everyone struggling to deal with the chaos and violence that reared its ugly head in Charlottesville," citing neither "racism" nor "white supremacy."
Traci Blackmon, the executive minister of justice-and-witness ministries for the United Church of Christ, was at the protest in Charlottesville—a video clip shows her getting pulled to the side to avoid getting swept up in a fight in the middle of an interview with MSNBC. She expressed exhaustion on Facebook. To her fellow pastors, she wrote:
Might you consider beginning your worship tomorrow morning with prayer for our nation and the people of Charlottesville in particular?
Will you pray for the wounded. The healers. The witnesses. The warriors. and the dead inside? Will you pray for the families of those who have died? And will you call out white supremacy by name and rebuke it in the name of Jesus?
Many prominent church leaders called on their fellow pastors to do the same this Sunday morning. At the non-denominational Protestant church I was at in northern New Jersey, the pastor spent several minutes ahead of his sermon talking to his congregation about what had happened.
"To see American streets with people walking down doing the 'Heil Hitler' salute is just disturbing," he said. He asked the congregants to pray for America. "We live in a pretty politically divided country, but as followers of Jesus, we need to make sure that whatever we think politically, we clearly and loudly condemn any ideology that espouses bigotry, hatred, discrimination, and violence," he said. "We are called to testify and be ambassadors to a kingdom that's going to be summed up with every tongue, every tribe, every nation worshipping the Lord Jesus Christ on the throne." To those who are afraid, he said, "remember that Jesus overcame the world."
This was a multi-ethnic, urban congregation whose members described it as "politically mixed." As one parishioner observed to me, "You can be for small government but not be for hate."
Most of America religion does not look like this, however. Just like other religious groups, American churches continue to be divided along lines of race, class, education. That de facto segregation in the pews is one reason why they continue to struggle with issues of racism. As Jemar Tisby, the president of the Reformed African American Network, wrote in The Washington Post,
Despite all our efforts, some white pastors still remain silent on Sunday. They relegate racism to the status of a "social" issue and not a "gospel" issue. Leadership in churches and other Christian organizations remain all or mostly white. It's the same with the boards of directors and trustees of these institutions. Evangelicals who prostitute the faith for political power remain in the pulpit and are given wide latitude to stir up racial resentment in the guise of "race neutral" language.
Racial divisions have been part of the American church for as long as it has existed. Many early denominational splits were driven by Christians who supported slavery and justified it with Bible verses. Historians argue that the spread of Christian private schools in the South in the 1960s and '70s was largely driven by racism. White supremacy is undeniably a part of the history of American Christianity, as is abolition, and support for civil rights. Clashes over race have roiled congregations for as long as they've been in America.
And it's not just history, either. Much of the anger directed at white Christians following the Charlottesville attacks was tied to Trump. Some people believe his election empowered white-supremacist fringe groups like those who gathered in at the "Unite the Right" rally this weekend. They blame white Christians for enabling this to happen: More than 80 percent of white evangelicals voted for the president, as did 60 percent of white Catholics. At best, they ignored or dismissed Trump's appeal to these racist fringe groups, these critics say; at worst, they were complicit.
It's easy to call out blatant hatred and violence, but the bigger question is whether Charlottesville will change anything next Sunday, or the next, or the next.