When Does a Fringe Movement Stop Being Fringe?
Even the most feared white supremacists in the lore of Jim Crow were just regular white men.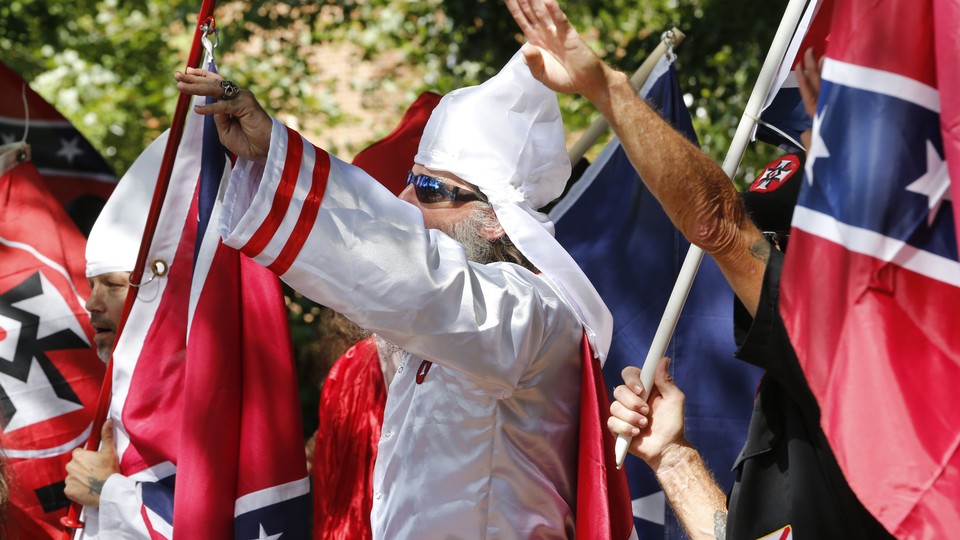 Suddenly, the "far right" doesn't seem so far. On Friday night, hundreds of protesters descended on a statue of Confederate hero Robert E. Lee in Emancipation Park in Charlottesville, Virginia. Carrying tiki torches, waving Confederate battle flags, and sometimes armed with clubs and shields and flanked by self-styled militiamen with heavier arms, the protesters, described by many as "white nationalists," brawled with counter-protesters in Charlottesville streets, a situation that led Virginia Governor Terry McAuliffe to declare a state of emergency Saturday.
Still, the fallout, the latest in a year-long series of growing protests centered around that statue in Emancipation Park, sprawled into Saturday afternoon. A car plowed through a group of counter-protesters, who'd taken the streets to celebrate their perceived victory against the white-supremacist protesters. So far, reports indicate at least one person has died, and many more are injured. Officials have not yet said if they think the incident was deliberate.
Even before that most deadly incident, politicians responded to the crisis in Charlottesville. House Speaker Paul Ryan said on Twitter that "the views fueling the spectacle in Charlottesville are repugnant," and Senate Majority Leader Mitch McConnell tweeted that "the hate and bigotry witnessed in Charlottesville does not reflect American values." In a statement Saturday morning, Virginia Governor Terry McAuliffe stated that he was "disgusted by the hatred, bigotry, and violence these protesters have brought to our state." President Donald Trump has tweeted multiple times about the protests, and in a statement after the deadly car incident condemned violence "on many sides."
These reactions, after a year of burgeoning demonstrations in the park, are remarkable both in their alarm and their vagueness.
Trump's statements call out "many sides" for their contribution to violence. McAuliffe's statement, especially, reads as if there's something alien or novel about violent white pro-Confederate protest in Virginia—which, it can be said with confidence, is simply not true. Few notable statements from public officials put a name to the general "bigotry" that most leaders cited.
Journalists have also struggled with categorizing what's happening in Charlottesville. Ever since the alt-right leader Richard Spencer first led groups of protesters in Emancipation Park against the prospective removal of the Lee statue, outlets have adopted his "white nationalist" label—one often used by members of his particular portion of the alt-right movement as a way to avoid the negative connotations of "white supremacist"—as a descriptor for the protests.
But the protesters, which now boast the endorsement of Ku Klux Klan leader David Duke and the participation of Klansmen and Neo-Nazis—some armed and chanting "Jews will not replace us"—appear to be exactly the kind of mob that the term "white supremacist" evokes in its most commonly used connotation.
The disconnect in terms is understandable. It's one thing to see the Red Shirts and Klansmen as bogeymen of the past and imagine their pogroms and mob clashes in the abstract. It's another to see them manifest suddenly in violent strength, even if one subscribes to the idea that white supremacy runs deeper than caricatures of hooded rogues, and that its long tendrils have always animated politics and political violence in America.
Even for me, as my father has studied the violence of white supremacy for most of my life, it's hard to square a group of men with Home Depot tiki torches, wrinkled khakis, bad haircuts, and a love of memes who came down to Emancipation Park with the blood-curdling menace of  Klansmen in my mind's eye. It's easier to joke about losers camping out in a park than to consider them capable of the kinds of paradigm-shifting horror that destroyed countless black families.
But that's a trick of historical perspective—even the most feared white supremacists in the lore of Jim Crow were just regular white men, transformed from lives as politicians, mechanics, farmers, and layabouts by the sheer power of ideology. And often, their movements were considered "fringe" and marginal—until they weren't.
Where euphemism, newly-coined terms, and lack of historical perspective all leave the country confused as to just how the violence in Charlottesville came to be, the truth is there in plain sight. What happened there in Emancipation Park and what is happening not only in the streets of Charlottesville, but streets across the country, is that the rhetoric and policy of white supremacy, which is still fostered and abetted widely, is again being converted into the kinds of overt interpersonal violence by which most people recognize it. And for the people who stand to lose the most from that kind of violence, the question might be when—not if—it transforms from a political peripheral into a regime.
History says that those transformations are relatively fast, and often act as conflagrations that destroy decades of progress in flashes. The paramilitary racist Red Shirts in South Carolina appeared on the scene just two years before their armed resistance helped bring an end to Reconstruction and the establishment of a new white-supremacist Jim Crow government. The third Klan arose in strength in the South in the 1950s, and by the end of the decade had embarked on one of the most extensive bombing and terrorism campaigns in American history. Its predecessor in the second Klan existed as a tiny membership group for years after the 1915 release of D.W. Griffith's Birth of a Nation, but fielded a 50,000-strong march through the nation's capital in 1925.
The emerging lessons in Charlottesville are somber. White supremacy can and will flourish when given fuel; white-supremacist rhetoric will tend towards violence; and it's often only in the rear-view mirror that Americans can clearly see the events that lead to that violence spreading. And although it is possible that the weekend's tragedies and brutal confrontations in Charlottesville are one-offs—the presence of antifa counter-protesters, who don't themselves shy away from brawls, certainly makes this event distinct from Klan bombings and lynchings, for one—America's history suggests that vigilance is always in order.