What Steve Bannon's Return Means for Breitbart
The conservative outlet must figure out how to pursue its agenda without losing its audience.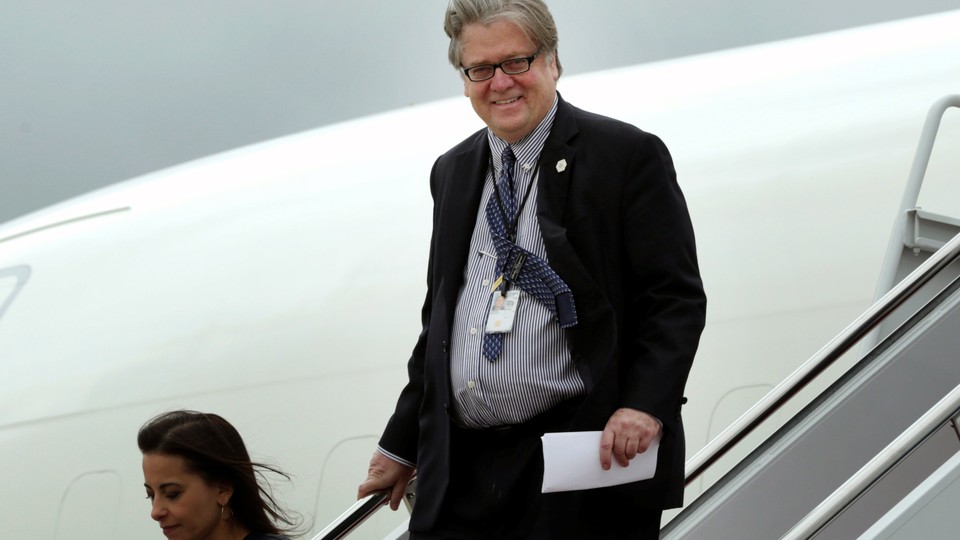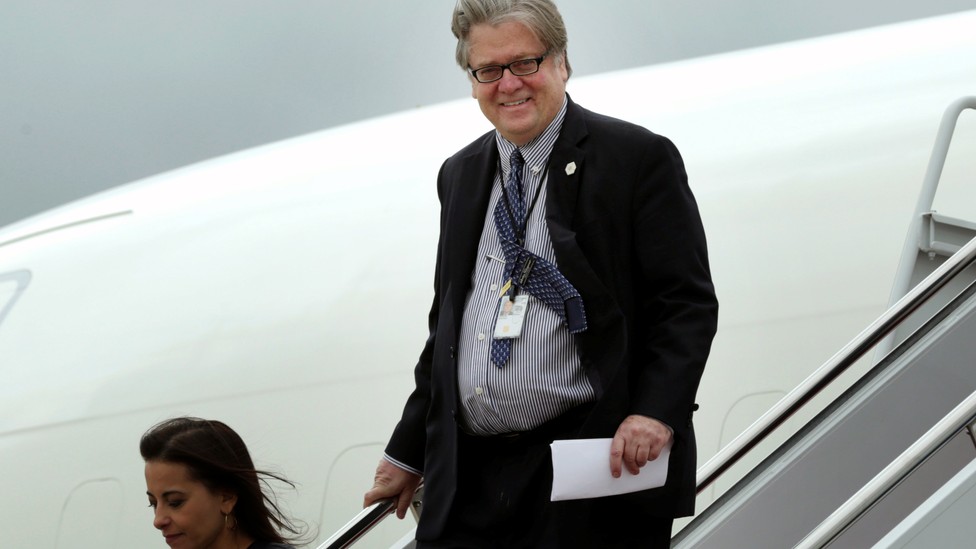 Steve Bannon was always supposed to return to Breitbart News.
When he left his job as executive chairman of the site to join the Trump campaign in August 2016, the move was presented as a temporary leave of absence, his return to Breitbart after the election a fait accompli. Like for many people, Donald Trump's surprising election changed everything for Bannon, who was given a top job in the White House. Breitbart continued on without him. It hired mainstream journalists and lost some of its most controversial staff. But he never left in spirit, and obtained an ethics waiver that allowed him to communicate with the company. During his time away, Breitbart reflected his point of view and sometimes went after Bannon's rivals in the White House.
Bannon has now been ousted from the administration and is back at Breitbart, which welcomed him home as a "populist hero" last week (and has been selling fidget spinners with his face on them). The former chief strategist has axes to grind and a place where he can grind them; no longer chained to the internal drama at the White House, he's free to go after his enemies in the administration and in the Republican party as much as he chooses. Of course, Breitbart has already been doing this; a case in point is its sustained campaign against H.R. McMaster, a top rival of Bannon's. So Breitbart's product itself seems likely to remain essentially the same.
"I think Breitbart will continue to operate the way it has since Andrew died and Steve took editorial control over it," said Kurt Bardella, the outlet's former publicist. "Since that time it's served as a platform to advance Steve's agenda."
In an interview with The Economist given after his firing, Bannon said of Trump, "We will never turn on him. But we are never going to let him take a decision that hurts him."
But there could be a point at which Breitbart's audience starts to view this kind of ideological enforcement as turning on Trump. Bannon's not-so-veiled threat is premised on the idea that Breitbart is influential enough to police Trump's decisions. This influence would stem from Breitbart's ability to sway Trump's base; Bannon's and Trump's strategy in the campaign was to consistently play to the base even when most candidates attempt to expand outside it, and it worked. As president, Trump has bad approval ratings among the public at large, and although recent polls have shown his base numbers softening, he still commands loyalty among his core supporters despite the last seven months of chaos and the fact that he has not delivered on core promises.
This is the well from which Trump draws his power, and why congressional Republicans mostly still won't do more than express "concerns" about him. This is also why Breitbart acts as a savage critic of Republicans like Paul Ryan who do not fall in line with its agenda. Bannon sees the establishment GOP as being as much a part of the opposition as the media or the Democrats, and Breitbart acts accordingly. This fall could offer the site rich fodder, as Trump has said he is willing to shut down the government over border wall funding — a posture sure to increase tensions with Republican congressional leadership.
Bannon is a hands-on boss and was notorious for his demanding approach to his employees, demanding lots of copy from them and berating them for losing out to other sites. "If Bannon were managing you, the email or the phone call would be 'Why the fuck am I seeing the story somewhere else when it's your job to do the story,'" said former Breitbart reporter Lee Stranahan, who quit the site earlier this year and now works for Russian government-backed channel Sputnik. "That's how he manages."
Editor in chief Alex Marlow is a much less abrasive personality and keeps a lower profile, though he's been the subject of recent articles with which he's given extensive cooperation, and recently appeared on Bill Maher's show.
"Now Bannon's clearly the boss, with national press and the Mercers eating out of his hand," said one former Breitbart staffer. "Marlow has zero power."
Under Marlow's leadership, the site went through a couple major changes, including firing its provocative tech editor Milo Yiannopoulos after tape of Yiannopoulos defending sex between adult men and boys surfaced this past spring, as well as firing editor Katie McHugh after a racist tweet. Bannon hired Yiannopoulos and Marlow fired him, though he and Marlow have remained in touch—BuzzFeed News reported that Marlow had helped set up his new company, since the firing—and it is Marlow's dog Daphne who is posing with Yiannopoulos on the back cover of his new book, Yiannopoulos said.
"Alex Marlow is probably the most gifted and influential journalist of his generation," said Yiannopoulos in a text message. "I love his lightness of touch—not many American journalists do subtlety well. And no one has ever heard of him!"
"Steve is something different. He's a freight train. Steve is an unstoppable juggernaut. So obviously Breitbart under Alex and Breitbart under Steve are going to feel a little different. But perhaps not by as much as people think," Yiannopoulos said, adding that he is "devoted to both men" and is "founding member and life president of the Steve Bannon fan club."
"Bannon the Barbarian is back! Democrats and establishment Republicans alike should be absolutely fucking terrified. They have no idea of the storm that is coming. Steve is so much more powerful and dangerous outside the White House than in."
Asked if he would consider rejoining the company if asked, Yiannopolous said "As Alex put it to The New York Times, I was holding Breitbart back and Breitbart was holding me back. I became too big for the masthead. What happened was horrible for 48 hours. But I see it now as a blessing. I'm focused on my bestselling books and sell-out tours for the foreseeable future."
The return of Bannon will likely further empower Matt Boyle, the site's combative Washington editor who is close to Bannon and who, more than any other current staffer, embodies the outlet's ethos. Bannon chastised Boyle after Boyle published a story attacking former chief of staff Reince Priebus earlier this year, and told me the story was "absurd"; but the two working in tandem once more means that instead of having to some extent guess at what Bannon wants, Boyle will know for sure. And there are plenty of Bannon enemies to go after. (Boyle declined to comment for this story.)
"Now that Steve is back, Matt's his guy," said one source close to Bannon. "Matt will have a little bit more influence, more leeway." Instead of CEO Larry Solov, "Steve will be providing adult supervision."
Things are off to a rip-roaring start, with Breitbart going after Jared and Ivanka this past week. Breitbart's agenda on this is not a secret. An email prankster who had previously targeted the White House did so to Breitbart, posing as Steve Bannon; he fooled Marlow, who in the emails talked about doing Bannon's "dirty work" and bashed the couple.
One of the surprising things about Breitbart during the Trump era so far has been that for the amount of access it supposedly has, the site hasn't broken much news. Yes, Boyle has interviewed Trump, and other administration officials have given interviews to Breitbart. But most of the big leaks out of the administration have gone to mainstream news outlets.
But now, as one Breitbart staffer pointed out to me, though the site's staffers were nearly as in the dark before as other outlets when it came to the inside goings-on of the administration, that will change with the reentry of Bannon. He returns with just about the most insider knowledge a person could have of the White House. Until last Friday at least, he had a security clearance as well.
"Bannon will try to use some of the shit that he's learned," said Stranahan.
The site's link to the White House seems healthy enough at this point even with Bannon on the outside. On Thursday morning, the White House sent its press list an op-ed by top NSC official Keith Kellogg published in Breitbart, defending Trump's new Afghanistan strategy—a strategy that Breitbart has lambasted.
In the wake of the election, Breitbart, which already has outposts in London and Jerusalem, had announced global expansion plans. Those have not come to fruition; the company never set up in France, missing the election there, and plans for a German Breitbart have also not congealed. But further growth opportunities could now present themselves. One possibility that has been raised is the idea of moving into the television business, as a competitor to Fox News, with which Breitbart has repeatedly clashed. Vanity Fair reported that a partnership with Sinclair, the right-leaning broadcasting company, is one possibility. According to a source with knowledge of the request, Bannon asked one of his top editors to look for studio space in Washington before he joined the Trump campaign last year.
Who would work for Breitbart's answer to Fox News? There's "a lot of talent on the sidelines right now," Bardella pointed out, citing Bill O'Reilly and people like radio host Laura Ingraham, said to be in the running for a Fox gig.
But getting into cable TV is expensive and difficult to do properly. Bannon met with Robert Mercer last week in New York before being fired from the White House, and the Mercers are said to be willing to pour more money into Breitbart. But how much?
"It's gonna take a fortune of money and I know the Mercers are very wealthy and generous but I don't think they're going to want to spend the type of money you need to launch a cable channel in this environment," said Chris Ruddy, the CEO of conservative media company Newsmax and a confidant of Trump's. Ruddy faced his own struggles getting Newsmax on TV and was recently able to get it on the DirectTV lineup. He speculated that a Breitbart TV offering could look something like what Alex Jones does with Infowars, targeting a niche demographic with a smaller, but profitable, offering.
According to sources I've spoken with, it's not likely that Bannon will make a real effort to construct a competitor to Fox. Instead, Breitbart may look at a subscription-only model akin to Glenn Beck's The Blaze, according to one television source with knowledge of the discussions. While Beck's model worked well at first, its number of subscribers has since dropped. Breitbart could also look to expand its Sirius XM radio offerings; one source close to Bannon speculated that Bannon could be interested in moving to non-satellite radio as well.
In January I wrote a story about how Breitbart was becoming establishment media. Its leader was on the White House staff, along with two former Breitbart writers, and it appeared to be making the leap from scrappy outsider to mainstream outlet, much as Trump himself clawed his way to the center of the establishment all the way from the birther fringes. Boyle told me at the time that he was "building The New York Times. That's what I'm doing right now. I'm building a journalistic enterprise that's designed to replace all of you."
Seven months on, Breitbart is not The New York Times, and the DNA of the organization never really changed. If Breitbart was ever going to become something else from what it has been since Bannon took charge after Andrew Breitbart's death, the year when Bannon was outside would have been the time to do it. Now that he is back it's likely to become as much of a vehicle for political action as it's ever been.
Patrick Howley, a former Breitbart reporter who left the site after the campaign, told me earlier this year by way of explanation on why he had decided to back off a planned campaign against Gary Cohn, that Bannon "doesn't have to tell me something for me to take a cue, or Boyle for that matter." Now his former colleagues will know exactly, and directly, what Bannon wants.