The Gap Between Trump and the Black Community
An appearance by White House official Omarosa Manigault-Newman underscored the divide between the administration and many African Americans.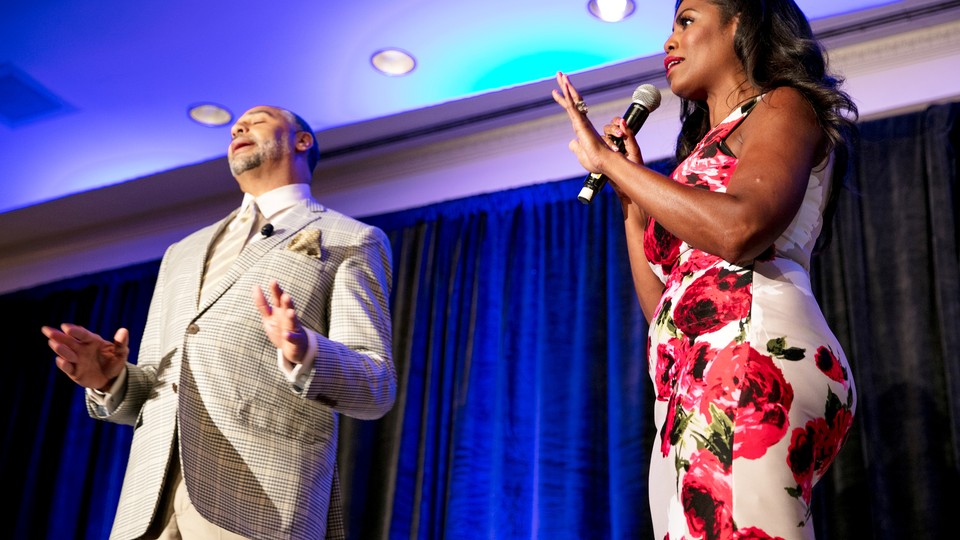 NEW ORLEANS—Suffice it to say that Omarosa Manigault-Newman's appearance at the National Association of Black Journalists' annual convention did not go well.
On Friday, the White House aide headlined a panel on police violence, moderated by BET news host Ed Gordon, which became news and social media fodder when a 45-minute verbal sparring match ended with Manigault-Newman walking out. Against Gordon's running on-stage criticisms of the panel itself, NABJ president Sarah Glover took to the floor to defend the association's choice to even host the panel in the first place, saying the NABJ's policy has always been to invite members of the sitting administration to every convention.
Lost in the pugilistic drama was the fact that Manigault-Newman offered a  somewhat substantive disagreement with her boss's statements on police brutality and with his endorsement of Attorney General Jeff Sessions's Department of Justice on policing policy. When pressed by Gordon as to whether she agreed with Trump telling police officers "don't be too nice" when handling suspects, the White House aide responded, flatly, "no." When asked about the DOJ's push to roll back civil-rights oversight of police departments and deemphasize consent decrees, she evaded the question, but did acknowledge that the White House knew such developments had sparked an uproar in black communities, and that she hoped community engagement with the White House might result in policies black Americans support.
Nevertheless, Manigault-Newman's participation invited opposition to the panel even before it took place. Page Six reported on Thursday that New York Times journalist Nikole Hannah-Jones and New Yorker journalist Jelani Cobb pulled out of the panel because of a number of issues, including the last-minute addition of Manigault-Newman to the panel. Gordon then stepped in to moderate, and new panelists were added to the lineup.
At first, the Gordon-moderated event hewed closely to original expectations. The host interviewed Sandra Sterling and Valerie Castile, the aunt and mother, respectively, of Alton Sterling and Philando Castile, two black men gunned down by police officers in the summer of 2016.
Valerie Castile's grieving reflections on the year since her son's death provided a somber juxtaposition to President Trump's recent remarks encouraging police to abuse suspects (the administration later said the president was joking) and Attorney General Jeff Sessions's endorsement of more punitive policing measures. "I don't know what the fuck to tell you," she said when Gordon asked her about recommendations for black people when stopped by police, "I did everything humanly possible to protect my son."
Castile and Sterling were ushered off stage for a second panel discussion on police brutality, which Manigault-Newman joined after about 30 minutes. The proceedings immediately plunged into the bizarre. Gordon largely ignored the other panelists for a one-on-one theatrical debate with Manigault-Newman, who attempted to evade the topic of the panel in order to discuss murders of her father and other family members (carried out by private citizens) that shaped her childhood. "Let me tell my story," she chided Gordon after his attempt to ask questions about police brutality.
Manigault-Newman and Gordon paced the stage, interrupting each other and interjecting comments. Several members of the crowd—mostly a collection of journalists and professionals in the media industry—booed, walked out, or turned their backs on the debate. At one point, Manigault-Newman addressed the crowd directly. "Walking into a room where you get shut down does not open a line of communication so change can happen," she said. She later walked off stage.
The NABJ panel was undoubtedly not one of those moments of constructive community engagement Manigualt-Newman had suggested might lead to changes in White House policy. But the second inherent flaw in the event's construction was that useful engagement—a rare enough thing in on-stage talks at any convention—between the White House and black communities is, simply, extraordinarily difficult right now.
Under Trump, the White House has displayed not only a puzzling indifference—illustrated by Manigault-Newman's self-description as often being "the only African American representative" in the White House—to black issues and black voices, but often an open antagonization to them. Trump has used his Twitter account to retweet white supremacists, has invited self-described nationalists like Steve Bannon—who used to operate a website that maintained a "Black Crime" content category—to work in the White House, and has maligned protesters against police brutality.
And at the NABJ event, which featured close relatives of two black men killed by police and activists working on their behalf, Trump's exhortation to officers to commit the kind of violence that can target men like them stifled debate before the first word was uttered. If the president's comments were offered in jest, they were at best callous to demands from the black community for basic safety. If they were indeed serious, that suggests Trump tacitly approves of the violence the people in that room were trying to stop.
Despite overtures to black voters during the 2016 campaign that he would be an ideal candidate for their communities, and his famous "what the hell do you have to lose?" pitch, Trump has seemed dedicated to showcasing exactly what black voters have to lose.
Even allowing for different policy views on how to balance crime prevention, civil rights, and community autonomy, the administration has stoked fears of "bad dudes" being released from prisons, made dogwhistle calls to "restore law and order," and its appointees have begun methodically dismantling the kinds of protections that protect black civil rights, whether they be against police brutality, mass incarceration, disenfranchisement, or housing discrimination.
The NABJ is bound by nonpartisanship, and by the the journalistic expectation that personal political views are cast to the side when it comes to engaging with all political leaders on the issues. But black journalists, like all journalists, are also bound by commitments to their communities and to the truth. That's the conflict that played out on stage, and in the audience, on Friday.