What Joe Manchin Can Teach Democrats
Is the West Virginia senator's centrism an anachronism or a way forward for the Democratic Party in Trump's America?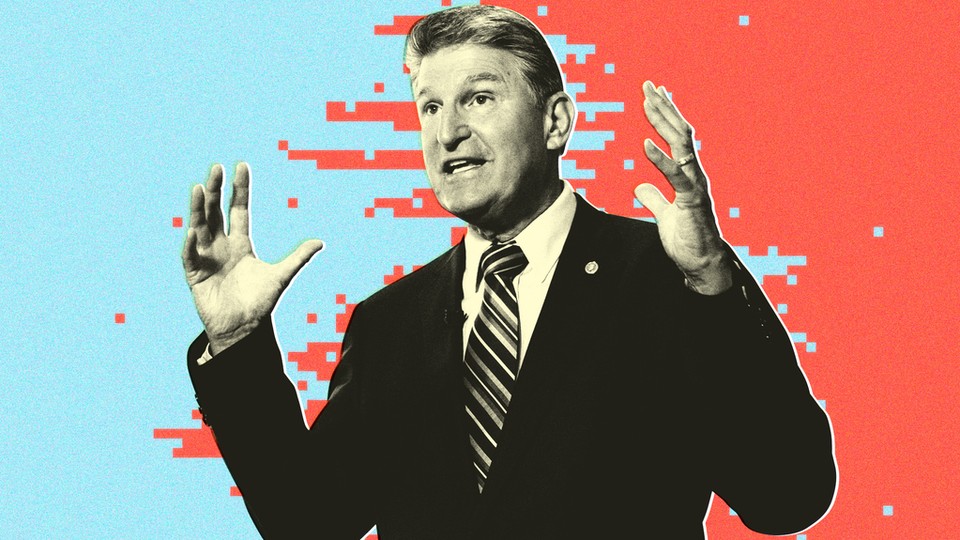 At a recent town hall at the West Virginia state fair, Joe Manchin lamented how divided the country has become. "You saw what happened in Charlottesville," the Democratic senator told the assembled crowd, referring to the white nationalist rally in support of a Confederate statue that led to violent clashes, and the death of 32-year-old counterprotester Heather Heyer.
"If you told me we could remove the hatred with the statues, take 'em all down," Manchin said. The crowd seemed unsure how to react until he tacked on a generic plea for unity. "We've got to start working together, and bringing this country together," he said, to a smattering of applause.
The message didn't go over well with everyone. "Those statues, and monuments, the Confederate flag, or anything like that, that's not discrimination. That is history," one man yelled out, asking the senator why he felt the need to mention the statues at all. "I can't tolerate bigotry at all, any way, shape, or form," Manchin said as he attempted to respond to the objection. Eventually, Manchin told the crowd that states and towns will "make their own decisions on how they handle this." Finally, he conceded, "I don't have an answer, I really don't." But, the senator concluded, "to have the KKK, to have the neo-Nazis, to have the white supremacists come out, emboldened, is not correct. That's not who we are as a country."
A day earlier, Manchin had called on President Trump to "not leave any ambiguity about these hate groups—there aren't two sides, there is only right and wrong" after the president blamed "both sides" for the violence in Charlottesville. But when I asked Manchin after the town hall if the president's handling of the tragedy made it harder to work with him, he immediately dismissed the idea. "No, I'm not putting that barrier up at all. My job is to do the best I can to represent the state of West Virginia, the people here, the interests they have, and how they need assistance. So for me to say, 'Well he said that, and I'm just mad as hell, and I'm not going to do anything,' I'm not taking that position."
This is what it looks like, in 2017, for a Democrat to try to win over voters in Trump country. Manchin, the Senate's most conservative Democrat, is up for re-election next year in West Virginia, a state the president won in a landslide last November. Ever since Democrats lost the White House, Manchin has walked a fine line between working with Trump, working with his party, and trying to prove that whatever happens in Washington, and the rest of the country, he'll put the voters of West Virginia first.
While the Democratic Party's center of gravity has shifted in favor of the liberal populism championed by Vermont Senator Bernie Sanders, Manchin remains a centrist Democrat with a political brand that recalls an earlier and more bipartisan era. His willingness to work with Trump puts him at odds with progressive activists demanding opposition to the administration. West Virginia's conservative tilt has convinced Republicans, who plan to attack Manchin as out of step with the state, that they can win his Senate seat.
In Congress, Manchin has voted in support of the president's priorities more often than any other Senate Democrat. The senator talks about speaking with Trump regularly, and has said he has a better relationship with Trump than he did with Obama. There's even been speculation that Manchin might join the administration, though he said at his town hall that he plans "to continue to work in the United States Senate," a plan that includes trying "to work with President Trump every way I possibly can."
But Manchin hasn't been a rubber stamp for the White House. He's opposed several of the president's high-profile cabinet nominations, including Education Secretary Betsy DeVos and Health and Human Services Secretary Tom Price. And, along with every other Senate Democrat, he has steadfastly opposed Republican efforts to repeal the Affordable Care Act.
Manchin's appeal cuts across party lines, but it may be difficult for the Democratic Party to replicate, and might not be enough to return him to the Senate. The West Virginia senator is being targeted by Republicans, despite his friendly relationship with Trump, and scorned by liberal activists despite his vital role in helping foil repeal of former President Obama's signature healthcare law. Whether or not the Democratic Party moves back toward the center where Manchin stands, he is poised to play an important role in its future. If he loses next year, the party may have an even harder time fighting the president's agenda.
Manchin told me that Trump called him up in May to talk about the health-care fight in Congress. The senator said that he let Trump know he was willing to negotiate, but soon realized they wouldn't find common ground as long as the president wasn't giving up on repeal.
"He called, and I said, 'happy to help, but I hope you're the president who wants to fix things, and repair them, not just repeal them or blow them up." Manchin said he told Trump that pushing for repeal, and taking a hardline against compromise, isn't "how you got elected," telling the president "Democrats probably elected you as much if not more than Republicans because you didn't come through the traditional Republican mainstream."
When it became clear that Trump was sticking to the goal of repeal, Manchin said, "there wasn't a whole lot we had to talk about, because I wasn't going to go there."
But Manchin said he told Trump: "You want to put a working group together? Call me, I'm there."
The West Virginia Democratic Party has suffered a severe decline, even more acute than that of the national party. Ties between voters in the state and Democrats in Washington rapidly deteriorated during the  Obama's administration when the White House pursued an environmental agenda opposed by the coal industry, exacerbating an existing rift that Republicans exploited.
In 2014, the state legislature flipped to Republican control after more than two decades of Democratic dominance. Earlier this month, West Virginia Governor Jim Justice announced he was switching parties from Democrat to Republican at a rally alongside Trump.
As voters in the state drifted away from Democrats, Manchin has distanced himself from the national party. The senator's success in West Virginia, a rural state with an overwhelmingly white population, may hold lessons for the party as it tries to win back the white, working-class voters Democrats lost to Trump. That is, if Manchin can keep winning.
In the aftermath of the election, Manchin has acted as a sounding board for, and bridge between, his party's leadership and conservative, rural, white voters. A few days after Trump's inauguration, Democrats turned to Manchin to help understand where they had gone wrong. In late January, the senator facilitated a conversation with Trump voters at a retreat for Senate Democrats in Shepherdstown, West Virginia.
"He brought in some of his supporters who supported Trump and we had a chance to talk about why they did that," Democratic senator Ben Cardin of Maryland said in an interview at the Capitol, recalling the retreat. "He's pointed out, and accurately so, that in past elections, many candidates ignored parts of their constituency, including rural areas. That's unacceptable, and we all agree that's unacceptable."
The West Virginia retreat was mocked by critics as the latest evidence that the party is out of touch. "Senate Democrats have resorted to asking West Virginia's senator to teach them how to talk to 'real people,'" read a headline from The Week. Months later, Democrats are still trying to understand why an estimated millions of Americans who voted Democrat in the past defected to the Republican Party in 2016.
Trump won West Virginia with promises to revive the state's declining coal industry. Experts have pointed out that those promises will be virtually impossible to keep since the industry is under siege from market forces. But the president remains popular in the state. If Democrats want to win in places like West Virginia, the party will need to find a way to rival that appeal.
"The Democratic Party on a national level in Washington seems to have lost connection with rural America," Manchin said in a recent interview. "If you look at the map, blue vs. red, the only blue you see is urban blue. You don't see much rural blue. It doesn't take Einstein to figure this one out, that you need to be a bit more appealing."
After the presidential election, Senate Minority Leader Chuck Schumer made Manchin a member of Senate Democratic leadership along with Senator Sanders, who ran a stronger-than-expected challenge to Hillary Clinton in the 2016 Democratic presidential primary.
Sanders, along with Senator Elizabeth Warren, acts as a barometer for the party's progressive wing, while Manchin helps Democrats gauge how voters outside the liberal mainstream will react to its policies and message.
"You'll hear Chuck say, 'Okay, we heard from Elizabeth and Bernie, let's turn to Joe," Manchin said, describing himself as an independent, at times oppositional, voice on the leadership team. "Chuck will say, 'Joe, what do you think?', and I'll say, 'I think this Chuck, I think you're wrong, or I think you're going in the wrong direction. If you go down that path, it's wrong.'"
The party's progressive grassroots may be furious with Manchin, but his fellow Democrats in the Senate don't want to see him go. "Joe Manchin provides a remarkable value to our caucus," Virginia Senator Mark Warner said in an interview. Michigan Senator Debbie Stabenow told me "he does a fantastic job of fighting for people." Even Senate Democrats from solidly blue states only have good things to say.
"Joe's a very popular Democrat in a state that's bright red, we should be listening to him," Senator Chris Murphy of Connecticut said. "I think Joe's influence is growing."
The West Virginia voters I spoke with at the state fair who plan to vote for Manchin in 2018 all said they think he's very different from all the other Democrats in Washington. It was a group that ranged from lifelong Democrats who still mostly vote Democrat to Trump-loving Democrats who rarely vote Democrat anymore to Republicans willing to cross the aisle to support Manchin.
Charles Hicks, a Republican from Ripley, West Virginia, who voted for Trump but "always" votes for Manchin, plans to do so again in 2018. "It really isn't a matter of Republican or Democrat. He's just a very good representative for the state of West Virginia," he said. "The national Democratic Party has become too extreme liberal. Democrats as a whole just went too far left," Hicks said, "but he tends not to be an extremist, he's not extreme left, he's not extreme right. He's for what benefits West Virginia: coal, agriculture, things on that nature."
As the national party has grown more liberal in recent years, Manchin has stayed put. When Democrats called for repeal of a ban on federal funding for abortion in the 2016 platform, Manchin, who identifies as pro-life and has voted to fund Planned Parenthood, but only on the condition that the ban would remain in place, called the decision "crazy."
A majority of Senate Democrats now support raising the minimum wage to $15 dollars, an idea Sanders championed on the campaign trail, but Manchin has expressed skepticism, saying that $15 dollars won't work in every state, though he does support raising the minimum wage. A majority of House Democrats, and high-profile names in the Senate, like New York Senator Kirsten Gillibrand, have said they support single-payer universal health coverage. Manchin has said he's open to studying single payer, and what its impact would be, but has raised questions about the potential cost, and feasibility, of implementing universal coverage.
Manchin's isolation has left him increasingly vulnerable to attack on all sides. Liberal activists argue he's too conservative for the Democratic Party, while Republicans argue he's too liberal for West Virginia. "Manchin consistently votes against the core principles and values of the Democratic party's progressive base," reads a petition urging Schumer to remove Manchin from Senate leadership that's been circulated by a coalition of liberal organizations. West Virginia's Republican Attorney General Patrick Morrisey, who has announced plans to run for Manchin's seat in 2018, has also taken issue with Manchin's position on leadership. "West Virginia could not be more different from Chuck Schumer's New York," Morrisey, who will face Republican Representative Evan Jenkins in the GOP primary, wrote in a letter to Manchin calling on him to step down.
"The days are numbered for Joe Manchin. I feel very confident that he is on his way out in what will be a decisive loss for him come next November," Conrad Lucas, the chair of the West Virginia Republican Party said in an interview. "He's tried for a long time to be someone who pleases everyone, but that's not going to work anymore. He cozied up to Hillary Clinton, and he's cozied up to liberal Washington Democrats when West Virginians are looking for conservatives."
The accusation that Manchin "cozied up" to Clinton illustrates how a connection to the national Democratic Party can turn into a liability in a red state. Manchin endorsed Clinton in 2015, only to see her later ignite outrage in West Virginia  by saying "we're going to put a lot of coal miners and coal companies out of business." The comments were an awkward attempt to make the point that she wanted to help people hurt by the industry's decline. Clinton apologized for the remark, which Manchin called "horrific," but she went on to lose all 55 counties in the state twice, first to Sanders in the presidential primary and then to Trump in the general election.
If Manchin can overcome potentially damaging associations with the national party, it will be because he is a known quantity with deep ties to the state. Charles Showalter, a Democratic voter who supports Manchin, said the senator "really cares about West Virginia. "A lot of politicians say they do, but they don't." His wife, Joy, another Manchin supporter and Democrat, praised him for "taking care of the coal miners." In May, Congress reached a deal that Manchin had fought for providing health benefits to retired miners.
Before starting a career in politics, Manchin worked as a coal broker. He was born in Farmington, West Virginia, a town that became infamous in 1968 after a mining accident left nearly 80 people dead, including one of Manchin's uncles. "His family were miners," Charles told me as though offering up proof of the senator's credentials.
So far, Manchin has managed to remain popular in West Virginia. According to Morning Consult, he has a 57 percent approval rating, just shy of the 60 percent popularity Trump has maintained in the state. But even if Manchin's strategy of running as a conservative Democrat continues to work for him, it won't necessarily work for the rest of the party, especially in an era of deep partisan division. The more national Democrats try to hold onto their core liberal supporters, while making overtures to conservative voters, the more a clash of ideas, ideology, and moral principles becomes unavoidable.
After Manchin's West Virginia state fair town hall, I spoke with Larry Tolliver, a Democrat who voted for Trump but supports Manchin. Tolliver cited Manchin's pro-life position, and the fact that he's not as liberal as most Democrats in Washington, to explain his loyalty to the senator. Then he rattled off a list of reasons why he feels alienated by the Democratic Party in Washington.
"The Democratic Party used to be for the working men and women of this country," he said, "now the party is for homosexuals, they're for abortion, and they're for illegals, and they're for giving stuff to anybody."
Manchin thinks a liberal Tea Party is inevitable, as the center hollows out. "Sure, that's going to happen," he said. Later, he told me, "the Tea Party took off, and it's taken away the moderate middle of the Republican Party, and it's forced them to tack right. I worry, and I see tacking further left, and I just don't think that's where America is. I don't think America is far left. I don't think America is far right. I still think people are trying to run their lives from the center." Manchin added: "I see people that I would normally think should be more moderate from where they come from tacking to the left. I see people that I think should be more moderate tacking further to the right."
A rising tide of populism on the left and the right complicates Manchin's pitch for re-election. The general election is expected to be by far the tougher fight, but the senator also faces a primary challenge from a Sanders-style candidate named Paula Jean Swearengin, a relatively unknown name in West Virginia state politics, who has accused Manchin of being overly cozy with corporations, an attack the Republican Party has eagerly echoed and amplified.
Manchin has cultivated a reputation over the years as a pro-business defender of industry. That might appeal to conservative voters, but after Trump won in part on his message that regular Americans have been exploited by a rigged system, that track record could become a liability.
Perhaps sensing the populist political climate, Manchin wants to make clear that there are things he thinks Sanders is right about.
"Bernie and I agree on a lot of identification of what the problems are, we just don't agree on how to solve the problems," Manchin said. Elaborating on some of those problems, the senator said: "The tax code needs to be repaired, my god, it's broken. The average person doesn't think they get a fair shake. The disparity in income inequality, the disparity that we have going on, that's real. "
But, Manchin said, "where we might differ is where Bernie would take an approach that everything will be free. I would take an approach as a responsible Democrat from West Virginia to have a pathway where you can earn it," Manchin said. "Bernie's movement … is more of a socialist movement. Bernie is a socialist. I think he would say that, I think he's proud of that." One day, Manchin thinks, "Bernie's gonna have his own party, I believe in time he'll have his own, that's what he wants."
While Manchin says he's "open to learning more" about single payer, he also predicts that if Democrats make support for the policy, which has no chance of passing under a Republican Congress, a "litmus test," that will make it harder to pursue bipartisan fixes to the Affordable Care Act. "That would be as bad if not worse than what Republicans did by not doing anything [to improve the law] and getting caught in a quagmire," Manchin said, referring to the failed—and unpopular—Republican repeal plan that the Congressional Budget Office found would have stripped millions of Americans of insurance coverage.
Sanders has taken his agenda on the road since Trump won, holding rallies in Morgantown, West Virginia and the state capitol of Charleston as part of an effort to drum up opposition to the Republican repeal push. The Vermont senator has also been talking a lot about single payer lately—at town halls of his own, in op-eds, and on the Senate floor. He hasn't said that single payer should be a litmus test, though some of his allies have suggested it should be. And he's described it as a long term goal, acknowledging that it wouldn't pass under a Republican-controlled Congress, and indicating support for changes to the existing health-care system in the short term.
At a recent town hall in Detroit, Sanders, who remains an independent, waved away the idea of starting a third party, but not without first taking a shot at the Democratic Party. "If you want to be critical of Democrats, I'm with you," Sanders said, but added: "the place that I am in right now is to try to transform the Democratic Party." A spokesman for the senator declined to comment.
As Sanders tries to bring about that transformation, progressive activists believe that Manchin's brand of centrist politics is an obstacle—part of the reason the Democratic Party's brand became so badly damaged in the first place. Progressives argue instead that populist, progressive candidates, not moderates, have a better shot at winning in red states and districts.
"I don't think people like him should be in the party because frankly they should never have been in the party. They're Republicans," Nomiki Konst, a former Sanders delegate to the Democratic National convention and a member of the DNC unity reform commission, said in an interview. "This is not about purity politics. This is a man who is sucking the resources of the Democratic Party, while voting with Trump. I don't think anything Manchin does is going to win us voters that we need to win back. My question to Democrats is what is he actually doing for us?"
West Virginia governor Jim Justice's decision to ditch the Democrats and switch his party affiliation to Republican has pushed a long simmering debate over why the Democratic Party declined in West Virginia into public view.
"WV Democrats lash out at Justice, party leadership," a recent headline in The Charleston Gazette-Mail read. Another, quoting former Democratic West Virginia Senate president Jeff Kessler, in the West Virginia MetroNews read: "Justice departure should prompt re-examination of state Democrat Party leadership."
In an interview, Kessler argued that by running away from the national Democratic Party under Obama, West Virginia Democrats, like Manchin, lent credibility to Republican attacks that they should have fought, further damaging the Democratic Party's brand. "If the Republicans came out and said there was a war on coal, Democrats mimicked and mirrored it. If they said they hated Obama, Democrats said we hated Obama too. The message has just been that we're like the Republicans, so why would voters want that if they can have the real thing?" Kessler said. He was unsparing in his verdict: "Joe Manchin's strategy has only worked for one person, and that person is Joe Manchin. It has not worked well for the party."
Nick Casey, a former West Virginia Democratic Party chair, assigns the blame differently. "Manchin has been consistent. He's represented the state," Casey, who worked as the governor's chief of staff up until he switched parties, said.  "What's changed is the national party decided to start taking positions to appeal more to the West coast and the East coast, places that don't match up with the kind of blue-collar folks who live in West Virginia."
Manchin seems to agree. When I asked the senator why Democrats have lost voters in place like West Virginia, he replied, "It's all national. The national trend is perceived to be much more liberal than West Virginia Democrats."
There is little evidence to suggest that West Virginia wants more liberal politicians. In 1996, Manchin lost a Democratic gubernatorial primary to Charlotte Pritt, a more liberal candidate. But Pritt lost the general election against a Republican challenger. While Sanders won the 2016 Democratic presidential primary in the state, exit polling suggested it was a protest vote against Clinton more than an endorsement of the Vermont senator's progressive agenda.
A plurality of West Virginia Democratic primary voters said the next president should pursue a less liberal policy agenda than Obama, including 51 percent of Sanders voters. Exit polls found that 55 percent of people who voted in the West Virginia Democratic primary identified as either conservative or moderate. Only 17 percent identified as "very liberal."
That kind of polling is one reason why Manchin doesn't believe Sanders-style populism will work everywhere—particularly in West Virginia. "Bernie thinks that because he won all 55 counties that he's the leader of the Democrats in West Virginia," the senator said. "I just said, Bernie, in all honesty, I respectfully disagree with you." Later, he told me, "the state's always been conservative."
When I asked Manchin what he thinks of criticism from Democrats in his own state, he suggested that if he has managed to keep winning, while other Democrats have faltered, that alone is proof he's not the problem.
"I never tried to push my brand on anybody else," he told me. "Now, if I'm the only one still successful, and they're not, then maybe they have to rethink."