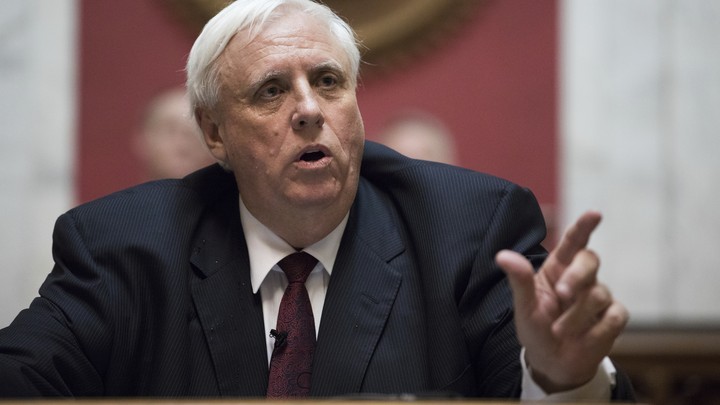 Updated on August 3, 2017 at 7:56 p.m.
West Virginia Governor Jim Justice announced at a campaign-style rally with President Trump on Thursday that he is switching parties from Democrat to Republican.  
"I tell you as West Virginians I can't help you anymore being a Democrat governor," Justice said at the rally standing on stage with the president. "So tomorrow I will be changing my registration to Republican." In his address to the crowd, Justice suggested that he would have an easier time working with the state's Republican-controlled legislature by switching parties. Trump cheered the decision, saying that Justice "showed the country that our agenda rises above left or right."
West Virginia used to be a Democratic stronghold, but the state has grown increasingly conservative in recent years and now votes reliably Republican at the presidential and state level. In 2014, the state legislature flipped from Democratic to Republican control.  Trump won West Virginia in November, defeating Hillary Clinton in a landslide with 67 percent of the vote.
Like Trump, Justice is a billionaire who ran for election as a newcomer to politics, and was elected in November 2016. During his campaign, he took pains to show he was no fan of Clinton. "I cannot be a supporter of Hillary Clinton," Justice told a West Virginia radio station last August.
West Virginia's lone Democratic senator, Joe Manchin, who now faces a tough re-election fight in 2018 without the aid of a Democratic governor in his state said on Thursday that he was "disappointed" by the news, but indicated that he would still be willing to work with the governor.
"While I do not agree with his decision, I have always said that I will work with anyone, no matter their political affiliation, to do what is best for the people of West Virginia," the senator said in a statement. A spokesman for Manchin confirmed that the senator is not switching parties or leaving his West Virginia Senate seat.
Manchin is up for reelection in 2018 and faces a primary challenge on the left from a progressive candidate running on a Bernie Sanders-style platform. The West Virginia senator also faces Republican challengers Evan Jenkins, a Republican representative who was once a Democrat himself, but switched parties in 2013, and Patrick Morrisey, West Virginia's Republican attorney general. Manchin endorsed Justice during his run for governor.
The Democratic Governors Association put out a scathingly critical statement in response to Justice's announcement Thursday evening, accusing Justice of "deceiving the voters of West Virginia when he ran as a Democrat 8 months ago."  
This won't be Justice's first time switching parties. In May 2015, The Wall Street Journal reported that Justice switched affiliation from Republican to Democrat in February of that year, citing state records. The news that Justice would switch parties was reported earlier in the day by The New York Times.
It's not immediately clear why Justice opted to switch parties. In their statement, the Democratic Governors Association suggested the move was purely out of self-interest, with a possible financial motive.
"As Republicans have repeatedly said, Jim Justice owes millions of dollars in unpaid company taxes, after a deal with a Russian coal company. The debts have only worsened during Justice's term term as governor," DGA executive director Elisabeth Pearson said in a statement. "If President Trump cut a deal, we hope it does not put U.S. taxpayers on the hook to bail out Jim Justice's personal finances."
We want to hear what you think about this article. Submit a letter to the editor or write to letters@theatlantic.com.
Clare Foran
is a former associate editor at
The Atlantic
.